This post may contain affiliate links, which means we may receive a small commission when you make a purchase at NO additional cost to you. Thank you for supporting our site in this way!
I caught up with Guy Fieri at his first Nashville restaurant, Chicken Guy, on 2nd Avenue in downtown Nashville. Guy came to Nashville on the final stop of a 2-week road trip with family and friends throughout Tennessee and other southern states.
Discover why he loves Nashville and what he says people don't know about Music City.
An Interview with Guy Fieri at Chicken Guy Nashville
Nashville is known for hot chicken, but there's a new chicken in town. I didn't have long to interview Guy Fieri at Chicken Guy Nashville, but I did get in a few very important questions. Here are the highlights:
Was it intimidating opening a chicken restaurant in Nashville?
Guy figured it's go big or go home! He knew he had to bring it to the epicenter of fried chicken: Nashville.
He loves Prince's Hot Chicken (my personal Nashville hot chicken recommendation as well. Not only is it the original, you'll find much shorter lines than Hattie B's). You have to watch the interview video to hear about how Guy managed to get a frying pan from Mrs. Prince that is now one of his treasured possessions.
Fieri has such respect for how people appreciate their fried chicken.
Why Guy Loves Nashville
Guy knows Nashville is about more than just country music. He realizes there's an awesome food scene AND an awesome entertainment scene.
More than that, Guy said the people of Tennessee are so friendly. "It's great culture. It's great family. It's great weather. It's an eye-opener for everybody."
What's different about Chicken Guy's Fried Chicken?
There are several things that set the chicken tenders at Chicken Guy apart from the pack, including:
All-natural
Not frozen
Antibiotic-free
Pressure-fried
Hand-battered
From the sauces to the recipes, it's all chef-driven.
What was Guy Doing in Nashville?
Guy came to Nashville on the final stop of a 2-week road trip with family and friends throughout Tennessee and other southern states. He even made a stop at Dollywood.
If you find yourself in Pigeon Forge, you may also want to plan to stop at Guy's new restaurant there: Downtown Flavortown.
You can currently watch the first season of Guy's All-American Road Trip on Food Network and this will air on the second season in the Spring of 2023.
Chicken Guy's Downtown Nashville Location is Symbolic
I asked Guy why it was so important to have a presence in Nashville and why he would pick such an iconic chicken city to open Chicken Guy.
I also spoke with CEO of FACE Amusement, Bucky Mabe to discover why it was so important to open this particular location after the Christmas bombing and what makes their relationship with Fieri so special.
"One of the first places we wanted to come was the Nashville market, specifically downtown," said Mabe. Even with the issues with the bombing years ago, they still moved forward with the project. And look at them now!
Chicken Guy's 22 Sauces
We learned what sets the "Chicken Guy" chicken apart (hint: in addition to being antibiotic-free and hand-pounded, they offer almost 2 dozen dipping sauces).
All but three of the homemade sauces are gluten free and include everything from The Classics to Guy's Favorites. There is even a selection of "Hot 'n Spicy". Your order includes 2 sauces, but you can add an extra sauce for 50 cents.
We recommend the Sweet Sriracha BBQ, Wasabi Honey, and the Avocado Crema.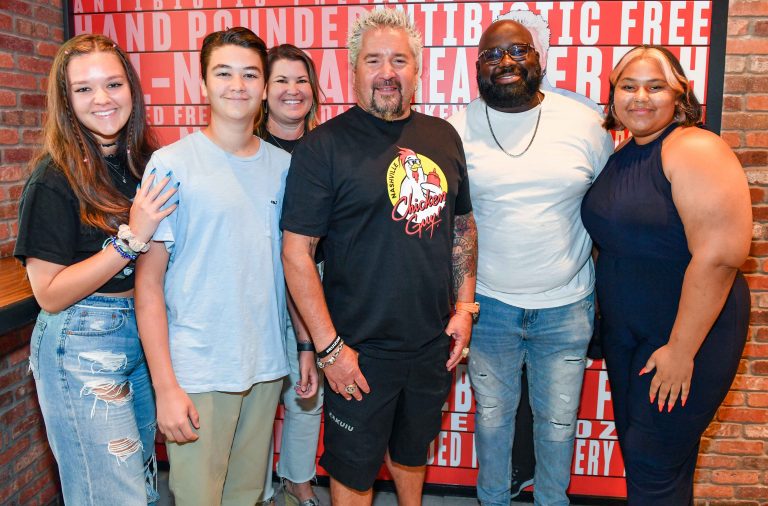 Guy's Advice for Young Dreamers
Make sure you listen to the end of the interview for Guy's advice for the younger generation. Guy's boys worked on the line at Chicken Guy Nashville and even his goddaughter was sauce slinger for the day!