This post may contain affiliate links, which means we may receive a small commission when you make a purchase at NO additional cost to you. Thank you for supporting our site in this way!
If you're looking for all things Dollywood, you've come to the right place. As a Dollywood Insider and Dollywood Season Ticket holder, my family loves Dollywood and has seen the best of Dollywood in every season! Allow me to share my Dollywood review with you so you can make your next trip to Dollywood your best yet!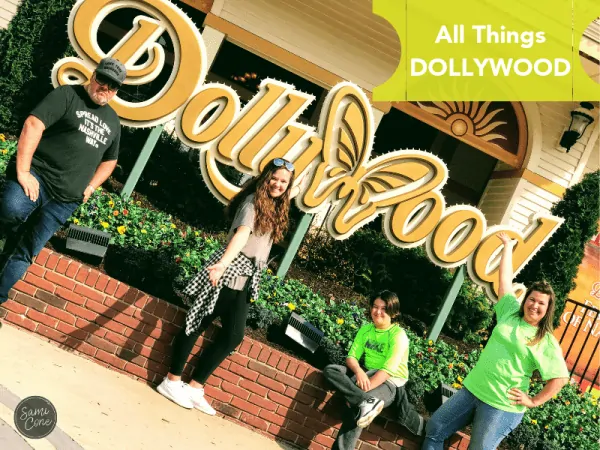 All Things Dollywood
Let's get this straight: Dollywood is an award-winning theme park. And if we're really being honest, it's so much more than just a theme park!
When Dolly Parton bought the old Silver Dollar City property in the 80's to help create jobs for her hometown and build a family-friendly destination, no-one could have anticipated what it would become. In addition to Dollywood theme park, the area is home to Dollywood's Splash Country, DreamMore Resort, dinner shows, Smoky Mountain Cabins and so much more.
Living in Nashville, we've appreciated how accessible Dollywood is (just over a 3-hour drive for us). And because it's within driving distance of so many of our friends and family, Dollywood quickly became a favorite spot to meet up and vacation together.
Our Dollywood family vacations have involved everything from a weeklong retreat to over and back in a day (I wouldn't recommend that one) and just about everything in between. I've compiled some of my best Dollywood tips here for you, but feel free to ask questions below too.
Dollywood Hours
Dollywood Theme Park is open from mid-March through New Year's. (Yes, Dollywood closes for most of January through the beginning of March every year). They do this for several reasons, but mainly because of weather and so they can refresh the park amenities.
For most of the spring and fall/winter, Dollywood opens around 10am and then stays open until 6 or 7pm. (Keep in mind, Dollywood is in the Eastern Time Zone). During the summer, Dollywood stays open longer (9 or 10pm, depending on the day) and even offers fireworks some nights.
I always recommend checking the Dollywood Seasonal Calendar for exact operating hours before planning your trip. And regardless of when you visit Dollywood, be sure to follow my Dollywood Park Flow Tips to maximize your time in the park.
Dollywood Opening Day
Dollywood typically opens the second or third Friday in March (right around March 15). In the past, Dollywood opened its doors to season pass holders on Friday. Then Dollywood opened to the public on Saturday.
Get insight into a typical Dollywood Opening Day from my Dollywood Season Opener post.
Dollywood in Winter
Is it worth going to Dollywood in the winter? I've outlined all the pros and cons, plus given you 7 things to know before you go in this post.
Dollywood Discount Tickets
While Dollywood discount tickets can't be found everywhere, they do exist. From flash sales to Groupon, I've found Dollywood promo codes and discounts just about everywhere. Each season (including Spring Break), Dollywood often offers some sort of a ticket discount. Typically the discount is about 10% off.
I have a post where I keep track of the latest Dollywood Ticket Sale, so check there often.
Dollywood Resort: DreamMore
What can I say about this Dollywood resort? In all honesty, I've never heard someone say a bad word about Dollywood's DreamMore Resort after staying there. Whether from not knowing what to expect or exceeding expectations, DreamMore delivers.
Opened on July 27, 2015, DreamMore is truly a five-star resort in the heart of the Smokies. From the food to the rooms to the spa, everything is top-notch, but without missing that family feel.
Now don't get me wrong, it's not the cheapest option if you're planning a Dollywood trip. But in my opinion, all the added values make it worth it.
In fact, we love the DreamMore Resort so much, we became part of the DreamMore Founders Club. In that post, I detail all the perks of the program. Even if you don't want to go that far, there are plenty of perks just from staying at the resort, including:
Free TimeSaver Pass
Free transportation between the resort, theme park and water park (that means no parking fees!)
Exclusive Dollywood Park entry
Free package delivery
and so much more!
Dolly Parton Dinner Shows
The Pigeon Forge area features two Dolly Parton Dinner Shows. Dolly Parton's Stampede has delighted audiences for generations. But coming this May, guests will also be able to experience the Pirates Voyage Dinner & Show.
Located next to The Island Pigeon Forge, the pirate show is sure to be as entertaining as its Myrtle Beach sister property. I'm also sure the new building, talent and food will give audiences an updated thrill.
You can expect to spend around $50 per person for the dinner and show. No lie, the food is really good! (And you get a lot of it). They are famous for their creamy vegetable soup and it amazes me how their servers hustle to make sure everyone receives piping hot dinners.
I love how easy it is to attend with a big group and entertains young and old alike! Dolly Parton's Stampede ticket discounts typically come during the off-season, so keep an eye out for those.
Dollywood Concert Series
What would Dollywood be without music? I know MANY people who buy Dollywood Season tickets solely for the Dollywood Concert Series. Here are just a few they offer:
I've also had the chance to shoot some behind the scenes footage at Dollywood:
Dollywood Insiders
As I mentioned, I'm privileged to have been part of the inaugural class of Dollywood Insiders. I served in that role for 3 years. I took a break from the Insiders this year because I didn't want to overstay my welcome 🙂 But seriously, I believe every panel like this needs fresh faces and insights.
I'm excited to be working as a Dollywood Influencer again this year. What does that mean? I won't be going to Dollywood quite as much, but can still bring you updates and Dollywood discounts before anyone else.
You can still read all my Dollywood Insider posts and get great tips from ALL the Dollywood Insiders.
Free Dollywood Season Pass for Pre-K Kids
In 2020, Dollywood offered a free Pre-K Imagination Season Pass. If you have a Pre-K aged child, you could register them for this incredible offer. (Click the link or the photo for instructions.)