This post may contain affiliate links, which means we may receive a small commission when you make a purchase at NO additional cost to you. Thank you for supporting our site in this way!
I've compiled my top 7 homemade kids craft ideas for you and your family to have a little DIY fun with!
Having fun with your kids doesn't have to cost an arm and a leg, especially when you can take some of their favorite (and timeless) activities and crafts AND make them at home! (It's like creating an activity BEFORE the actual activity!).
Top 7 Homemade Kids Craft Ideas
Homemade Kids Craft Idea #1:
Crayons
—Get broken crayons, put them in a cute mold/silicone ice cube tray and 'bake' in a 250 degree oven until just melted (it took us about 25 minutes, but check every 5-10). Allow to cool or put in freezer to set. You can create your own unique shapes AND colors this way!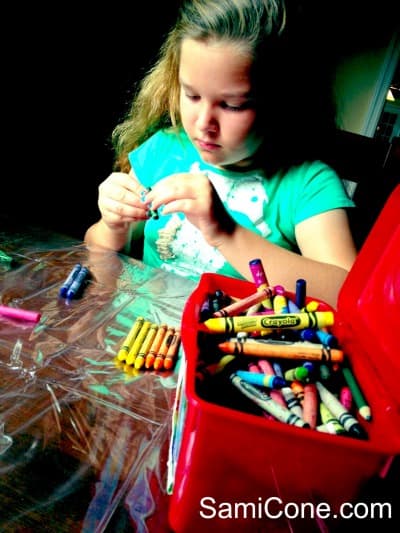 Homemade Kids Craft Idea #2:
Goo
—Mix 1 cup white glue with 3/4 cup water until smooth. Add food coloring until desired color is reached. In a separate bowl, mix 1/4 cup water with 1 Tablespoon Borax. Add Borax mixture to glue mixture until goo forms and then remove from bowl. Some liquid will be left over, so just make more of the Borax mixture and add to leftover glue mixture. Store in plastic baggies.
Check out my complete "How to Make Goo" Picture Tutorial/Recipe

Homemade Kids Craft Idea #3:
Flubber
—This was rumored to be one of the most popular kids' crafts on the Disney Cruise Line, and this year we finally discovered first hand why that was true! You make Flubber similar to the Goo recipe above, but instead of white glue, substitute Elmer's Blue Gel Glue and just add 1 drop of yellow food coloring (the yellow mixes with the blue glue to make that iconic green Flubber color!). 5 Minutes for Mom has a great video showing how to make Flubber.
Homemade Kids Craft Idea #4:
Bubble Mix
—Mix equal amounts liquid dish soap & water, then add water total to that amount. Finally, stir in 2 Tablespoons of corn syrup. Add to an empty bottle of bubbles or put in a shallow pan and bend a wire hanger to your desired shape to blow bubbles.
Homemade Kids Craft Idea #5:
PlayClay
—I found a variety of great PlayClay recipes over on NoTimeForFlashcards.com, but I love the natural version that uses 1 cup apple cider, 1 cup salt, 2 cups AP flour & 1 Tablespoon ground cinnamon.
Homemade Kids Craft Idea #6:
Facepaint
—Fun for everything from dress-up to holidays! Mix 1/2 cup cornstarch with 1/4 cup cold cream and 1/4 cup water. Divide into as many dishes as different colors you want and then add food coloring one drop at a time until desire colored is reached.
Homemade Kids Craft Idea #7:
Coloring Book
—Why not let your creative kiddos create their OWN coloring book? Have them draw pictures in black pen or pencil, then make copies, stack, hole punch and bind with ribbon. A unique gift for siblings or friends.
You can also watch my Homemade Kids Craft Idea segment from Talk of the Town (July 2013):
NewsChannel5.com | Nashville News, Weather
Special thanks to Avent & Jamie of Resurrected Closet in Fairview, TN for styling me for today's show. Not only do I LOVE their great fashion at amazing prizes, but you can't beat the complimentary personal styling they offer!
While you're here, why not check out some of my past TV segments to discover more fun ways to stay frugal and fabulous?!