This post may contain affiliate links, which means we may receive a small commission when you make a purchase at NO additional cost to you. Thank you for supporting our site in this way!
Although we don't live near the East Tennessee wildfires, many of you have emailed and texted knowing how frequently we travel there. In fact, we're scheduled to make a trip back to Dollywood this coming Friday.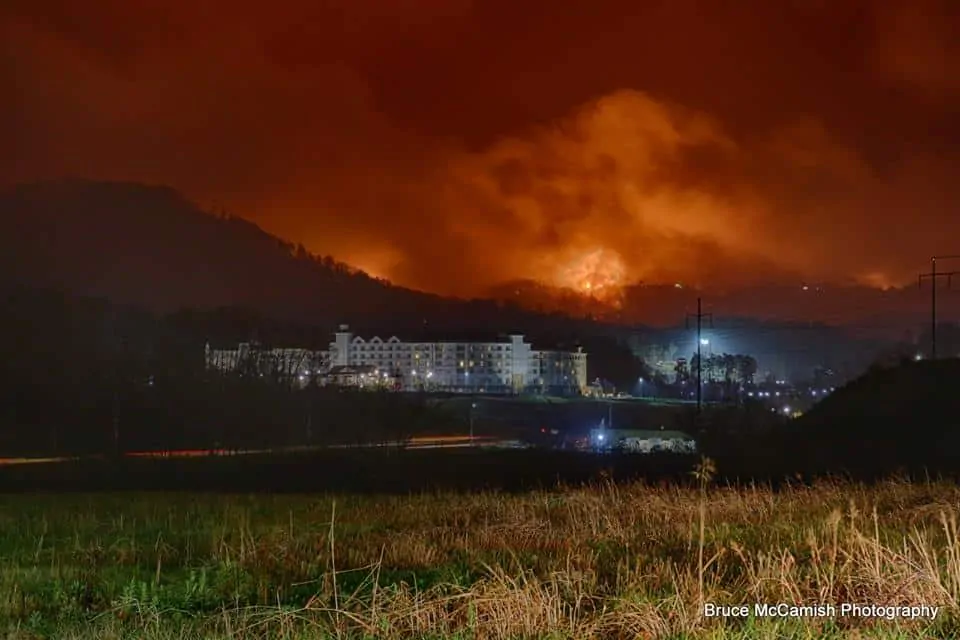 With the East Tennessee wildfires all over the news today, I didn't know if Dollywood or Dollywood's DreamMore Resort would survive the wildfires, much less be open by Friday, but I just received a press release that was worthy of sharing with all of you wondering the same things I was: what's going on and how can we help.
Is Dollywood Safe and Will it Re-Open?
First of all, Dollywood will be closed until Friday so the hosts can focus on community recovery. As if I didn't love Dollywood enough already, it makes me feel good to know that the Dollywood family of properties is more concerned with community than profit. Here is what I learned from the press release:
After assessing the damage wrought by recent wildfires in the foothills of the Great Smoky Mountains, Dollywood is focusing its efforts for the next two days supporting the community.

Dollywood hosts have joined in supporting the needs of their fellow hosts affected as well as assisting other area businesses in supplying personal care items to the shelter at the LeConte Center in Pigeon Forge and they continue to feed and house firefighters and first responders.
Dolly herself went on to comment with the following:
I have been watching the terrible fires in the Great Smoky Mountains and I am heartbroken. I am praying for all the families affected by the fire and the firefighters who are working so hard to keep everyone safe. It is a blessing that my Dollywood theme park, the DreamMore Resort, Dixie Stampede and so many businesses in Pigeon Forge have been spared.
Thanks to the hard work by community firefighters and first responders, Dollywood's DreamMore Resort is open to guests. The Dollywood theme park will resume normal operation on Friday, December 2 at 2 p.m.
How to Help the Victims of the East Tennessee Wildfires
For those interested in helping victims of the wildfires, contact the American Red Cross (1-800-Red Cross) or text REDCROSS to 90999 to donate ten dollars to the American Red Cross disaster relief fund.
Another great tip I received from a fellow Dollywood friend was to donate supplies. But considering that many of us don't live nearby, I didn't think this was possible…until Morgan suggested using Amazon Prime. Here is what she said:
You can send supplies like water, diapers, toiletries and such for evacuees to the Red Cross at Pigeon Forge Fire Hall Station 1, 3229 Rena Street, Pigeon Forge, Tennessee
So there you have it. If I discover any further ways to help, I'll update this post. In the meantime, all the prayers and practical help you can muster are appreciated.