This post may contain affiliate links, which means we may receive a small commission when you make a purchase at NO additional cost to you. Thank you for supporting our site in this way!
I'm not a photographer with a professional camera. I'm just a mom who has learned how to take good pictures of babies & toddlers and wants to save you time and money.
I remember when a hospital photographer took newborn photos of my son. I was smitten…until I saw the $400 price tag! I actually almost paid it, until my father reminded me I could buy my own new camera for that price. And with digital cameras, I could take thousands of pictures and likely end up with at least a few that rivaled the professional photographer.
7 Tips for How to Take Good Pictures of Babies & Toddlers
1. Use a White Backdrop
When I look at some of my favorite pictures of my kids when they were little, they were taken on a white background. Not only does a white backdrop help put the focus on your babies faces, it helps keep the images timeless too.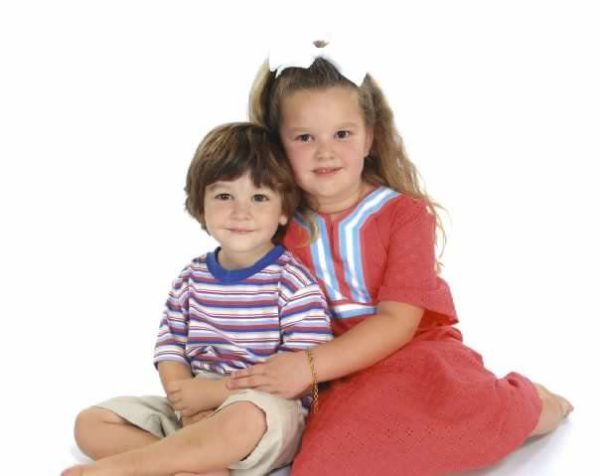 Taking better pictures of your little kids doesn't mean renting professional equipment. This could be as simple as laying your baby down on a white sheet or blanket. I've even propped my babies on a white couch or white pillows. You could also find a white wall in your home and then lay a roll of white paper on the floor to give you a total white out.
2. Find Natural Light
One of the best photography tips I've learned from my photographer friends is to find natural light. What does this mean? Simply put, photograph your kids outside (ideally right after sunrise or during the golden hour before sunset).
I remember thinking my friend was crazy when he said he wanted to bring a big chair outside to capture photos of my kids, but the result was stunning. Not only did the natural light highlight my babies' features beautifully, I loved the way the sunlight, leaves and shadows played with each other.
Never be afraid to bring some of your favorite furniture or their favorite toys outside for a photo shoot.
3. Go for the Close Up
I'm one who tries to fit as much into the frame of a photo as possible, but if you can zoom in and focus on one feature, the result can be magical.
The mom of one of my friends gave me this advice right after my second child was born. She said while it can be nearly impossible to get a photo of young siblings sitting together, zoom in on their faces and blow it up as big as you can. One such photo from when both my kids were under two still hangs as a 16×20 in our hallway today.
My brilliant photographer friend, Liza (see below), highly recommends capturing the details. Sometimes it's as simple as taking a picture of your baby's hand or foot. Or consider capturing their baby butt in a swimsuit or their grass-covered feet. You'll have plenty of pictures of their faces, so don't miss out on the details that make your kids unique.
4. Take a Ton of Pictures
The beauty of digital phones and cameras is that you can literally snap away. Literally.
Put your little ones down and just start clicking. Don't try to pose them (or do, if you're brave enough). Chances dictate that if you take 100 photos, you'll end up with at least two or three that capture the moment and expression you hoped for.
5. Keep it Candid
Remember my friend Liza? She warns parents not to try to get your kids to look at you. (After all, isn't that the point of a candid photo?)
Instead, she suggests acting like a fly on. the wall. Capture your kids in their natural habitat. Change your angles. Stay in the background. Whatever you do, stay in the moments and wait for that belly laugh to erupt.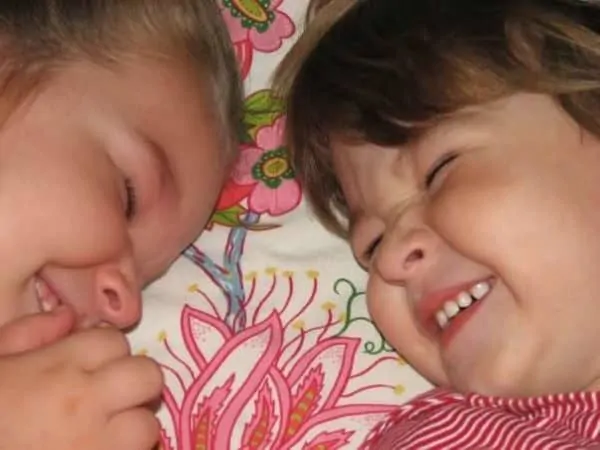 6. Find Free Photo Shoots
While these are harder to come by, I loved finding free photo shoots when my kids were little. I used these 3 easy ways to find free photo shoots:
Portrait Studio Free Coupons: While there seem to be fewer traditional portrait studios these days, you can bet any time stores like Sears or JC Penny offered free portraits, I was there with my kids! Remember, all you need is just one good shot to hang on the wall or send to grandma.
Baby Store Photo Shoots: Every so often, some of our favorite kids' clothing stores (both local and chains) would offer free photoshoots if you spent a certain amount of money. These mini packages (usually shot in the back of the store on a, you guessed it, white backdrop) gave us some of the most adorable photos of our kids together.
Baby Model Searches & Casting Calls: To this day, my favorite photo of my son as a toddler was from a Gap Casting Call we went on. Again, it was shot right in the mall, but they captured his personality so well and we got a digital copy of the shot to use as we wished. Anytime a local department store looked for kids for a fashion show, we also showed up. And while my kids never landed any national campaigns, we ended up with adorable photos and a lot of gift cards.
7. Go Black & White
While I love color as much as anyone (perhaps even more), I find a black & white filter can right many wrongs in a photo?
Baby dealing with rosacea? Turn on the black & white filter.
Lighting less than perfect? Fix it with a black & white filter.
Too many colors in the background? No problem for the black & white filter.
---
While I've shared my top 7 tips for how to take good pictures of babies and toddlers without a professional camera, I hope you've noticed a common thread: I combine multiple tips for each photo. For instance, you'll notice a lot of candid outdoor shots. I also love black & white close ups. And of course, I'm always snapping TONS of photos in hopes of finding that one perfect shot to capture the moment.
And keep in mind, all the photos you see above were taken before 2010 and WAY before I ever owned an iPhone. So just imagine what you could do with the phone in your pocket today.
And after putting all these tips into practice, you may be ready for a little photo editing. I would never consider myself a photo editor, but I use photo editing apps like Canva & PicMonkey nearly every day. Whether you want to lighten and brighten or add text and create a collage, free photo editors like these can become your new best friend, especially around the holidays.
As I come upon more photo tips for everyday photographers like you and me, I'll make sure to add them to my list! What are your favorite tips? I'd love for you to share them below.