This post may contain affiliate links, which means we may receive a small commission when you make a purchase at NO additional cost to you. Thank you for supporting our site in this way!
Did you hear the news? Jón Alan Salons are now the Official Beauty Partner of The Sami Cone Show. As a longtime Aveda fan, Jón Alan was the first salon I visited for a haircut when arriving in Nashville over a decade ago and continues to be where I go for my family's hair and beauty needs.
Allow me to share just a bit of my Jón Alan experience with you and keep reading for a special offer…
The Jón Alan Salon Experience
Jón Alan Salons is a family-owned and run business. It was established by Jón and Alan, a husband and wife duo over 30 years ago. They have grown to become a part of the Nashville community, providing Healthy Shiny Beautiful Hair over the years.
"We are here to enhance the lives of all we meet, connecting beauty, environment, and well being."

~ Jón Alan Salons
 They are the number one Aveda Salon in Nashville and finalists for Salon of the year by Salon Today.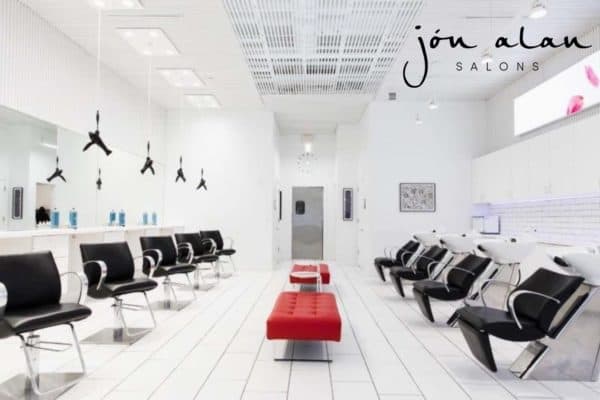 Why I Go To Jón Alan
Let's start with the amazing Aveda products and that unmistakable aroma that you only get from an Aveda salon. But more than that, Jón Alan is a family: not just family-owned, but they treat you like family.
What do I mean by that? With four locations and an amazing team of stylists, Jón Alan wants each guest to find the right fit for them. They aren't as concerned with which location you visit or which stylist you use as much as they want to make sure you feel comfortable and confident before, during and after each visit.
That also includes impeccable safety measure taking place within the salon, including temperature checks upon arrival, masks being worn throughout the service and partitions set up between salon stations.
My kids and I visit Stan Newton for our haircuts at the Capitol View location. Whether it's the British accent or his own curly hair, my teens felt at ease with him right away. But most important of all, he not only delivers excellent results, but coaches us how to achieve those same results at home.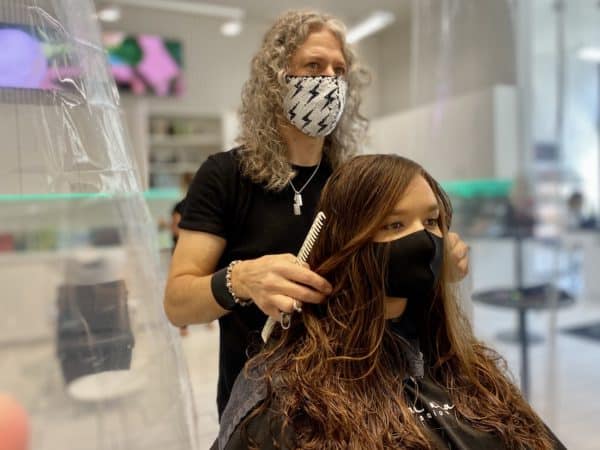 Salon & Spa Experiences
Jón Alan offers both full Salon and Spa services, including hair cuts, coloring (balayage, highlights & corrections), extensions, Brazilian Blowout, updos and weddings (in-salon and on location).
But this is so much more than just a hair salon. Spa services including Facials, HydraFacial, peels, waxing, lashes and brow tinting & lash extensions.
Education Makes the Difference
Continued education is very important to Jón Alan. As beauty and style changes, they are at the forefront of acquiring the latest and most advanced education available.
The team at Jón Alan believes continuing to learn through our entire careers as beauty professionals allows them to provide the very best service to their guests.
Jón Alan Salon Locations
There are 4 Jón Alan Salon locations in and around Nashville:
Nippers Corner
Bellevue
Capitol View
Franklin – Cool Springs
My HydraFacial Experience
Let me tell you more about my HydraFacial experience & what it's all about. This facial uses a unique HydraFacial pen that vacuums out pores, all while pushing in potent actives, which moisturize, brighten, plump and protect. It's been likened to a carpet cleaner for your skin.
The HydraFacial steps include:
Step 1: Cleansing and exfoliation
Step 2: Acid Peelstep
Step 3: Extractionsstep
Step 4: Serum application
Step 5: Red Light Therapystep
Step 6: Apply antioxidants and peptides
I've had multiple facials in my 40+ years of life, but nothing like this. And I'm not alone. I hear guests are consistently blown away after their first HydraFacial experience.
One thing Katie from the salon shared with me was that she didn't want to put makeup on for days after her HyrdraFacial. I totally understood after I experienced it!
After the first day, I thought it must have just been the moisturizer that I still felt, but that feeling didn't go away. Even weeks later, I'm stunned at the difference I see AND feel.