This post may contain affiliate links, which means we may receive a small commission when you make a purchase at NO additional cost to you. Thank you for supporting our site in this way!
If you're looking for an easy shrimp scampi recipe your entire family will love, look no further. In fact my teenage son helped develop this version with less wine. In fact, you can even make this scampi recipe without wine if you prefer! We walk you through all the options on the latest episode of The Sami Cone Show.
How My Teen Learned to Cook
If the past few months have taught me anything, it's that we need to give more credit to our kids. Between having more time on his hands and realizing he might like dinner more if he helped cook it, he started finding recipe videos on TikTok and Instagram.
That's why I asked my 14yo son, Britton, to join me in the kitchen today to demonstrate a recipe we've made on more than one occasion since he's been home from school and, definitely adapted to become a family favorite.
Teen Chef Develops Shrimp Scampi Recipe without Wine
Classic shrimp scampi calls for white wine as its base. And while it's perfectly safe to cook with wine with kids (as long as you cook out the alcohol), not all enjoy the flavor it imparts.
This scampi recipe uses 1 cup or white wine and 1 cup of chicken stock. Because the wine reduces, you're left with less sauce. If you want to omit the wine completely, we suggest starting with one and a half cups of chicken stock to keep the proportions balanced.
But as Britton states in our recipe segment on the show, this is a "taste as you go" dish. Feel free to adjust the seasonings and measurements as your family likes. Because we use pre-cooked shrimp, there is never anything raw in the sauce.
Shrimp Scampi Recipe
Ingredients (Serves 4)
8 T butter
16 garlic cloves, diced
1/2 t red pepper flakes
1/2 t each sea salt & pepper (more to taste)
1 c white wine
1 c chicken broth (if omitting wine, increase to 1.5 cups)
1/2 lb shrimp, cleaned (& defrosted if cooking from frozen)
2 sprigs fresh thyme
Smoked paprika
Garlic salt
Juice of one lemon + zest
1/2 box of spaghetti or linguini
Fresh parsley for garnish
Directions
Melt butter and throw in garlic until fragrant
Sprinkle in red pepper flakes, salt and pepper
Add wine and chicken broth, bring to a boil and simmer until reduced by almost half (if cooking without wine, the sauce will not reduce, so just simmer for a few minutes)
Add in shrimp and cook two minutes per side
Add thyme sprigs, paprika and garlic salt
Finished with a squeeze of lemon juice
Add the half box of spaghetti to pan and coat well
Plate pasta with sauce and shrimp and garnish with fresh parsley and lemon zest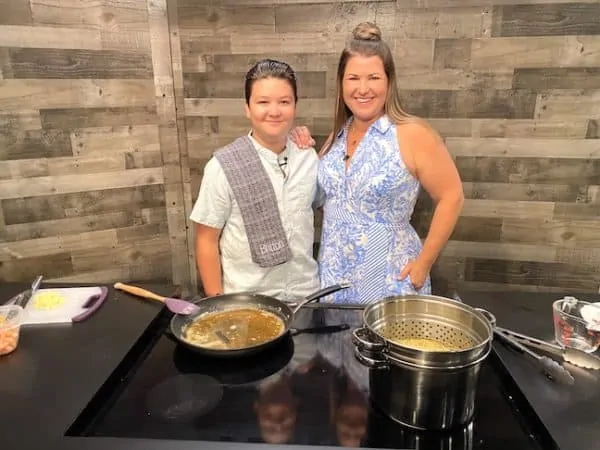 Scampi Variations
We purposefully make this recipe with a lot of sauce to eat over pasta. If you prefer to serve is as bruschetta, we suggest cutting the butter, wine and chicken stock measurements in half.
Likewise, if you are looking to reduce carbs, this works equally well over zoodles or steamed vegetables. You could even eat the shrimp in lettuce cups with some crunchy rice noodles. The options are endless!
We hope your family enjoys this shrimp scampi recipe as much as our has.