This post may contain affiliate links, which means we may receive a small commission when you make a purchase at NO additional cost to you. Thank you for supporting our site in this way!
For the Cone Family, it simply doesn't feel like the Christmas season has kicked off until we've visited the Gaylord Opryland Resort here in Nashville. For almost every year that we've lived in Nashville, we've celebrated Thanksgiving at home or with friends, and then packed up on Black Friday to head to Opryland for the night.
But when we arrived this year, it dawned on us that we missed our annual trip last year due to my husband being on Winter Jam, so suddenly this year's trip became even sweeter.
What also awaited us this year were so many new attractions and enhancements. The Dreamworks cast of characters is no longer in the hotel, but instead you'll find familiar classics like the Nutcracker themed breakfast and ICE!, as well as a scavenger hunt featuring Elf on the Shelf (one of the highlights for my kids this year).
While it may only be twenty minutes from our house, once inside, you feel like you've been transported to an entire other world, a winter wonderland if you will. And regardless of whether you've been coming to Opryland for years or this is your first visit, you'll want to set aside some time as soon as you arrive to simply explore by foot.
The new Elf on the Shelf scavenger hunt was the perfect vehicle for us to do this. All in all, it takes about an hour and literally takes you through almost every inch of the hotel, starting in the Cascades lobby, parading you through the Garden Conservatory & Magnolia lobby, weaving through the District and Convention Center and eventually bringing you back to the Delta Atrium. (Hint, make sure you look at the back of your scavenger hunt booklet before heading to ICE! because there's a special sweepstakes entry waiting for you when you do!)
ICE!
Speaking of ICE!, this year it boasts beautiful sculptures depicting the classic tale of the Nutcracker. Not only is it a favorite of mine (and I'm sure millions of others), it holds a special place in our family's heart because our daughter has performed in the production twice. We invited friends to experience it with us and I have to say, it was double the fun watching twice as many kids' eyes light up as they walked from room to room.
Of course, it made it even more fun watching them all endlessly slide down the ice slides over and over again. (And yes, I made it down once or twice myself…I had to show those young ones how it's really done).
The thing I love that never changes at the end of ICE! every year is the crystal clear nativity scene and Christmas angel that greets you in the final room right before you leave.
But before you leave the Opryland outdoor events center, you'll want to stop to decorate a gingerbread house or shop the unique ornaments (many with a Nashville flair) before stepping out into the tubing, ice-skating and s'mores roasting.
How the Grinch Stole Christmas: the Musical
Just a short walk down from the events center (sharing a parking lot with Opry Mills Mall) is the Grand Ole Opry, which this year is the home of How the Grinch Stole Christmas: the Musical. To be totally honest, I LOVED seeing the rockets every year and didn't have high hopes for this touring company's show. But boy was I wrong.
First of all, the show is 90 minutes straight, and while I adore the Rockettes Christmas Spectacular, it was quite long for the kids at about 2 1/2 hours including the intermission.
Second of all, the sets were AMAZING: they took the best of the 2D artwork you love about the book and truly brought it to life in a dazzling monochromatic fashion. The only element that bugged me (& my daughter) a bit were the "Whoville" men's costumes; they resembled large baby diapers with tails and while that's no-one's fault but the original illustrator, it was still distracting to look at over the course of the show.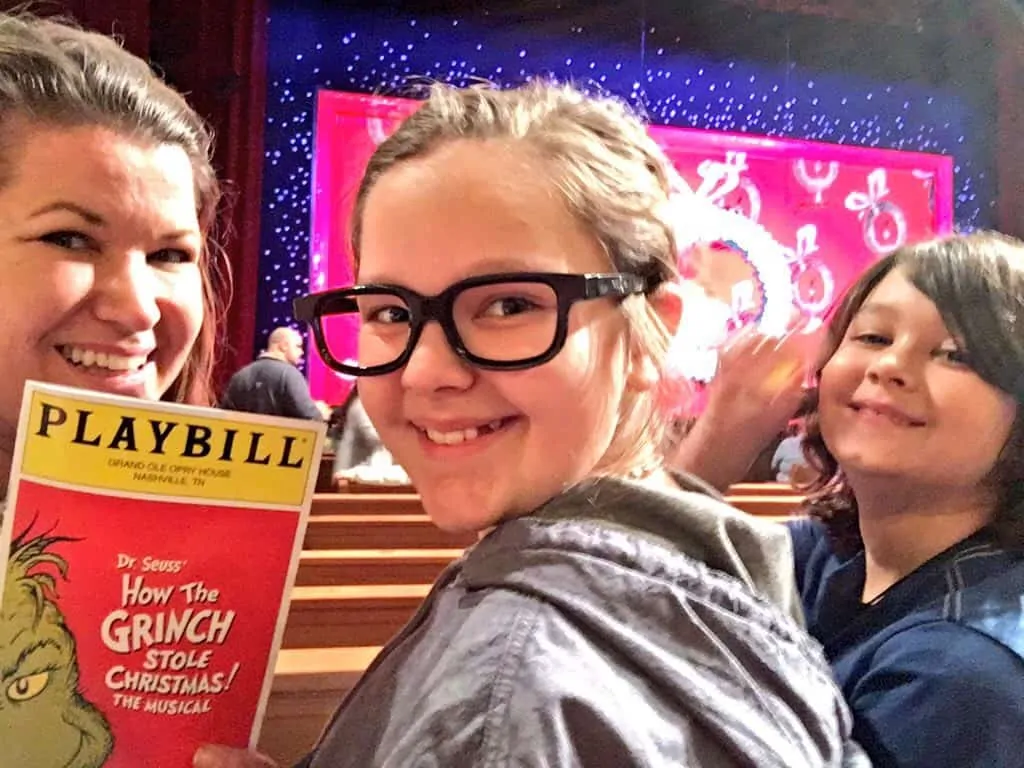 Finally, the talent was incredible. You never know who you're going to get in a semi-permanent cast, but this cast was top-notch, starting with the Grinch himself. Not only did he not disappoint, he could have starred in his own one man – or one Grinch – show. Excellent humor, beautiful voices and all the classic fun you'd come to expect in this holiday staple. Job well done.
Nutcracker Breakfast
One of my kids' favorite things to do at Opryland is eat a big breakfast, which typically involves a character of some sort. While my husband and I enjoyed the more elegant tone and decor of the Nutcracker breakfast, my kids missed the ShrekFeast for a couple reasons:
– There were only 2 characters (a ballerina and the Nutcracker Prince) at this breakfast versus at least 3 more "well known" characters at the old ShrekFeast
– Even though most of the food is the same, they missed the clever Shrek-related names from prior years (secretly, I think they just missed the Shrek shaped waffles and the Swamp juice)
One of their favorites that was still there and better than ever was the chocolate fountain with ample dipable options, including fruit, rice treats and even Oreos.
Carriage Ride
Another first for us this year was taking a carriage ride around the 2.3 million lights outside the Magnolia Lobby. Yes, you heard me correctly – this year Opryland strung 2.3 million Christmas lights, make this already Christmassy hotel even more spectacular. The ride was short but reasonably priced and meets you just outside the Magnolia lobby and loops you around the circle drive, allowing you to see not only all the lights and the flagpole Christmas tree, but also the amazing outdoor nativity with narration. Our only complaint was that it wasn't very cold the night we went, so we didn't get to fulfill our dream of bundling up and snuggling together under a blanket while we rode.
Craft Fair & Parade of Trees
This year, I love that Opryland took the craft fair and made it free to enter, allowing you to get even more bang for your buck if you're looking to do a little holiday shopping without leaving the hotel, all while supporting (mostly) local artisans. They've also taken the parade of trees out of this area and scattered them throughout the resort, allowing under fun element to explore.
My favorite find this year was Strings for Hope, which I recently highlighted on my Talk of the Town TV segment on Gifts that Give back. You can read more about them in this blog post.
Opry Mills
Of course, one of the benefits of staying right next door to Opry Mills is not having to fight for parking on Black Friday but instead making use of the free shuttle Gaylord Opryland operates so you can still take advantage of all the great shopping deals. It's also a great place to grab a bite to eat, like at one of our favorites, Chuy's or Johnny Rockets. They also have a vast foot court in case you want to grab something quick to snack on or have a lot of different tastebuds to please.
All in all, Gaylord Opryland does NOT disappoint for getting us in the Christmas spirit!
If you want to hear even more about all there is to see and do at Gaylord Opryland's 32nd Annual A Country Christmas, watch my interview with General Manager Pete Weien:

So what are you waiting for? Start making new family holiday memories at Gaylord Opryland's a Country Christmas today!
Disclosure: Opryland provided one night's accommodations for our family as well as tickets to some of their attractions, but did not influence me in any way to actually post or on what to post. It was simply my pleasure to do so!