This post may contain affiliate links, which means we may receive a small commission when you make a purchase at NO additional cost to you. Thank you for supporting our site in this way!
Let's examine how to start your year off right with personal planning retreats.
You can't know if you've met your goals at the end of the year if you never set them in the first place. As women, we have a tendency to put others first, but today we're going to talk to you about the importance of setting aside some "me time" for a personal planning retreat.
I asked fellow wife, mom, online influencer and all-around rock star, Nicole DiGiacobbe – who you may also from @TheDiGiGirls – to join me to discuss the various ways to plan a personal retreat day.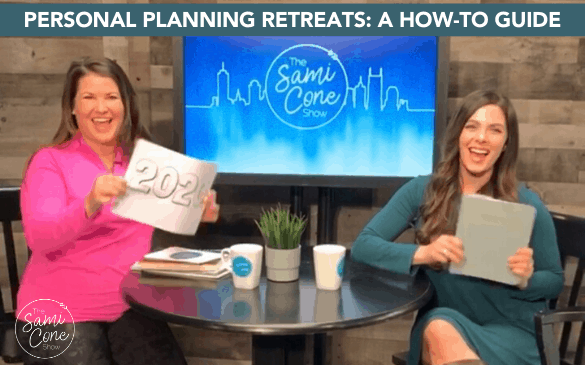 Starting Your Year Off Right with a Personal Planning Retreat
Personal Planning
During a personal planning retreat, you'll want to start by reviewing the past year. We do this by looking at last year's journals and calendar. See if any events will repeat and move them to this year's calendar.
Then, make a list of your most important goals and map out objectives for how to achieve them. Make sure to assign deadlines and even quarterly, monthly and weekly check-ins, if necessary.
You don't need a fancy planner to make this happen, but I always recommend starting with a monthly calendar with room to write in that you can spread out on a desk or bed so you can see your year at a glance (I grabbed a $3 clipboard calendar at Target).
I recommend starting with one-night away in a local hotel (you know Opryland is our fav!) so you can remove all the distractions and daily demands of home.
Getting away as a couple
It's also important to take time away as a couple to compare goals and prioritize together. Once you each have your personal goals set, it's easier (and faster) to take a couple of hours (think date night) to get on the same page.
Family Goals
At the start of every year, our family meets together to hear each other's dreams, review the past year and voice what's important for the coming year. There's nothing worse than striving to plan a surprise trip for your kids, only to hear they'd rather have a dog instead.
Even the youngest of kids can participate in this activity. Have everyone pick three words they want to be true of themselves and your family by the end of the year. Talk about places you'd like to visit and people you'd like to help. And don't forget to reflect on the previous year's highs, lows and accomplishments.
Girlfriend Getaway
A girlfriend getaway can be a mix of work and play. It's important to plan time with close friends to share dreams and hold each other accountable.
One activity you can do collectively is to create a vision board (this can be done tangibly or electronically and then reviewed each quarter). Set up a group chat or weekly Skype mastermind to continue to encourage each other.
Whatever you do, make sure you allow plenty of time to accomplish your goals while you're together, but also for downtime and relaxation so you have mental and physical space to start working on those goals after your getaway is done.
Staycation/Group Retreat
Find a local resort, like Gaylord Opryland, where they can meet all your business needs, as well as plenty of options for fun and delicious food.
You can rent a cabana to mix business and pleasure, or plan time to meet up in the adult's only pool and bar area. It's the perfect local destination when you can't get away to the beach in the winter.
You can even save money by using rewards points (The Gaylord Resorts are also Marriott properties).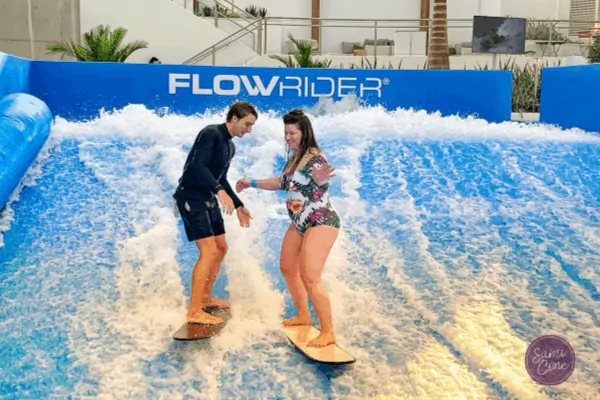 Speaking of adult-only getaways, make plans to attend SoundWaves' first adults-only event, Nashville with a Splash™, January 24-26 with the best of what Nashville has to offer: music, food & drinks, and SoundWaves! Two night packages start at only $389/couple and include accommodations, Crowd Surf for a Cause event to benefit The Store, food and beverage samplings, live music and more!
Visit SoundWavesGO.com for more information.
Finally, Nicole also helped us address specific questions regarding her personal and professional planning, like:
If people listening to this are overwhelmed, what's the one takeaway that can make a difference in their goal-planning?
What is one thing that makes it easier for you to stay on track with your goals?
What practices do you do at the beginning of the year that makes a difference at the end of your year?
---
You can watch the video from our segment below:
Find all the segments from Episode 5 of The Sami Cone Show here.