This post may contain affiliate links, which means we may receive a small commission when you make a purchase at NO additional cost to you. Thank you for supporting our site in this way!
In the past you've seen me share my healthy morning in 3 simple steps. I recently demonstrated my new healthy morning routine in 4 steps on The Sami Cone Show and thought you might appreciate this expanded version of the original post.
Technically, there are 4 categories your healthy morning routine should address, which are:
Quiet Time
Oils
Hot Liquids
Breathe & Stretch
You may choose to incorporate multiple steps within each category, but these are the essentials you need to start your day off right!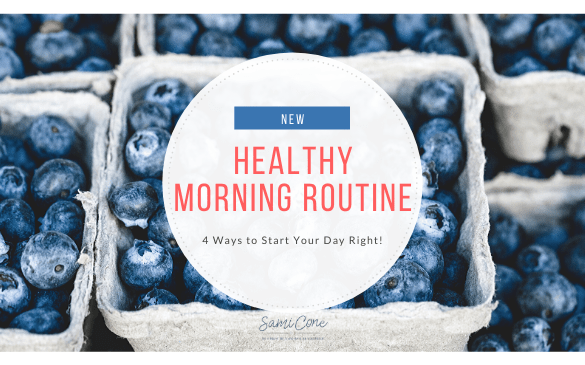 New Healthy Morning Routine in 4 Steps
The New Year is a perfect time to take stock of your current routine, assess your needs and revamp where necessary. While doing a complete overhaul of your physical, spiritual and emotional practices can be overwhelming, I've found one critical factor in achieving your goals: being intentional with your morning routine.
Experts agree that how you start your day often determines your course for the rest of the day. So as you get a sneak peek inside my morning routine, the idea is that you'd take elements of it that can work for you and begin implementing them immediately.
1. Quiet Time
There are several elements to my morning quiet time and it always includes 3 things: journaling, reading and prayer. Here is how that breaks down:
Journal
At the start of every year, I buy a 6×9″, 3-subject notebook. In the first section, I write down dreams and notes from my daily reading. The second section is my literal daily journal of what happened the day before. Finally, I use the third section to take notes on everything from sermons to meetings with my mentors. I then look back through these at the end of each year.
Reading
For the past two years, I've worked through the One Year Bible as part of my daily Bible reading. After reading my Bible, I always read my favorite devotional, My Utmost for His Highest by Oswald Chambers. (My copy is literally being held together by Glad Press & Seal!).
Some of my other favorite devotionals I shared on air are:
Regardless of whether or not you're a Bible reader, taking time to read something encouraging in the morning helps set you on the right track.
Read some of my other Bible Reviews:
Prayer/Meditation
This should have been listed first. No morning of mine is complete without at least two minutes to pray and meditate. Now don't get crazy on me; meditating simply means to 'think deeply' or 'ponder'. Realistically, my prayer time gets interspersed through my reading and journaling as I quiet myself and people come to mind. You can also keep track of your prayers in your journal.
2. Oils
Oils play an important part in my morning routine in two ways: oil pulling and essential oils.
Oil Pulling
Oil pulling helps with everything from bad breath to teeth whitening. I take a spoonful (about 1 tablespoon) of coconut oil and hold it in my mouth for at least 5 minutes, but up to 20 minutes), while I have my quiet time in the morning.
The more you can swish, the better. Just make sure you spit it out when you're done (ideally in the trash, since it could clog up a drain) and then brush your teeth immediately after. It also helps to gargle with warm water after oil pulling.
This can be really strange at first, but it's become an essential part of my new healthy morning routine.
Essential Oils
Essential oils have really experienced a resurgence in the past few years. While I wouldn't throw away all traditional medicine in favor of them, essential oils make a nice addition to your daily routine.
I have essential oils from a variety of companies, including Thistle Farms and Vitacost. The important thing is to make sure you're using 100% pure essential oil, especially if you decide to use it internally. I love to make rollerballs and diffuse my oil blends.
3. Hot Liquids
It's important to start your morning by drinking hot (or very warm) liquid on an empty stomach to cleanse your system and get everything moving, if you know what I mean. For me, this means filling a tall glass with at least 8oz of hot water, the juice of half a lemon and at least 2 ounces of Aloe Vera juice. I'll then top it off with room temperature water if I need to cool it down at all.
Since my water is already hot in the kettle, I'll also make a large mug of green tea without sweetener. Sometimes I'll put this in a to-go mug so I can sip on it throughout the morning.
And while it isn't a hot liquid, I also try to start my morning with fresh celery juice as much as possible. Haven't heard of the celery juice trend? Read my post on the best celery juice recipe and the benefits that come from it.

4. Breathe and Stretch
I don't always get a workout in each morning, but I do try to walk for 30 minutes and do some deep breaths and stretching. There are three yoga poses I specifically do to help my back:
Mountain pose
Warrior pose
Tree pose
Make sure you watch my segment on how to re-think yoga if you've ever had questions about this ancient practice.
If you don't want to take the time to do yoga, at least do some deep breathing and stretches. If you're feeling particularly anxious one day, lie on your back with your legs above your heart for two minutes. It's said to add years to your life!
---
Watch all the segments from Episode 5 of The Sami Cone Show here.
Watch my healthy morning routine segment from The Sami Cone Show:
You can watch a similar segment I did on Talk of the Town below:
Find all my Talk of the Town segments.