This post may contain affiliate links, which means we may receive a small commission when you make a purchase at NO additional cost to you. Thank you for supporting our site in this way!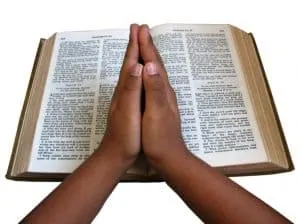 I admit, I'm not the best prayer warrior.
There. I said it. Are you surprised?
But just because I don't consider prayer one of my spiritual gifts does not give me the license not to pray.
In fact, I would venture to say that prayer helps me as much as the person I'm praying for.
Through prayer, not only am I lifting someone else closer to the throne of God, but I am literally putting them ahead of myself. In putting my own thoughts aside in order to focus on someone else's needs, my own heart benefits as a byproduct.
I've also learned that in order to fill that ever so important request, "Will you pray for me?", I often need to stop in that moment and do so. Sometimes it is with the person, sometimes it is simply a quick talk with God once I get in the car; yet whatever the prayer is, I know that through the act of prayer, I am fulfilling the will of my Heavenly Father.
I wish we would all walk through life that way: knowing that we don't have to compete to get ahead, but instead by helping others, we in turn truly better ourselves. It's a win-win!
While I don't recommend entering prayer for the sole purpose of thinking, "What can I get out of this for myself?", I would also encourage you to open up your mind to the possibility that praying for someone else just might bless you in return!
And pray in the Spirit on all occasions with all kinds of prayers and requests. With this in mind, be alert and always keep on praying for all the Lord's people. ~ Ephesians 6:18