This post may contain affiliate links, which means we may receive a small commission when you make a purchase at NO additional cost to you. Thank you for supporting our site in this way!
I've always had a heart for the homeless. But activist Lindsey Krinks, author of the new book, Praying with our Feet, gives us unique insights into how to help our unhoused friends in Nashville.
Lindsey is the co-founder of Open Table of Nashville, an organization our family has volunteered with for years. In the pages of this book, we not only see why she felt compelled to make a difference on the streets of Nashville, but she guides us in how to do the same.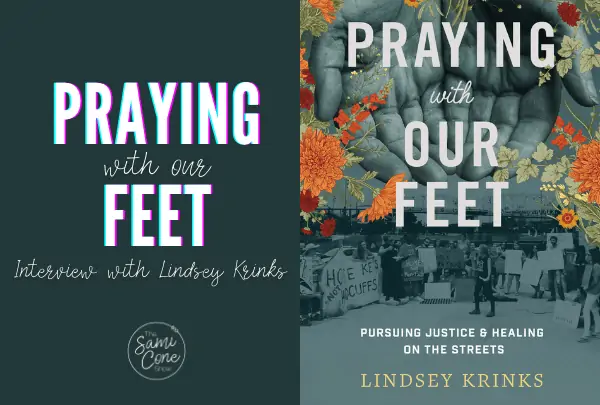 Praying with Our Feet Book Interview
Open Table of Nashville is a non-profit, interfaith community that disrupts cycles of poverty, journeys with the marginalized, and provides education about issues of homelessness.
Lindsey does a beautiful job in our interview of explaining several things, including:
What it means to pray with our feet
How we define "unhoused"
The most common misconceptions of homelessness
I know I have been guilty of focusing on what I see on the outside (the symptoms of homelessness) rather than focusing on the root causes.
Ultimately, our city needs more affordable housing. If you want to be part of the solution, please consider donating to our Open Table fundraiser on Go Fund Me.
Donate to Open Table of Nashville via Go Fund Me
Watch my full interview with Lindsey on The Sami Cone Show: