This post may contain affiliate links, which means we may receive a small commission when you make a purchase at NO additional cost to you. Thank you for supporting our site in this way!
Welcome to my Products with a Purpose list!
In the past I've discussed my favorite "Gifts that Give Back" and this is an expanded version of that.
Whether you're looking to get a jumpstart on holiday shopping or simply want to make your dollars stretch further and do more good, I'm here to introduce you to some incredible organizations that not only make incredible products but benefit beautiful causes as well.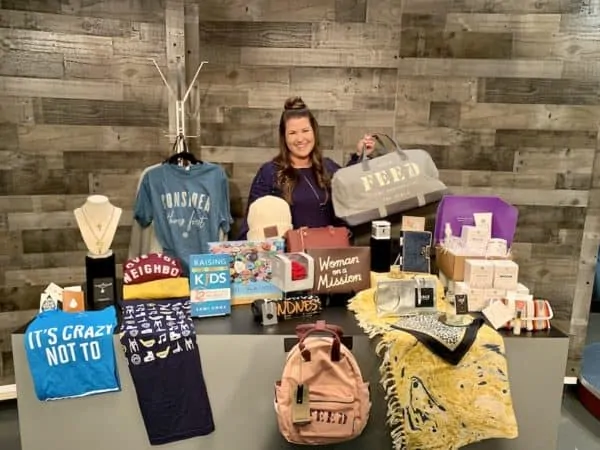 Products with a Purpose
I've divided my Products with a Purpose list into four different categories:
Gifts that Help Women
Gifts that Help Children
Gifts that Help the Homeless
Gifts that Help the World
Of course, some of these incredible organizations help in multiple categories, so read on to see all the amazing work these groups are doing.
Gifts that Help Women
Thistle Farms gives women who have survived trafficking, prostitution, and addiction a second chance at life by providing a safe & supportive place to live, a meaningful job, and a lifelong sisterhood of support.
Candles
Thistle Farms' hand-poured soy candles burn with the promise that Love Heals Every Body. Each day, members of the Thistle Farms community light a candle in their Nashville headquarters as a universal symbol of sanctuary and love. Group multiples together to create an inviting ambiance filled with purpose and well-being. Features an essential and botanical oil blend as well as a flat-wick for a clean burn.
5-slot Essential Oil Travel Bag
Enjoy this set featuring a hand-sewn bag from our partners at Sibimbe and five of our best-selling Healing Oil blends. Our Healing Oils are handcrafted and specially blended to promote physical, mental, and emotional wellness. Each essential oil blend is derived from highly concentrated plant products and mixed with high-quality carrier oils to deliver profound sensations of Calm, Energy, Immunity, Focus or Balance.
Lavender Gift Box
Inspired by their top-selling Lavender essentials, this special gift is curated to provide a calming environment with great purpose.
ABLE is a Nashville-based fashion brand that makes beautiful products while empowering women with jobs so they can transform their lives and thrive. They are devoted to high-quality leather bags, clothes, shoes, and jewelry and also ensure the women who make them have the quality of life they deserve. You can visit their Flagship Store in The Nations neighborhood or at www.livefashionable.com
Heirloom Necklace
All of ABLE's jewelry is handmade in Nashville, TN by the women of ABLE and can be personalized for a unique gift with meaning. The MSRP on personalized jewelry ranges from $34-68 depending on the piece.
Fozi Wristlet in Silver Metallic
Gorgeous leather wristlet with gold ring detail and adds the perfect pop of personality to add to any outfit. It comes in several colors – including trendy snake print! MSRP: $88
Emerson Scarves
Adds a touch of elegance to any look. Unmatched in versatility – you can wear it on your favorite tote, in your hair, or around your neck. 100% printed woven silk and comes in 4 different styles! MSRP: $54
Rahab's Rope exists to empower women and children in the fight against human trafficking. 100% of the profits from global and local products fund the mission of Rahab's Rope.
Good Money bracelet:
In the Red Light District, Good Money actually means dignity. Rahab's Rope began vocational training with a group of women in the red light area making this bracelet. When the women received their first wages they said, "This is the first good money we have earned." The bracelet is made of natural stones, a story card and a special cloth bag. This bracelet is the only product of Rahab's Rope that is made by women who are still being trafficked while we're working on their rescue.
Helena Tote:
The Helena tote is a beautiful blue and cream pattern, matched perfectly with 100% leather straps for what will become your new favorite bag! The real beauty of this bag is its two-fold impact. The women who make this bag are empowered through their fair trade wages, good working conditions, and self-help initiatives provided for them. The profits from this bag help fund the operation of rescuing and aftercare for women and children who are trafficked. (Tote size: 17" depth, 17.5" width, 13" handle length)
Embossed Leather Journal:
This may be my personal favorite! A hand-embossed, 100% genuine leather journal with a brass latch. The journal is hand-bound and filled with recycled paper. This beautiful Indian floral design pays tribute to the age-old technique of handcrafted leather. The profits from this journal help fund educational courses for women at-risk or rescued from human trafficking.
Loomed Marbled Throw:
This beautifully made cotton throw focuses on a centuries-old technique called marbling. It is hand-loomed and the unique technique leaves no two throws alike. All profits provide basic education and vocational training for women and children at-risk or rescued from human trafficking.
Gifts that Help Children
Your purchases support the lifesaving mission of St. Jude Children's Research Hospital®. St. Jude Children's Research Hospital is leading the way the world understands, treats and defeats childhood cancer. Families never receive a bill from St. Jude for treatment, travel, housing or food. Treatments invented at St. Jude have helped increase the overall childhood cancer survival rate from 20% to more than 80% since the hospital opened over 50 years ago. St. Jude will not stop until no child dies from cancer.
On the show, I featured two unique offerings from the St. Jude gift shop. Visit stjude.org/shop to find these items and more:
FEED creates good products that help feed children around the world (and they make it clear how many meals you provide with each purchase).
FEED Kids Backpacks (new in 2019)
Retail: $78 (on sale for $58 right now). Designed for kiddos, to help other kids in need. Provides a great opportunity to teach your little ones about the importance of kindness and the many ways we can all give back to others. Best for younger children (up to 2nd grade) for school or for any kiddos for playdates, travel or jaunts to the park Each FEED Kids Backpack provides 25 school meals to kids in need, to fight hunger globally & here in the U.S.
Eleanor Crossbody Bag, Oxblood (brand new for Holiday '19)
Retail: $148. Genuine, vegetable-tanned leather. One of FEED's best-selling leather styles. Adjustable crossbody strap and interior slip pocket. Each Eleanor Bag provides 75 school meals to kids in need, to fight hunger globally & here in the U.S.
Weekender Duffle Bag, Ochre (brand new for Holiday '19)
Retail: $168. Sturdy, canvas duffle bag with leather accents and bold FEED branding. Zipped canvas flap on the back so you can easily slide the duffle over the handle of your rolling suitcase! Each Eleanor Bag provides 75 school meals to kids in need, to fight hunger globally & here in the U.S.
Woman on a Mission leather pouch (brand new for Holiday '19)
Retail: $58. A painted leather statement pouch that makes the perfect gift for any of the women in your life! Big enough to use as a clutch, or tuck into your travel bags, purse, or tote as a wallet or organizing tool. Each pouch provides 25 school meals to kids in need, to fight hunger globally & here in the U.S.
Love Your Melon is an apparel brand dedicated to giving a hat to every child battling cancer and supporting the fight against pediatric cancer. 50% of the net proceeds go to their non-profit partners to help fight pediatric cancer.
The Mayor is actually proclaiming Nov. 13 as World Kindness Day in Nashville. Inspire Kindness is planning to have a pop-up shop downtown on that day at Tequila Cowboy in partnership with TC Restaurant Group.
We featured the following items from Inspire Kindness on air:
Red Kindness Rose: A real rose that lasts up to a year! Great gift for mom or grandma.
Rock Painting Kit (This is great for kids as it teaches them about intentional acts of kindness!)
Black Kindness x4 shirt
Choose Kindness Heart Bracelet
My first book helps parents raise more compassionate kids by turning the parenting mirror on ourselves.
10% of all proceeds benefit youth missions
Gifts that Help the Homeless
I featured some of my new favorite Project 615 apparel on-air, including:
Hockey Icons Tee
"NASH TENN" camo sweatshirt
Heart Nashville left chest on Gold
Love Your Neighbor in Burgundy
But what we really want to draw attention to is their new Campaign Tee: "Consider Others First"
"Consider others first" is a saying that resonates with Project 615 and their mission as a company. Especially during the holiday season, we want to consider others first and remember to always be thinking of the needs of others over our own. We want to remember to "Consider others First" by being servants, having empathy, having compassion, meeting the needs of others and being servants. You can join Project 615 and "Consider others First" with the purchase of this tee – for every shirt bought 5 meals can be served to the homeless and hungry this winter.
Proceeds benefit The Bridge Ministry, an organization that feeds the homeless and hungry every Tuesday night in Nashville under the Jefferson St. bridge. In addition to giving back proceeds from the tee, they will also be collecting blankets and socks at the stores. If you bring in either of these items, you'll get 10% off any purchase made that day.
The giving keys works to end homelessness through employment.
They provide full-time jobs at the living wage in the city of Los Angeles to people transitioning out of homelessness. With each job, we offer benefits, paid time-off for housing, education and case management appointments, and a supportive environment that cares for the whole person.
Here are some of our favorite products:
The Rebel Padlock Choker features our chunky chain links for the trendy friend in your life! $109.00 USD
The Florence Collection will feature a Figaro chain in both Gold and Silver with various styles + key sizes. Retail Price: $32.00-52.00 USD
The Shell Pendant Necklace also launched this month, which features a fixed mini key in the chain in Gold and Silver! Retail: $52.00 USD
The Charmed Ring Set is an everyday style that goes with anything. Wear them stacked or mix and match the charms and inspirational words on the rings. Retail: $52.00 USD
Gifts that Help the World
charity: water is a nonprofit organization bringing clean and safe drinking water to people in developing countries." Our extended version is linked here The organization proves every project, using innovative technology and powerful storytelling to connect donors with their impact.
Since 2006, charity: water has raised more than $400 million and funded more than 44,000 water projects in 28 countries around the world to help 10 million people get access to clean water, better hygiene and improved sanitation. All profits from these items directly fund clean water projects and help the organization grow.
Everything Hoodie
This soft, zippered sweatshirt highlights charity: water's belief that "water changes everything." Clean water is about so much more than just something to drink. Providing people with access to clean water is also a gateway to getting an education, growing income and improving health – especially for women and kids.
Nothing is Crazy Tee
Help charity: water show the world that you can do anything to raise money for clean water by buying your own customizable shirt and filling in the blank. The craziest thing we can do is nothing.
Minimal Leather Wallet
Each of these ultra-slim leather wallets are handcrafted with love in Tacoma, WA by charity: water's friends at Black Anchor Workshop.
Temporary Tattoos
The talented artists at Tattly partnered with charity: water to create these temporary tattoos. Tattlys are safe and non-toxic, FDA-compliant, and printed with vegetable-based ink. Tattlys last about 2-4 days. 80% from the sale of each set of tats helps fund clean water. Thus far, Over $3,000 has been donated to charity: water from these tattoos alone
You can also check out my Gifts that Give Back segment from last year for even more great ideas!