This post may contain affiliate links, which means we may receive a small commission when you make a purchase at NO additional cost to you. Thank you for supporting our site in this way!
Teaching kids Psalm 23: teaching kids how to memorize Psalm 23 through video, song & hand motions.

Teaching Kids Psalm 23
In the scripture memorization videos below, I'm teaching my kids Psalm 23.
Psalm 23. It's six verses. Typically I recommend teaching your kids one verse a week. But you can teach your kids to memorize Psalm 23 in a month if you work on it at different times throughout your day.
There is no tune to this, so feel free to make it your own as you see fit. Be sure to explain to younger children any words they may not understand so they can begin to form their own word pictures in their heads.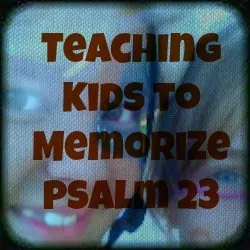 Psalm 23 Scripture Memorization Video
My Psalm 23 scripture memorization video is BY FAR one of my most viewed ever. While I use some ASL signs, I also make up some hand motions as well.
The key is to work on one verse and once that's memorized, add the next, but always repeat the previous verse(s) too.
(Forgive my appearance in this video. I just got over having pink-eye, so no makeup for me!)

Here are my kids reciting Psalm 23. First Kariss (age 4):

and Britton (age 3) in a slightly more humorous version:

Different Scripture Translations of Psalm 23
To be completely honest, the version of Psalm 23 I taught my children is a bit of a mix between the KJV (King James Version) & NIV (New International Version). I personally read from the NIV, but I must have learned some version of the KJV when I was younger. Here are the full texts of each version.
Psalm 23 KJV text:
The Lord is my shepherd; I shall not want.
2 He maketh me to lie down in green pastures:
he leadeth me beside the still waters.
3 He restoreth my soul:
he leadeth me in the paths of righteousness for his name's sake.
4 Yea, though I walk through the valley of the shadow of death, I will fear no evil:
for thou art with me; thy rod and thy staff they comfort me.
5 Thou preparest a table before me in the presence of mine enemies:
thou anointest my head with oil; my cup runneth over.
6 Surely goodness and mercy shall follow me all the days of my life:
and I will dwell in the house of the Lord for ever.
Psalm 23 NIV text:
A Psalm of David.
1 The Lord is my shepherd;
I have all that I need.
2 He lets me rest in green meadows;
he leads me beside peaceful streams.
3 He renews my strength.
He guides me along right paths,
bringing honor to his name.
4 Even when I walk
through the darkest valley,
I will not be afraid,
for you are close beside me.
Your rod and your staff
protect and comfort me.
5 You prepare a feast for me
in the presence of my enemies.
You honor me by anointing my head with oil.
My cup overflows with blessings.
6 Surely your goodness and unfailing love will pursue me
all the days of my life,
and I will live in the house of the Lord
forever.
(From BibleGateway.com)
The Hebrew-Greek Key Word Study Bible is the one I've used the longest:


I also recently reviewed the Heritage Leather Bible and it may just be the best family legacy Bible I've ever touched.
What ways have you found to effectively teach your kids scripture memorization?