This post may contain affiliate links, which means we may receive a small commission when you make a purchase at NO additional cost to you. Thank you for supporting our site in this way!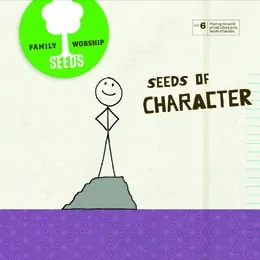 I'm so proud to announce that the fabulous team at Seeds Family Worship has released their newest album, "Seeds of Character"…volume 6 in their CD series. What's even more exciting is that one of my favorite friends, Tiffany Lee (a.k.a. Plumb), co-wrote and sang one of the songs on the album!
The song, "The Wages & The Gift", features verses Romans 3:23 and Romans 6:23. For those of you who haven't heard of Seeds Family Worship, let me introduce you. Seeds was planted when worship leader, Jason Houser, was asked to write some songs to help kids remember the verses from their summer Bible school. They were so catchy, that it didn't take long before the first Seeds Worship album was in bloom!
Obviously you know how much I believe in setting scripture to music since I've been creating my own scripture memorization songs for kids for awhile now. But you may also have noticed that's slowed down some lately…due in large part to finding the Seeds albums! What's particularly great about this music is that not only is it a fun and helpful tool for kids, but it's really good music that adults will actually want to listen to as well!
Tiffany and her family joined us for our son's T-ball game last night, and I thought it would be a great opportunity to get a sneak peak at her new song on volume 6, "The Wages & The Gift". Check out what Tiff had to say…and hear her a capella version of the song (I promise you will not be able to stop singing it!):

Fun, right?! She really does have one of the most amazing voices I've ever heard. And just think, if she sounds that good in the grass at a baseball game, imagine how great the studio recording must sound! I know, we're a bunch of goofballs. Just look at this pic my husband snapped while we were chillin' and cheering on the bleachers:
In addition to our silliness, we share an abundant amount of love for our and our families, which is why we're both so passionate about this project. I'm thrilled to be a part of this blog tour for the premiere of Seeds of Character and to offer you one more surprise: you can win the CD for yourself!
Yes, not only will one winner receive the new Seeds Family Worship album, "Seeds of Character", but one lucky SamiCone.com reader will win the ENTIRE six volume CD set!
To enter, you must leave a comment below with your favorite Seeds Worship song or album. (If you've never hears a Seeds album before, take a look at the CDs on their website and tell me which album you'd most like to hear). To earn additional entries, you can do any or all of the following (just make sure you leave separate comments below letting me know you did!):
Become a Fan on Facebook (SamiCone.com or Seeds Family Worship) & SHARE the contest on your Facebook wall (https://www.samicone.com/?p=12427)
Follow @TheSamiCone and/or @SeedsWorship on Twitter & tweet the following
I want to plant "Seeds of Character" in my kids thanks to @SeedsWorship & @TheSamiCone https://www.samicone.com/?p=12427
I'll pick two winners at random from all entries received before Midnight CST on Tuesday, May 24. Winners will be contacted by email and will then have 48 hours to respond with their contact info.
If you can't wait to see if you've won, the Seeds team is offering my readers a special 20% discount code: just visit the Seeds Music store and use SAMICONE to get your savings! Good luck and please make sure to check out all the other blogs on the premier tour, especially my friends Amanda, Erin, Angie, & Kelly!