This post may contain affiliate links, which means we may receive a small commission when you make a purchase at NO additional cost to you. Thank you for supporting our site in this way!
Today would have been my dad's 89th birthday. But he died on October 12th of this year. While most would agree dying at his age constitutes a good life, I believed he still had a lot in him to give.
So on this New Year's Eve, my dad's birthday, I want to keep my dad's memory alive by sharing 4 things you need to learn from my dad, Jerry Strauss, by way of the eulogy I gave at his memorial service earlier this month:
From the day I found out what happened to my dad until the day he passed away was exactly a week. Seven days.
On Tuesday, October 5, 2015, I found myself speaking to a group of colleagues at Lipscomb University and came off the stage to find emergency texts from two of my brothers.
I jumped on a plane that Thursday to be by his side in the hospital and by the following Thursday was back teaching at the university, but this time without the security of knowing my dad was only a phone call away.
That afternoon, after I was done teaching classes, I accepted an invitation from some of my students to go watch an inter-squad baseball game on campus. As I sat in the back row of seats, I pondered what I could have said or done to not take advantage of having my father around.
A couple of innings into the game, a fellow Communication Professor walked into the stands and sat by me. I hadn't seen him since returning to campus and he expressed his sympathies. But it was perhaps the next thing he said that will forever stick with me:
"Tell me about him."
Four words.
Just four words and yet it's profoundly changed me. In the 48 hours since my dad passed at that moment, I'd struggled to live a so-called normal life, struggling with the pain while still moving forward and honoring his memory.
So today, in just four minutes, I want to take the challenge of THOSE 4 words and share 4 words of my own with you that unmistakably describe the daddy-o I know:
1. Disciplined
Dad was known for his routine – getting up early to do his calisthenics, hang upside down in his gravity inversion boots, cut up a big plate of fruit, make his cereal with a variety of nuts, twigs & berries – brush his teeth for half an hour – go out for an activity like ping pong or swimming at the JCC – lunch at one of his regular stops, and then home to watch the nightly news and Jeopardy with a cup of green tea and some popcorn.
While it drove me nuts at the time, it's one of the qualities I most want to emulate now.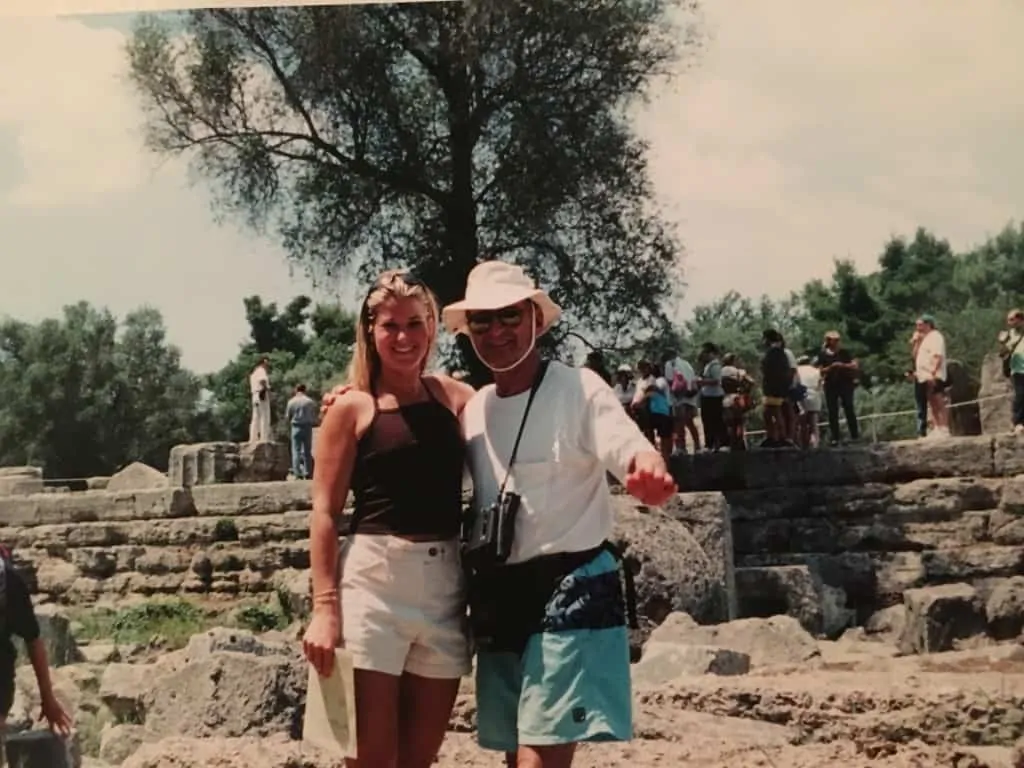 2. Driven
In interviewing him for my book, I heard about all the jobs he held as a child and how he worked his way through law school after his time in the service. My dad worked from the time he was eight years old: being born during the Great Depression, it was a necessity for his family.
He taught me never to take no for an answer & to create my own opportunities in life and in industry.
3. Determined
Dad didn't accept anyone else's timeline – He didn't just raise the bar, he set his own bar:
If a doctor told him it would take a month to walk again after surgery, he determined to be up and about in a week. If he learned something should take a week, he'd have it done in a day…and he expected the same determination from others, including the same attitude towards recovery if you were sick!
This instilled within me a power of positive thinking and to believe that you can accomplish more than you may have originally believed possible.
4. Dedicated & Dependable
Ok, so it's two words. Dad was loyal to his friends, co-workers & family. If you gave him a job to do, he got it done. If I even casually mentioned needing to research something, I'd get a full email report the next day complete with reviews and links where to purchase. Since his passing, I've heard countless stories from family friends and this is just one:
"Thoughtful feelings" are easily felt and "kind words" easily said when I think about your father — my friend" from Victor Goulet
His "black & white" nature that drove me nuts as a teenage girl became something I appreciated most about him and can honestly say led to him being the most consistent relationship in my life.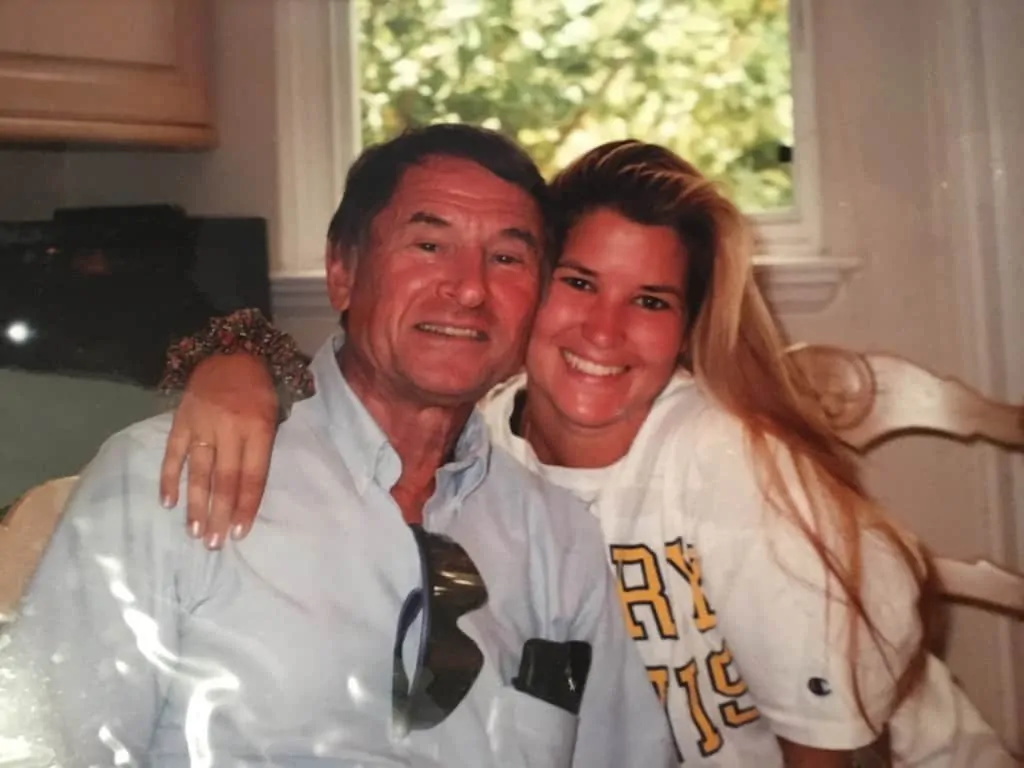 In the week before his service, I had the privilege of listening to my university students share their final speeches about what or who has shaped them and made them into the person they are today.
On more than one occasion, my students challenged me to think about what I was doing with my "dash": there are only two dates in our lives we can't control, the day we're born and the day we die. But the "dash" in between those two dates are up to us.
God does not judge us based on what we're given, but on what we DO with what we're given. The first Sunday back in church after my dad died, my pastor began a series called "Now or Never", which was all too aptly appropriate for the spot in life I found myself in. He said something that not only changed me deeply, but I want to leave you with, in hopes that it will change you as well:
"Someday is probably the most dangerous word in the English language. If what maters at the end of your life doesn't matter now, then your priorities are misaligned."
We've all heard the phrase, "Don't take a moment for granted," but it's not just a passive appreciation that I'm striving for today, but an active pursuit of purpose.
While it will always be my opinion that my dad left this world too soon, we can ensure his legacy lives on through us by embracing these four qualities I described today:
Disciplined. Driven. Determined. Dependable…and of course by spreading smiles through miniature origami to everyone we meet.