This post may contain affiliate links, which means we may receive a small commission when you make a purchase at NO additional cost to you. Thank you for supporting our site in this way!
Thanks for being willing to help spread the message of Raising Uncommon Kids!
In order for the words on the pages of #UncommonKids to make a difference in the lives of families across the world, they need to be shared.
That's where you come in…
Regardless of where you live, work or share, I have ideas below for everyone. Of course, feel free to share whatever jumps out at you from the book anytime you feel like it with the hashtag #Uncommon Kids.
Raising Uncommon Kids Social Shares
Sample Tweets

:

Raising Uncommon Kids by @TheSamiCone is finally here! Check out this must-read for every parent: http://bit.ly/RUKhome #UncommonKids (CLICK TO TWEET)


Tweet: Before we can raise uncommon kids, we have to be uncommon ourselves. ~ @TheSamiCone #UncommonKids

Tweet: Choose joy instead of chasing it. ~
@TheSamiCone #UncommonKids

Tweet: Love is not simply a feeling; it's an action.
~ @TheSamiCone #UncommonKids

Tweet: Regardless of how you feel ABOUT each other, you have to communicate WITH each other ~ @TheSamiCone #UncommonKids

Tweet: God calls us to release control, not our responsibility.
~ @TheSamiCone #UncommonKids
Facebook Messages:
Looking for a parenting book filled with biblical wisdom AND practical advice? Check out Sami Cone's new book releasing this week, "Raising Uncommon Kids". I can't wait for you to read it: http://bit.ly/RUKhome
Quoteable Images: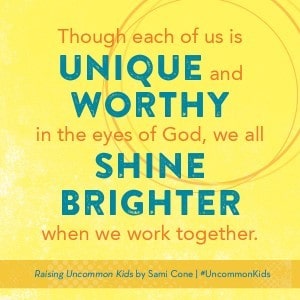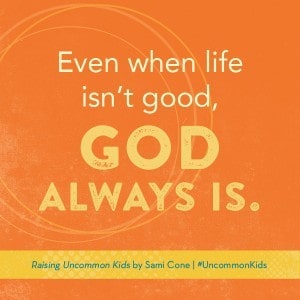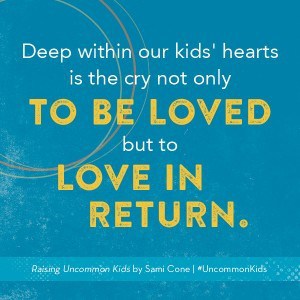 Characteristic Images: