Getting back in the classroom isn't exactly like riding a bike…
The Daily Dash: January 10, 2018 {Back to Teaching #CommProf} 
IN THE NEWS:
* Deadly mudslides in southern California have already taken the lives of 15
* Federal Judge in CA temporarily blocking Trump's ban of DACA
* Former White House strategist Bannon out of Breitbart
* The American Kennel Club recognizes two new breeds
IN THE WORD:
One of the most difficult questions to answer in Christian work is, "what do you expect to do?" – Oswald Chambers
IN MY LIFE:
You know how the old saying goes that doing something again after not doing it for a long time can be like "riding a bicycle" – it just comes back to you? Well that can be true, but with teaching, there is so much more that goes into it. Not only do have have to stay current with new information in your field, but you have to constantly adapt to new students.
Today I stepped back into the classroom after not teaching the past six months. While it was comfortable in many ways, and I always enjoy meeting the students on the first day of class, today was even more poignant to me for some reason. Perhaps it's because we've been having so many school conversations with and about my own children that I'm even more aware of the responsibility teaching holds. But whatever the reason, I'm grateful to once again have been given the opportunity to share wisdom with the next generation and pass on my experiences and knowledge.
Stay in the know on the go:
Subscribe to my YouTube Channel: http://bit.ly/1g5VA3T
Join in the conversation on Facebook: http://www.facebook.com/SamiCone
Tweet with me: http://www.twitter.com/TheSamiCone
Watch my story unfold on Instagram: http://instagram.com/TheSamiCone
Follow me on Pinterest: http://www.pinterest.com/SamiCone
Read my book, Raising Uncommon Kids: http://RaisingUncommonKids.com
Share the book on social media: http://bit.ly/RUKShare
Focus on the Family interview: http://bit.ly/RUKfocus
Don't want to miss even one day of the Daily Dash? Catch up on all of my Daily Dash videos and subscribe to my YouTube channel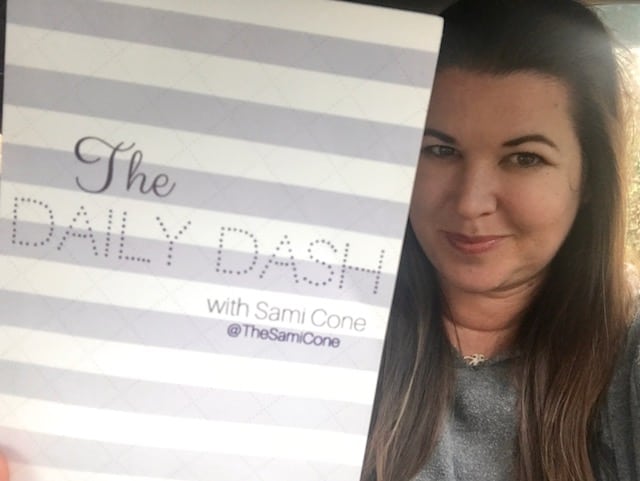 Hope you make it a great day!