We've found something my son loves and you can try for free too…
The Daily Dash: January 9, 2018 {@SkyStudiosTN Review & Free Music Lesson} 
IN THE NEWS:
* Possible Russia probe interview between Trump & Mueller
* North Korea agrees to send athletes to the Olympics
* Study links ibuprofen to male infertility
* AL beats GA in overtime to win College Football National Championship
IN THE WORD:
God can transform destructive anxiety into a constructive thoughtfulness for the future – Oswald Chambers
IN MY LIFE:
As you well know, our daughter has really taken to cello over the last two years. While we've loved watching her love of music grow, there has been some sadness over the fact that her current school doesn't offer any music program during the school day. Not only does this cause her to fall behind some of her counterparts in the county orchestra, it's prevented my son from learning a new instrument like his sister got to in 6th grade.
So when Sky Studios reached out to me about trying a lesson with them and I learned just how close they are not only to our home, but to where our daughter's orchestra practices on Monday nights, we were excited to give them a try. And it wasn't just the proximity that attracted us to the team at Sky Studios; they offer something unique in Nashville that I haven't seen with any other music studio.
In addition to teaching almost 200 private lessons weekly in guitar, piano, bass, drums, violin/fiddle, mandolin, banjo, ukulele, saxophone, flute, trumpet, trombone, clarinet and voice, they also offer live performance programs, songwriting programs and recording programs (in their in-house studio) for students to practically apply what they learn, build their skills as they grow, and of course, have fun and amazing experiences.
More than just what they offer, it's who offers it. Their instructors are all college-educated professional musicians. The only downside of this (as we'd just discovered with Britton's drum teacher who is leaving for another tour next week with a major country artist) is that the Sky Studios instructors are so good at what they do, they often get called back out to the road to perform with some of today's most popular artists.
TYPES OF LESSONS
Sky Studios offers two types of lessons – flex and roster. Flex lessons are $40/lesson and you can book them whenever they have openings. You can book as many flex lessons as you want, and you can also cancel them with 24 hours notice.
Roster lessons are tuition-based, and they are $30/lesson. With these, you reserve your teacher and your time spot (i.e. Monday at 7) and are billed at the first of each month for that month's lessons. They don't offer make ups or cancellations for roster lessons, since the teacher is reserving the time spot. The advantage of being on the roster is getting the same time each week and the reduced lesson cost.
Watch this 30 second video to get more of a look inside Sky Studios:
https://www.youtube.com/watch?v=T4nC_8OSnPM

OUR EXPERIENCE
I'll admit, our son wasn't sure at first if he wanted to add something else to his schedule, but really missed the drums he had started to learn in school two years ago. As soon as he came out of the lesson, I said "OK, let's talk about it" and Britton said, "No talking, just do it…IT WAS AWESOME!"
That kind of praise isn't easy to come by from an 11 year old boy! When I pushed him for more of a reason, he said, "Just the people in general there make me want to do it, even though everything else is terrific too." We had our first lesson of the New Year last night, and his excitement was just as strong afterwards.
FREE LESSON
I'm proud to let you know that Sky Studios is offering ALL of my readers a free lesson. This can be a one-off trial lesson or your first roster lesson free, depending on if you just want to try them out or sign up for the roster. This is a $30-$40 value depending on the lesson type. If you sign up for the roster lessons, your registration fee will also be waived (a $25 value). All you have to do to take advantage of your free lesson is to click here: http://skystudiostn.com/sami-cone
Stay in the know on the go:
Subscribe to my YouTube Channel: http://bit.ly/1g5VA3T
Join in the conversation on Facebook: http://www.facebook.com/SamiCone
Tweet with me: http://www.twitter.com/TheSamiCone
Watch my story unfold on Instagram: http://instagram.com/TheSamiCone
Follow me on Pinterest: http://www.pinterest.com/SamiCone
Read my book, Raising Uncommon Kids: http://RaisingUncommonKids.com
Share the book on social media: http://bit.ly/RUKShare
Focus on the Family interview: http://bit.ly/RUKfocus
Don't want to miss even one day of the Daily Dash? Catch up on all of my Daily Dash videos and subscribe to my YouTube channel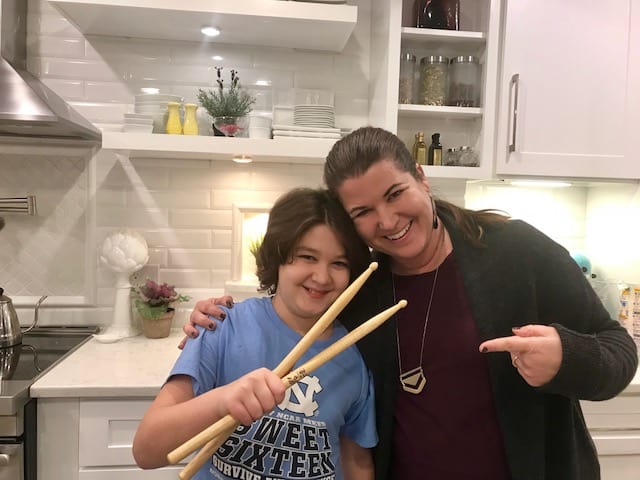 Hope you make it a great day!