Today is the day to save half off something that could radically change your marriage…
The Daily Dash: January 8, 2018 {@FamilyLifeToday #WTR Half-off Today!}
IN THE NEWS:
* Golden Globes were last night; women chose to wear black to support #MeToo movement; Oprah stole the show with her Cecile B. Demille award acceptance speech
* President Trump to speak in Nashville to speak at American Farm Bureau Conference
* Controversy about Olympic team picks after the US figure skating nationals
IN THE WORD:
God's hand reaches back to the past, settling all the claims against our conscience – Oswald Chambers
IN MY LIFE:
Overall, we had a good weekend, though there were definitely some low points as well. I managed to get the piles in my office cleaned (most of them), but both my son's basketball team and UNC lost tough games on Saturday. On a high point, our Tennessee Titans somehow pulled off a miracle win against the KC Chiefs in the Wild Card game!
Something else noteworthy is happening today that I've been dying to share with you all: you can save 50% off your FamilyLife Weekend to Remember registration today! If that doesn't sound like a big deal to you, it is: you'll be saving $150, making this incredible marriage getaway more affordable than ever.
FamilyLife has been an instrumental tool in our marriage and we've attended everything from their Weekend to Remember getaway weekends to their Love Like You Mean It Marriage Cruise (which is already sold out for 2018, unfortunately). So don't miss this opportunity to register at the lowest price possible (or better yet, purchase the getaway as a gift for someone you know). Here is where you can get the discount code and more information: http://bit.ly/WTRdisc
Stay in the know on the go:
Subscribe to my YouTube Channel: http://bit.ly/1g5VA3T
Join in the conversation on Facebook: http://www.facebook.com/SamiCone
Tweet with me: http://www.twitter.com/TheSamiCone
Watch my story unfold on Instagram: http://instagram.com/TheSamiCone
Follow me on Pinterest: http://www.pinterest.com/SamiCone
Read my book, Raising Uncommon Kids: http://RaisingUncommonKids.com
Share the book on social media: http://bit.ly/RUKShare
Focus on the Family interview: http://bit.ly/RUKfocus
Don't want to miss even one day of the Daily Dash? Catch up on all of my Daily Dash videos and subscribe to my YouTube channel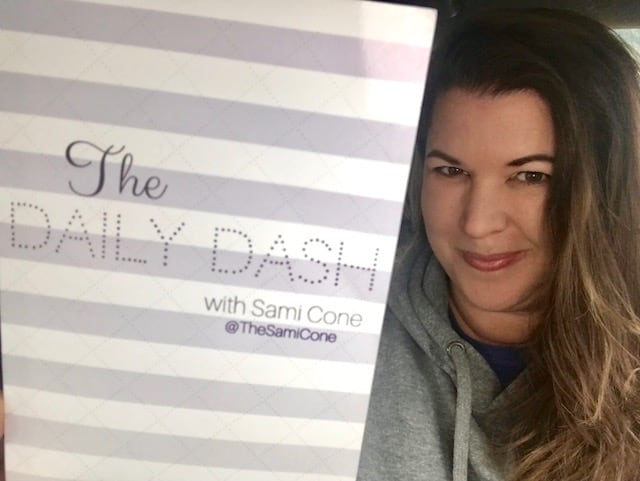 Hope you make it a great day!