This post may contain affiliate links, which means we may receive a small commission when you make a purchase at NO additional cost to you. Thank you for supporting our site in this way!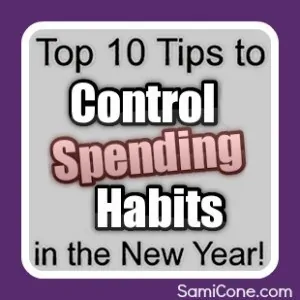 Top 10 Tips to Control Spending Habits for the New Year
1. Return anything laying around the house with a tag still on it (including unwanted gifts) and use credit for something you truly need
2. Keep track of when gift cards
expire and make sure to use them ALL before they do!
3. Ditto #2, except with coupons
4. Track spending on a Google spreadsheet (or a notebook if you're old school) before planning a new budget to see where your money is going
5. Set up a Savings Account (for everyone in the family) and start socking away 10% of everything you make… then promise yourself you won't touch it (we like ING DIRECT
– they even have a Kids Savings Account
!)
6. Have your kids gather and count all the coins & loose change they can find and roll them for the bank (paying them a % of course)
7. Develop a system for tracking all incoming receipts (I'm in love with the NeatReceipts
mobile scanner & digital filing system – it scans receipts, business cards and documents while the software extracts and organizes key information so you don't have to!)
8. Disclose said system to the rest of your family & explain your expectations
9. Develop personal & family BHADs (Big, Hairy, Audacious Goals) for the next 3, 6, and 12 months…and then plan on ways to celebrate them once you accomplish them!
10. Enjoy what you have, give more, & spend less!
Want to win a Dave Ramsey Starter Bundle or Dave Ramsey Kids Monster Pack?
Enter my Dave Ramsey Giveaway and be 1 of 4 winners this week! 
If you missed my segment on Fox 17 TN Mornings, you can watch it in its entirety here:

Read more money-saving advice so you too can live the on-the-go life you've always dreamed of!
Disclosure: some compensated affiliate links used within the post for products I use & love