This post may contain affiliate links, which means we may receive a small commission when you make a purchase at NO additional cost to you. Thank you for supporting our site in this way!
Who couldn't use some money saving ideas for the new year?
Save more, earn more, spend less…seems like good money advice, right?
Well, that can be easier said than done.
I'm here to help you start the year on the right fiscal foot with my best money-saving ideas for the new year…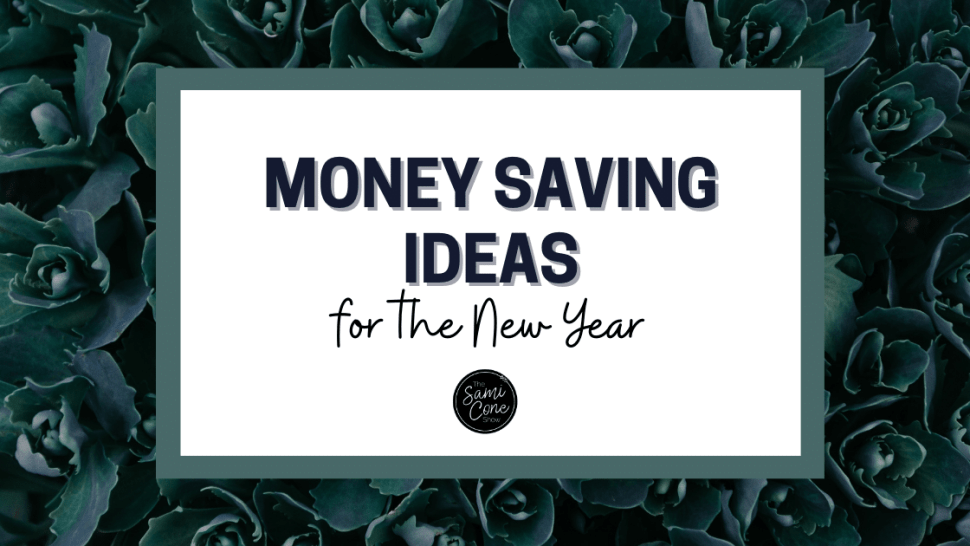 2 BIG Money Saving Ideas for the New Year
Realistically, nothing I say is going to help you unless it's easy to do and replicate. Here are two different sets of three easy tips to help you rethink how you handle your money and banking this year.
RAK up the money
Let's start with a simple acronym: RAK. Remember this and you'll be surprised at how soon you start racking up money and improving your budget this year!
1. Review Habits of the past year & Reevaluate all subscriptions:
Use tools from credit cards & your bank to review your top spending categories over the past year. Here are just a few categories to review:
– Food (Grocery & Meals you're eating out)
– Media (TV, Internet, Cable, Subscription music & streaming services like Netflix)
– Clothing
– Student Fees
– Travel & Transportation
If you don't need a subscription, cancel it! (or ask for new discounts on accounts like insurance, lower rate on a credit card, etc). If you cannot find the deal you want, consider switching providers. Don't be afraid to play the comparison game.
And do you really need that gym membership? (Try these home workouts instead!)
2. Adjust Goals for this month:
Set up and agree on a budget for January.
Make a tangible plan with action steps & keep it present of mind.
Put an envelope in your car to not only store receipts, but keep track of how you're spending your money.
3. Keep Track of Habits this week:
Use envelopes to keep track of receipts in car and track expenses
"You want to make your money work for you, not the other way around."

Sami Cone
Top 3 tips to control spending and develop smart money habits for the New Year:
These are more than just resolutions. Here are practical tips to start maximizing your money and spending smarter:
Return anything lying around the house with a tag still on it (including unwanted gifts) and use credit for something you truly need.
Keep track of when gift cards expire and make sure to use them ALL before they do!
Ditto #2, except with coupons.
I have 7 more tips to control spending in the New Year.
Give Your Budget a HUGG
If doing a full budget intimidates you, start by giving it a HUGG (aka evaluating how much your spending on your biggest and most common necessities):
Housing
Utilities
Gas
Groceries
Your "needs" shouldn't make up more than 50% of your income, so if these four budget items are doing that, it's time to reevaluate.
Build Your Savings Back Up: Savings Buckets
Many of us have had to tap into – if not deplete – our savings account this year. It's important to build back our savings and emergency funds.
This month, I set up a new savings account at a new bank with sub-accounts. Each of them have a specific purpose (car, vacation, Christmas, emergency, etc.) and I've scheduled automatic transfers into them each month. That way, you never see the money and won't be tempted to spend it.
And no, you don't necessarily need to open a checking account to have a savings account. But do make sure you do your research to get a high savings rate.
I'd encourage you to do the same thing with retirement, investment, IRA and HSA accounts as well. Any positive progress toward your savings goal is a step in the right direction, especially this month.
Don't Fear Money
Your story may be very similar to mine. I became frugal because of a fear of money. I learned early on if I wanted something, I had to win it or save for it.
But we should not fear money. Money is not good or evil. It is a tool that can be made to work for us, not the other way around.
At least 25 percent of all Americans are living paycheck to paycheck. Yet we are one of the richest nations in the world.
It's time to take a stand today and stop living in scarcity!
Save When You Shop Online
While I would like to tell everyone to try a spending free in January, I know that isn't always realistic. Online shopping is more prevalent than ever. Not only is it often more convenient, you can save even more shopping online than in-store.
Make sure you sign up for store reward cards, especially at your favorite grocer store. That way every time you make a purchase, you qualify for new coupons too.
You'll also want to sign up for online reward programs like Ibotta to earn rebates on your purchases. I also use apps web extensions like Rakuten and Savings.com to earn cash back on my online shopping. This is on top of sale prices retailers offer!
Working or Staying Home with Kids
Many women used to struggle with the decision about whether to work or stay home with their kids. This year, that choice has been made for many of us because of the quarantine.
If you have teenagers, the choice may be easier. But for those of you with small children, there are a lot of financial factors to consider.
Read "3 Questions to Ask When Considering Working or Stay at Home with Kids"
Don't Underestimate a Phone Call
Many of us have automated our monthly payments and for good reason. But don't underestimate the power of picking up the phone.
Every year, I recommend reaching out to your service providers and asking for a better deal. Perhaps it's being let go from a long-term contract. Maybe you tell them about a better deal you got in the mail from another company. Ask for a better interest rate to help pay down a credit card. Or just threaten to leave.
Most companies realize the cost of giving you a better deal is much less than the cost of trying to acquire a new customer.
Save More Money in the New Year
There is no hard and fast rule when it comes to a healthier bottom line. The key is to have more dollars coming in each month than going out. If you do nothing else: eliminate one money problem and add one positive money habit. When you do, you will be well on your way to saving more money in this new year!
Watch the video of me sharing my tips on the January 2021 episode of The Sami Cone Show: