This post may contain affiliate links, which means we may receive a small commission when you make a purchase at NO additional cost to you. Thank you for supporting our site in this way!
Mother's Day is quickly approaching and I can't delay in finding a card because I'm actually going to see my mom in person this year!
But if you're anything like me, there are so many more women in our lives who have impacted us in addition to our own moms.
In fact, I'm writing about it in my upcoming book, Raising Uncommon Kids, it's a concept I refer to as "Chosen Family".
I've always looked for cards to give women that may not be related to me on Mother's Day, but have made a major impact on my life and the life of my children nonetheless.
And for someone like me who prefers words to gifts, nothing speaks to my heart on Mother's Day like a well worded card with a heartfelt sentiment. So today I'm sharing some of my favorite Mother's Day cards from Hallmark that celebrate all those special women in your life:

* For the pregnant mama: I remember being pregnant and sitting in church on my first Mother's Day, not knowing whether or not to stand when they asked all the mother's in the room to rise. Everyone around encouraged me to get out of my seat and this card gives that same boost to the new mama to be!
* For the mom on the go: When you don't know what to get that special someone for Mother's Day but you want to send a piece of you along with the card for them to remember you, I love the Hallmark Signature Card with a coffee cup sleeve. It's the perfect pick me up for that mom who may be miles away from you on Mother's Day.
* For the Super Hero mom: Is there a woman in your life who seems to be able to do it all? I love this Wonder Woman card because it says as much about the sender as the receiver. My daughter LOVES Wonder Woman, so anyone who gets this will not only feel special because of the card, but because they're getting a piece of my daughter's personality too.
* For the fashionable mom: Who says a Mother's Day card doesn't have to be stylish? Hallmark has teamed with Sarah Jessica Parker to bring another element of stylish sophistication to their card collaboration. (Think sparkle, ribbons and polka dots!) The message of "Celebrating You Today" shares the same simple elegance and leaves plenty of space for us to personalize with our own thoughts.
* For the silly mom: I get through my day with a silly and sarcastic sense of humor and have so many friends who do the same. I can't wait to share the "Lick the beaters" Shoebox card with a single mom friend of mine who might just be needed that little laugh break on Sunday 🙂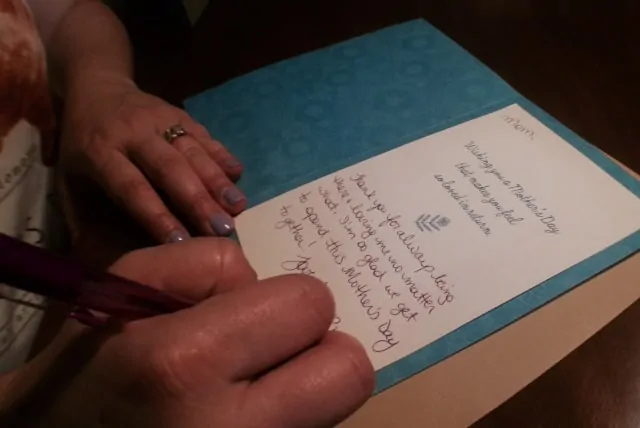 * For MY mom, FROM my family: And I finally found the perfect card for my mom that expresses how our WHOLE family feels – it recognizes her as a mom and grandma, and I LOVE the iconic blue ribbon on the front that graphically depicts exactly what we hope our words do.
Of course, there are SO many cards to choose from for not just your mom, but all the women in your life that deserve to know just how much they mean to you. So what are you waiting for? Go put your heart to paper!
For even more inspiration visit PutYourHeartToPaper.com and be sure to follow Hallmark on Facebook, Instagram, Pinterest and Twitter. And don't forget to share your own heartfelt sentiments on your own social media channels and tag them with #PutYourHeartToPaper.

I was delighted to partner with Hallmark on this sponsored post to spread the news about this campaign. All images, thoughts and emotions expressed within this post are my own and it was my pleasure to share them with you!