This post may contain affiliate links, which means we may receive a small commission when you make a purchase at NO additional cost to you. Thank you for supporting our site in this way!

Ever since moving to Nashville, I've noticed a trend when it comes to gift giving, especially when it comes to kids' birthdays: birthday cards do not always accompany gifts.
Instead, there is often a personalized sticker, tag or postcard on the gift. Sometimes it has the family last name on it and others just have the kids names on it.
After all, it makes sense since many young kids can't read anyway! It makes for a great way to let people know who a gift is from, without always having to search for a card.
Plus, it works just as well for kids' gifts as it does for a housewarming or baby shower gift.
I wanted to get in on this cute hospitality trend, but of course I didn't want to be just like everyone else. So in typical Cone fashion, I looked for a way to be cute, clever, creative….and original 🙂 It also needed to be cost effective and serve multiple purposes.
After all, it's hard for me to rationalize spending money on something that's just going to be thrown in the garbage with the wrapping paper (and don't even get me started on how I struggle with gift wrap; that's another story).
What we found was personalized postcard printing through UPrinting, an online printing company. On my computer, I selected a recent family photo (taken by the amazing Brittany of Boho Bella Photography), laid text over the top that said, "With love from The Cones" and then just uploaded it to the UPrinting website. What I ended up with were professional gloss postcards that can now be included with gifts, sent as a thank you note or kept in the car just in case we ever need to pass on a note of encouragement to someone!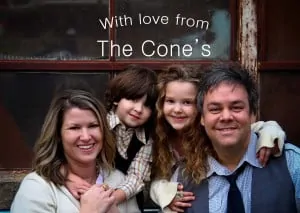 Don't worry if you don't want to start from scratch – they have lots of great postcard designs for you to choose from too!
Since I love sharing my deals (& ideas) I asked UPrinting if I could share this great one with you! So one lucky reader will also have the chance to win 100 of their own personalized postcards!
Just leave a comment below letting me know what kind of postcards you'd create or what you'd most likely use them for.
For more optional entries, do any or all of the following, just leave a separate comment below for each method of entry!
Become a Fan on Facebook (SamiCone.com) & SHARE the contest on your Facebook wall
I want to win personalized postcards from Uprinting & Sami Cone https://www.samicone.com/?p=14078
Follow @TheSamiCone on Twitter & SHARE the contest on Twitter
I want to win personalized postcards from @Uprinting & @TheSamiCone https://www.samicone.com/?p=14078
UPDATE: The deadline has been extended! You now have until 11:59 pm on Saturday, September 10, 2011 to enter. Good luck!
This giveaway is sponsored by UPrinting, an online printing company. See more information about their postcard printing and other services plus available postcard designs on UPrinting.com.