This post may contain affiliate links, which means we may receive a small commission when you make a purchase at NO additional cost to you. Thank you for supporting our site in this way!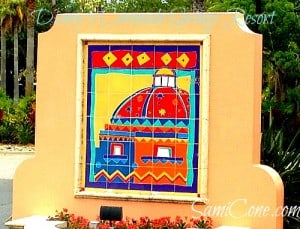 This Walt Disney World Coronado Springs Resort Review is based on our 7 night stay in May 2012 that included both a blog conference event stay and a family pleasure stay.

Disney's Coronado Springs Resort is located between Disney's Animal Kingdom theme park and Disney's Hollywood Studios theme park and falls into their "Moderate Resort" category.

I had stayed at the Coronado Springs resort years  ago, but it has since been renovated and some nice amenities have been added, most notably free wifi throughout the resort and beautiful sliding doors dividing the sleeping area from the bathroom. This latest feature served us especially well especially since I had to wake up much earlier than the rest of the family and it allowed me to get ready with ease knowing I wasn't going to disturb their sleep! (Formerly, only a curtain pulled to divide the two areas, which did not give nearly as much privacy or sound protection.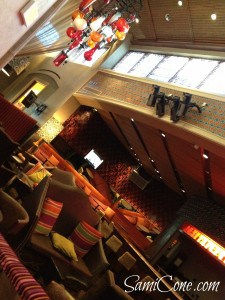 We typically don't stay in moderate resorts because we don't feel like the small increase in room size over the value resorts & the inclusion of a "beverage cooler" (aka mini fridge) warrants the substantial difference in price. However, the Coronado Springs resort is laid out beautifully, and I appreciate the inclusion of the Rix lounge to hang out in and work, along with the new quick service snack shop located right off the main lobby where you can grab a quick snack or even refill your Disney refillable mugs.

The pool was also a big hit with the family. While we had a "quiet pool" located right outside our rooms, we also spent a good deal of time at "The Dig", the much larger pool featuring not only a large pyramid in its center, but also a very fun and non-threatening water slide with a spitting jaguar that even my 44″ tall 6 year old felt comfortable going down by himself.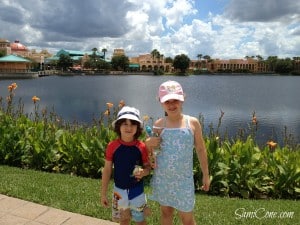 While the convention center was not the grandest nor the newest of facilities on the Walt Disney World property, everything was VERY conveniently located and the furthest ballroom was less than a 10 minute walk from my room in the "Cabanas" (Building 9B). This made it nice if I had to go back to my room in the middle of the day to drop something off or freshen up.
The Coronado Springs resort also features two other restaurants: The Maya & The Pepper Market.

I have yet to eat at the Maya, which is the nicer of the two restaurants, however we have frequented The Pepper Market over the years. It looks exactly like you'd imagine as an open-air market, but one thing has changed in 2012. Though dinner you can still visit various stands and make your choice among them, breakfast and lunch have become all you can eat buffets (around $14.99 for breakfast and $16.99 for lunch).  If you go for dinner, try the nachos or fajitas, both of which are plenty to share amongst two people and will cost you around $10.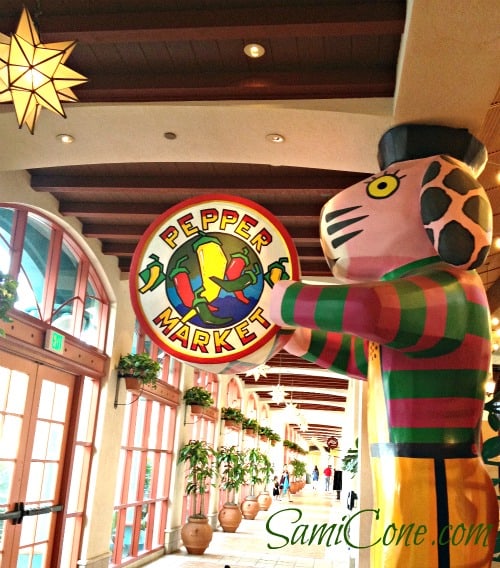 Other fun free activities to make note of for the kids at Coronado Springs:
* Daily pool activities & games (with prizes!)
* Campfire every night at 7pm
* Disney movies shown outside under the stars at 9pm
We got a great rate with the conference that extended through our entire stay, but otherwise I still don't think I'd pay the extra money for the moderate resorts. Also, when traveling with a conference, you're eligible for discount theme park passes, including some "After 2" and "After 4" passes, so that you can enjoy the parks after you've  been in your meetings all day 😉
Have you ever stayed at Disney's Coronado Springs resort? How would you review the property?