This post may contain affiliate links, which means we may receive a small commission when you make a purchase at NO additional cost to you. Thank you for supporting our site in this way!
Family meal times are important. It's a time or you can come and gather together and no matter what has happened throughout your day, leave it all behind and reconnect with the one that you love the most.
It's a nice idea, isn't it?
The only problem is that with all of our busy schedules these days, family meal time sometimes gets forsaken.
I know for myself, I remember more to-go containers eaten in a backseat than I do of ever gathering around a table.
And though I said I would never get overscheduled with my kids, I somehow have found myself in that position at a pretty early age with them. They have activities at least three of the five school nights during the week and so if I don't plan ahead carefully, that means dinner doesn't get on the table in a timely fashion.
But even good planning and the best intentions can't help me on some nights.
Take Monday for instance. My daughter has ballet and where it happens to be gets very congested when she gets out at 5:30. So if we don't eat out, we get stuck in traffic for over an hour getting home.
Then there are night like we just had recently where I will be coming with the kids from gymnastics, my husband will be coming from work, and we have to meet up to swap cars (& kids!) before going on to other various activities.
It's nights like these I'm thankful that we can come together to a place that is conducive for our entire family to gather around the table and share a meal.
Eating out on a budget can be hard because you want to feed your family good food, but you don't want to blow your budget doing so. And since I've gone gluten and dairy free, that challenge is even greater when eating out.
So I was thrilled to discover that Carrabba's not only welcomes families but actually had a separate gluten-free menu for me to choose from.
To be honest, I've been getting a little discouraged lately because I haven't figured out how to transition my whole family to a paleo lifestyle because I haven't really couldn't anything that I thought they would all love to eat. But after eating at Carrabba's, I've been re-energized in knowing that it is possible to cook delicious food that is gluten and dairy free.
Just look at the Johnny's special I ordered:
It was honestly the most flavorful meal I've had since going Paleo and more importantly, I felt great after eating it! The chicken was moist and delicious, the steak was cooked perfectly, and the special broccoli with garlic and olive oil I asked them to prepare as a side was even better than I could have imagined.
But what I loved more than the food was the family time we shared. Not only did the kids have fun with the extensive kids' menu/activity book..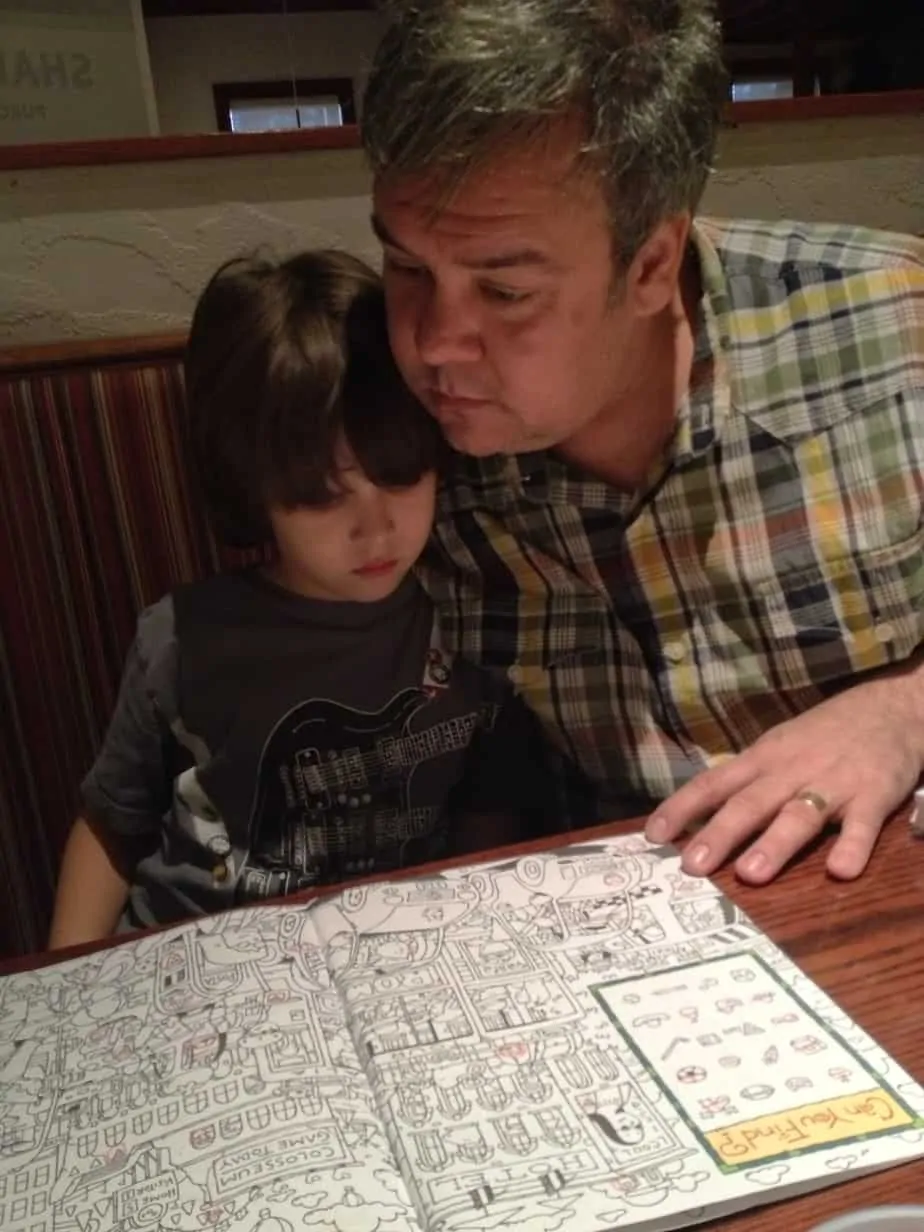 …but we had fun with them! Not to mention all the conversation starters that came about as a result 🙂
We get ourselves into some sticky scheduling situations as a family, but it's comforting knowing that I can get good food fast for our whole family without resorting to fast food on those nights we simply can't make it home.
Dinner with my family is one of the most important parts of our day. Whether you are dinning in or ordering online to-go, Carrabba's helps bring your family together during the week. Thanks, Carrabba's for letting us sit around your family's table…we can't wait to do it again!
Tell me why you think family dinner is a priority and one of my readers will win a $25 gift card to enjoy at Carrabba's!
This is a sponsored conversation written by me on behalf of Carrabbas. The opinions and text are all mine. Official Sweepstakes Rules.