This post may contain affiliate links, which means we may receive a small commission when you make a purchase at NO additional cost to you. Thank you for supporting our site in this way!
I'm Disney Bounding Captain Mickey from Disney Cruise Line with some of my favorite Disney friends online. Haven't heard of a Disney Bound before? Stick with me and I'll show you how to dress up as your favorite sailor mouse!
Disney Bounding Captain Mickey
You know our family loves cruising, especially if it's a Disney Cruise. I even shared some of my best Cruise deals on TV this year.
But it's one thing to love cruising and another to LOVE to cruise.
In fact, I love Disney cruising so much that I recently dressed up as Captain Mickey when Disney Bounding with my Disney blogger friends. Our family has been on three Disney Cruises, which means we're Silver Level Castaway Club members. (Different levels of Castaway Club means different perks when on board).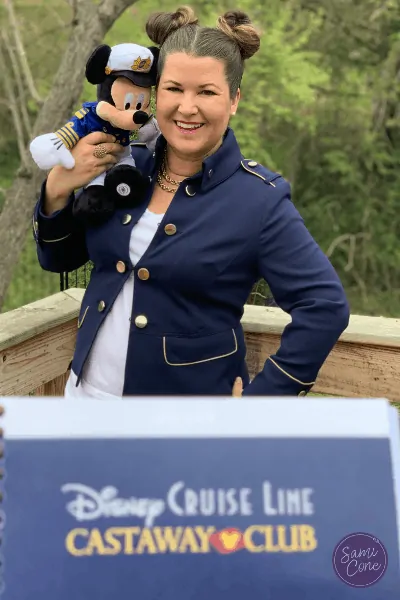 What is a Disney Bound?
In simplest terms, a Disney Bound is the easiest way for adults (or kids of any age) to pay homage to their favorite Disney characters. Disney Bounding is not just putting on a costume. Instead, you take elements of the character and represent it through different clothes, accessories shoes and hairstyles
According to the official Disney Bound website, DisneyBound is meant to be inspiration for you to pull together your own outfits which work for your body and wallet whether from your closet or local mall.
Captain Mickey & Minnie
You might be wondering why I did my Disney Bound as Captain Mickey instead of Minnie. Don't get me wrong, I love Minnie Mouse. But it's hard to beat the gold, navy and black accents Mickey wears in his finest cruise attire. Plus, I had the perfect blazer, pants & shoes to pull the Bound together.
My DisneyBound Mickey Outfit
This Captain Mickey DisneyBound only required a few key pieces of clothing:
White T-shirt (I chose a V-neck from Old Navy)
Gold blazer with Gold accents & buttons (I fell in love with this one from Chico's)
White Linen Palazzo Pants (these are "Beach Pants" from Lilly Pulitzer I snagged during their last After Party Sale. These are my favorite piece of cruise attire – I brought 3 pairs on our last cruise!).
Black heels (These are Christian Siriano for Payless)
And while it's not necessary, I think a red lip really helped pull the look together.
Captain Mickey Hair: Minnie Buns
I know,  I know, we could call them Mickey Ears too. But I've always called this hairstyle "Minnie Buns" or "Leia Buns". I thought about wearing my son's Disney Cruise Captain's Hat, but I think the buns were the perfect touch.
I've only seen the Captain's Hat on the Disney Cruise Ships, but you can get this Disney Cruise Hat from ShopDisney in both white and navy.
When we surprised our kids with a Disney Cruise Line scavenger hunt for Christmas a few years ago, we found so many fun Disney Cruise items from Shop Disney to help us. (At last look, they had over 100 items to choose from!).
DisneyBounding Friends
If you want even more DisneyBounding inspiration, check out some of my favorite Disney bloggers and their looks:
So there you have it – all the elements required for Disney Bounding Captain Mickey. All that's left to decide is which character to DisneyBound next!
Watch and share: