This post may contain affiliate links, which means we may receive a small commission when you make a purchase at NO additional cost to you. Thank you for supporting our site in this way!

This Christmas, after all the gifts were opened, we made a pretty big announcement to our kids that involved a scavenger hunt and the Disney Cruise Line.
<read our "Cone Family Year of Celebration" post here>.
If you know anything about us, you know that we love Disney and would rather be there than almost anywhere else, especially when it comes to celebrating something.
Though we spent half of our honeymoon at Walt Disney World, we didn't get married there. Since then, I've always dreamed about being wealthy enough that we could fly our closest friends to Walt Disney World for a 10th anniversary vow renewal ceremony outside of the Grand Floridian Hotel.
While I am proud to say I have been honing my savings techniques over these past 10 years, I still have to work on the accumulating wealth part 😉
So even though a Disney fairytale wedding wasn't in the cards for us, we wanted to see if there was another way for our Disney wedding dreams come true.
We definitely wanted to make whatever we did a family affair, so at first we looked into an "Adventures by Disney" trip to London & Paris. While there's no doubt in my mind that it would be truly amazing, and I have promised to take our children there at some point, I just didn't feel like our kids were the right ages to fully appreciate a trip to Europe.
We weren't necessarily looking for an 'active' trip either to kick off our year of celebration. Not to mention, we wanted a trip where we didn't have to do a lot of thinking; as much as we love Disney World, I have yet to learn how to go there without feeling like I have to do EVERYTHING (no matter how many times we've been there!).
Then it hit me – the Disney Cruise Line! The magic and impeccable service of Disney coupled with a leisurely cruise at see around the Caribbean – PERFECT!
We were presented an opportunity to either take a 3 night cruise that stopped at several ports in the Eastern Caribbean or a more leisurely cruise around the Western Caribbean with more time at sea. The only other Disney Cruise we've been on was a 3 night, and though it was a blast, we were exhausted at the end because we tried to pack so much in at the ports and on the ship. The thought of having several days at sea to simply enjoy all that's on board sounded delightful, so we opted for a 6 night voyage on the Disney Magic leaving from Galveston, TX!
Here's how we decided to break the news to our kiddos on Christmas morning:

So there you have it! We're kicking of our Cone Family Year of Celebration with a 6 night Disney Cruise departing from Galveston, TX on January 26, 2013 that will makes its way through the Western Caribbean with stops at Cozumel & Grand Cayman.
If you're considering an equally exciting announcement of your own with your family, I took pictures of each of the clues you heard on the video since I realize they were not all read accurately 😉 I came up with the clever rhymes myself, but I took help by ordering official Disney Cruise Line merchandise from DisneyStore.com to sprinkle along the scavenger hunt.
***A word of advice: if I were to do this again, I would print the clues out from the computer instead of handwriting them in cursive.
I also would have kept the TV off until the actual announcement to minimize distractions.***
Disney Cruise Line Kids' Scavenger Hunt Clues:
Scavenger Hunt Clue #1: The kids started in our dining room to have the first clue run to them, that lead them to the family room:
Scavenger Hunt Clue #2: After finding the Silver Mickey Disney Cruise Line ornament hanging on our Christmas tree, they received clue #2 that led them to their little Disney tree upstairs in the loft: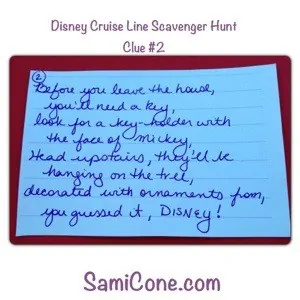 Scavenger Hunt Clue #3: After finding Disney Cruise Line lanyard wallets hanging from their Disney tree,

they received the following clue that led them back downstairs to our guest room:
Scavenger Hunt Clue #4: After discovering their Disney Cruise Line autograph books hiding in the dresser of the guest room

they read the clue below which led them to our mud room: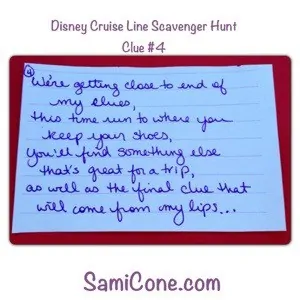 Scavenger Hunt Clue #5: After finding a Disney Cruise Line travel pack

they received their last clue that led them back to dad in the family room:
My husband was waiting there with phone in hand, ready to play the free Disney Cruise Line character call that we had scheduled so Mickey Mouse himself could announce to the kids how excited he was that they were going to be coming aboard the Disney Magic with him! If you heard, we were even able to personalize the call with our ship, the date and itinerary.
If you couldn't tell, we are beyond excited to take this Disney Cruise Line Adventure with our family! Stay tuned in the coming weeks as I'll be documenting each of our steps as we prepare to embark on our first trip to kick of our 2013 Year of Celebration!
If you'd like to learn how your kids can sail free on a Disney Cruise, keep reading…