This post may contain affiliate links, which means we may receive a small commission when you make a purchase at NO additional cost to you. Thank you for supporting our site in this way!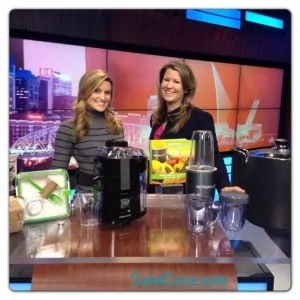 If you're looking to eat healthy while spending less and maximizing the food you buy, then you're in the right place!
Even if you've let your New Year's Resolutions come and go, I have some simple, practical tips to help keep you eating healthy on a budget in the New Year.
In case you missed any of the tips from my Fox 17 TN Mornings segment, here they are:

*Find ways to make your food last longer
First of all, make sure you wash and prep as much of your food as you can as soon as you get home from the grocery store…after all, the easier it is to grab, the easier it is to eat! Plus, why spend the time cutting coupons and shopping sales if you're just going to throw half of it away because you forget about it once you get home? That being the case, you may also want to consider investing in something like a FoodSaver Vacuum Sealer
to fully take advantage of all those One Day meat sales we find at Whole Foods. Coming in under $75, you'll most likely make that back in food savings within a few months.
*Make your meals ahead of time

If you plan your meals in advance (& have them ready in the fridge or freezer), or pack your lunch the night before, you'll set yourself up for success and reduce the possibilities of food going bad. But don't just pack your lunch, bring it in containers that keep food fresh AND make it fun to eat healthy:
Ever since we got the Black+Blum Box Appetit
, my 8 year old daughter has brought a salad to school for lunch every day.

*Switch to a filtered water bottle instead of individually bought plastic bottles.
Not only will you get a better quality of water wherever you travel, you'll also save a ton of money since bottles like this Eau Good water bottle
have a charcoal filter that only need to be changed every 6 months!

*Start Juicing
Juicing is one of the hottest trends for health enthusiasts and with products like this Black & Decker Fruit and Vegetable Juice Extractor with Custom Juice Cup
 coming in under $40, you can easily try this trend without breaking the bank. Plus, your family will be much more likely to try a wider variety of fruits and vegetables in juice form rather than whole form. Also a great, quick way to use up fruits and veggies that are starting to turn.

*If you want to go a step further, look into a Nutri Bullet
I don't know how I've made it this long without a Nutri Bullet
, but now that I have one, I'm not letting it go!
I love that it's high power blades literally pulverize whatever gets put into it, so you don't lose ANY nutrients. It also makes fabulous nut butters and I'm sure a thousand other recipes I haven't even gotten around to trying yet 🙂

*Cook it up & Freeze it in 'ready-to-eat' portions
When in doubt, throw whatever you have left in your fridge and freezer into a 'kitchen sink' soup in your stockpot
! We're talking chicken, veggies beans…you name it. Once it's made, freeze into individual portions to have easy meals on hand for future enjoyment.
If you missed my Eat Healthy, Spend Less Fox 17 TN Mornings segment, watch it right here:

What savings questions do you want me to answer on my next Fox 17 TN Mornings segment?
I've shared products I love in this post and some have compensated affiliate links, but it saves you the step of having to ask me, "Now where do I find those cool containers?" 😉