This post may contain affiliate links, which means we may receive a small commission when you make a purchase at NO additional cost to you. Thank you for supporting our site in this way!
Looking for THE hot holiday gifts? I've got ideas for toys, teens & teachers that you'll want to check out.
You don't have to spend a fortune to be a hit this holiday season! I'm here to show you how to be kind to your budget while still giving some of the hottest gifts of the season to your kids and their teachers. Better yet, not only are most of these gifts under $25, but with some of them, your purchase actually gives money back to charity!
Hot Holiday Gifts 2013
Toys:
Girls: I'd be remiss if I didn't mention the Disney toys on my daughter's wish list:
Disney Princess Palace Pets: From plush to playsets, these pretty pups and cute kitties are the hottest thing to hit the princess scene!
Your Doc McStuffins Magic Talkin' Doll: One of the hottest shows on Disney Junior, boys & girlsalike love Doc and with this playset, every kid can take their turn in the doctor's office.
Inkoos are a new stuffed animal that kids can draw on anywhere  and then wash off – brilliant!
Boys: Believe it or not, some of the hottest toys this season are classic building toys that have been around since I was a kid, but with a new twist. Things like:
TinkerToys, Lincoln Logs & K'NEX Building sets

The K'NEX Yellow Submarine Building Set
brings together the best of both worlds! Parents love the Beatles' theme and kids just love anything having to do with K'NEX so they can build AND build on their imagination. A great choice for families to play with together.
Both boys & girls are asking for the Disney Infinity Gaming System this year. While not under $20, it can be found for around $79 and the accessories can be purchased for around $15 – so if the parents buy the starter set, you can ask friends and relatives for the accessories 😉
This has been a favorite in our family since the first Just Dance, so needless to say, our kids was SUPER PSYCHED to get the new Just Dance Kids 2014. If you're looking for a gift that will appeal to all ages in your household, and actually get everyone up off the couch this Christmas, you'll want to grab Just Dance Kids 2014!
Of course, don't forget that DVD's make a great stocking stuffer and I found out that Target will be offering Monsters University for only $10 on Black Friday!
Teens:
Taylor Swift Keds: As if Teens & Tweens didn't love Taylor Swift & her song "Red" enough, now you can get them their very own pair of Taylor Swift "Red" Keds just in time for the holidays! The more sophisticated crowd will enjoy the velvet with glitter dots inspired by Taylor herself.
Even younger girls can sport the red sparkle of the Keds Champion K.
Remington® T|Studio SILK Ceramic Wide Styling Wand & 2″ Flat Iron: You want to look great going out in your red Keds, so teens will also love this practical gift with a holiday twist and red color.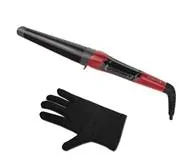 Exclusive to Target for this holiday season Remington introduces a brand new look for the T-Studio Silk Ceramic Collection – the collection features cutting edge styling tools that are infused with real silk proteins. For holiday, each tool comes housed in beautiful purple-accented packaging with a bonus selection of "Anywear Hair Ties and Elastics".
Preview Target's Black Friday Ad
Teachers:
Philosophy has some of their favorite products packaged beautifully with an ornament for around $10-15…I've never met anyone who doesn't love these classic products. For example, the Purity Made Simple Ornament is $10 and features their #1 selling cleanser type.
Paul Mitchellhas paired some of their great hair care in trendy pouches, some for under $20, but more importantly, every purchase this season helps support Boys & Girls Clubs of America! One of my gift-giving favorites is the Paul Mitchell Cutest Kid On The Block Holiday Gift Set. This Kids Gift Set is only $15.99 (Available at salons and Paul Mitchell schools exclusively) & includes Baby Don't Cry Shampoo (10.14 oz.), Taming Spray (8.5 oz.), and a Free! Rubber Ducky.  
My other favorite (for my own curly hair kids!) is the Curls Gift Set ($29.99) which includes Spring Loaded Frizz-Fighting Shampoo (8.5 oz.), Spring Loaded Frizz-Fighting Conditioner (6.8 oz.), and Ultimate Wave (5.1 oz.).
When in doubt, give your favorite teacher a spa gift card so they can treat themselves to a manicure, pedicure or massage – all of these can be under $30 and would be a great addition to either of the aforementioned gift ideas (and could easily be given by an entire class if everyone pitched in just $5 each!). For example, A SpaFinder Wellness 365 gift card provides instant access to a network of wellness centers, spas (including day, destination, medical, and weight loss spas), golf courses, nutritionists, salons, personal trainers, and experts, and for a balanced lifestyle 365 days a year.
Watch my Talk of the Town Video:
What's on your holiday wish list this year?