This post may contain affiliate links, which means we may receive a small commission when you make a purchase at NO additional cost to you. Thank you for supporting our site in this way!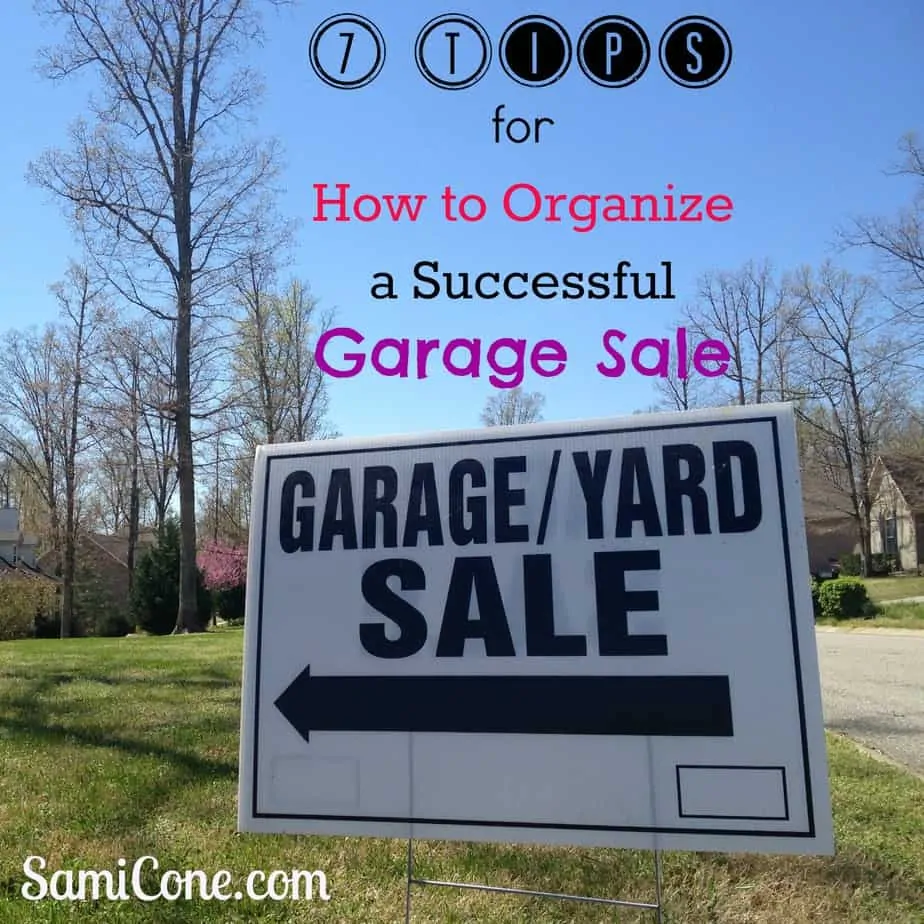 After years of friends asking me advice on how to organize a successful garage sale, I thought I'd compile and share my top 7 tips with you.
Now mind you, just because I'm the first to always say yes to having a garage sale does not automatically make me the queen of garage/yard sales…
Ok, maybe it does. But that's besides the point.
The real key is, as Nike taught us in the 90's, JUST DO IT!
Too many of you never have a successful garage sale because… you never follow through on actually having the garage sale!
You buy the cute price stickers, you clean out your junk drawer, you even buy the signs at Home Depot. But when push comes to shove, you get lost in the process and give up.
Let me share with you just a few of the things I RARELY do for my garage sales:
-price/label items
-buy signs
-spend more than a week pulling things out
-buy advertising (I NEVER do that!)
In fact, for this last garage sale we had, my neighbor walked over to my driveway the weekend before and said, "Want to have a garage sale soon?", to which I responded, "Sure! How about next weekend?" And the rest was history.
The way I see it, if I can make a few hundred dollars sitting on my driveway for a few hours on a Saturday morning AND have my house more junk-free than it was before, GAME ON!
So without further adieu, here you go:
How to Organize a Successful Garage Sale
1. Have a wide selection of items
-I don't care what they are, but make sure to have a BROAD range of items (housewares, toys, furniture, tools, bedding, books, CDs, electronics), otherwise you'll fall victim to the drive-byes that never get out of their car. You at least have to intrigue them enough to stop, get out and look.
2. Clean/Display items properly
-I'm not saying to sterilize and iron everything, but at least have things displayed to where they are easy to be seen and don't look like they've been in the attic for 10 years (even if they have). Give everything a good wipe down or fold before simply tossing them on a folding table.
3. Publicize well the week leading up to it
-As I mentioned, I've never paid for advertising, but I'll promote the heck out of it on free sites like Craig's List, Facebook, YardSaleSearch.com and and free community calendars I can find.
4. Partner with neighbors if possible
-Enough said – multiple family garage sales ALWAYS attract more traffic than if you try to go it alone. Even better, convince your subdivision to have a community-wide garage sale on the same weekend every spring and fall!
5. Have good signage (and put out the night before)
-Remember, good doesn't have to be expensive, but it should be bright, clear and big! Think neon poster board with thick, black block letters nailed to some wooden legs that will withstand the elements.
6. Get Plenty of Change
– You don't want to lose a sale because you can't break a $20. For this last sale, I got $30 in singles and $10 in quarters from the bank and that was more than enough.
7. Enlist the help of a friend
-It's helpful to have another adult to help take money, answer questions, carry large items to cars, and help entertain your kids (or better yet, ask them to babysit your kids for the morning!)
If your kids are a little older like mine, stay tuned for another post on how to help get kids involved in your garage sale. My little entrepreneurs made some unexpected money at our last sale and it wasn't with a lemonade stand!
Watch my top tips on how to organize a successful garage sale in this TV segment video from "Talk of the Town":
NewsChannel5.com | Nashville News, Weather
I'm curious: What are your best garage sale success tips?