This post may contain affiliate links, which means we may receive a small commission when you make a purchase at NO additional cost to you. Thank you for supporting our site in this way!
While many parents worry about their kids' education backsliding over the summer months, this quarantine summer presents new challenges. We're left wondering how to stop summer learning loss, not to mention keeping kids excited about and engaged in education.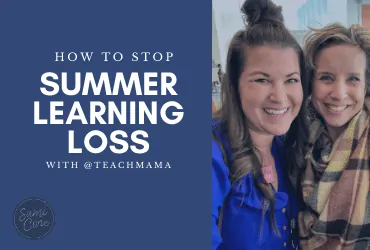 How to Stop Summer Learning Loss
By the time our kids (hopefully) return to school in the fall, many will have been out of the classroom for over 5 months. So how can we re-engage our kids and get them excited about learning again? Amy Mascott, better known to moms as "Teach Mama" has the answers you're looking for.
Encourage What Your Kids are Interested In
One of the best tips Amy shared was to encourage your kids in whatever they are interested in. Don't just make them read books from their school list. Help them learn more about their favorite video game, city, superhero or activity.
She also suggested looking into options like MasterClass or Kiwi Crate. Sometimes our kids may already have a passion they want to learn more about, but others may need help discovering their passion.
MasterClass Free Sample Class & All-Access Pass
My son and I got totally immersed in watching Gordon Ramsey cooking videos last weekend. (& don't worry, he doesn't treat you like a chef in Hell's Kitchen when he's teaching these :). In fact, it's amazing how his step-by-step recipes help you create delicious restaurant recipes at home while also providing great tips and cooking basics along the way, like how to properly sharpen knives.

MasterClass has classes from experts like:
And that's just a sampling of what MasterClass offers. You can click any of the MasterClass links to watch a free sample class. You can sign up for one class or an all-access Master Pass.
Cratejoy Summer Camp
Cratejoy is another great options for kids. This summer, they are offering Camp Cratejoy, with 15+ activities over 5 days to keep your kids engaged and having fun.
Model & Participate
Depending on their age, our kids often model and imitate whatever it is they see us doing. Even older kids have trouble doing what we tell them to do if they don't already see us doing it.
Made time to read yourself. Get outside and get active with them. My teenage son often asks me just to sit in his room and watch him play a video game or create something with his Speks (I have to admit, they are much cooler & creative than I imagined when he asked for them for an 8th grade graduation gift. No wonder they're the #1 best-seller in Executive Desk Toys!).
All that to say, if we don't observe our kids, we don't get to see the depth of who they are and the passions inside of them. By working and playing alongside our children and teens, we glean a unique insight into their soul and mind.
Everything Free and Awesome To-Do While Kids are Home
Amy created an AMAZING resource for parents called Everything Free and Awesome To-Do While Kids are Home. This post highlights free online classes, crafts, virtual tours and more.
Free School Resources
Ever since virtual learning started, many schools have offered free resources. Check with the website of your local school district for grade-level appropriate resources.
For example, Metro Nashville Public Schools put together a robust list of Free At-Home Learning Resources, as well as Digital Tools for students and families. There are even Free Printables for Pre-K all the way up through 12th grade (and it looks like ANYONE can access these).
Raising a Rock-Star Reader
Amy has authored books to help parents teach their kids a lifelong love of learning, including Raising a Rock-Star Reader & Setting the Stage for Rock-Star Readers.
Give Yourself Some Grace, Mama
One of the most important takeaways from my time with Amy was to go easy on yourself. We're all in the same boat. Many of us have never encountered anything like this. Remember, when you give yourself some grace, it becomes easier to extend grace to others.
Check out my list of 70 Things for Teens to Do While Stuck at Home
Watch my TV segment with Amy: