This post may contain affiliate links, which means we may receive a small commission when you make a purchase at NO additional cost to you. Thank you for supporting our site in this way!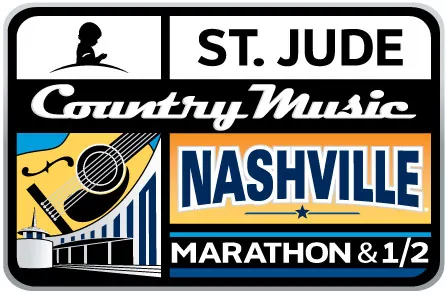 As a mom, I naturally have a soft spot in my heart for kids who are hurting or sick.
Really, what human being wouldn't, regardless of whether or not they are a parent?
But ever since visiting St. Jude Children's Research Hospital in Memphis last year, I hugged my kids a little closer and prayed a little harder. Not only is it amazing to see what these young ones are battling, but how they are fighting these life-threatening diseases.
So I am thrilled that the St. Jude Country Music Marathon is taking place right here in Nashville on Saturday, April 25, 2015…and my kids and I are running the 5K!
Would you consider donating $5 for our 5K run?
Yes, up until my Disney Social Media Moms fun run last year, I actually had aspirations of completing the marathon myself (well, maybe not completing, but at least participating), but a broken foot kept me on the sidelines last year.
But don't feel bad for me, that's actually one of the most privileged places I could be.
You see, many of the children and families from St. Jude actually come out to line the course of the marathon.
They are represented by runners known as St. Jude Heroes, who sign up and commit to run, not just for themselves, but for a St. Jude family.
So even if you are not running in this year's race, there are still ways for you and even your kids, to support the vision of St. Jude Children's Research Hospital through this year's race.
How to Support the St. Jude Country Music Marathon
1. Support financially through a St. Jude hero. To learn more about the St. Jude Country Music Marathon Heroes, watch this video. (1900 runners have committed to fundraising as St. Jude Heroes through the event!). You can donate to St. Jude through our 5K Fundraising Page Here.
2. Volunteer at one of the stations along the marathon route.
3. Be a cheerleader…
This last option is my favorite way to involve the WHOLE family the day of the race!
We want everyone running to feel as important as every other runner, now matter how fast they're running, so the cheer station is a great way to gather your whole family and contribute to that goal.
What does it take to be a cheer volunteer? Here you go:
The Cheer Station will be on Music Row, near the corner of Edgehill & 17th Ave South
Volunteers are needed from 6:30am-9:30am (mile 3) and 9:30-noon (mile 8). We want each Hero that runs by to feel just as special as the first!
Parking can be found on the streets surrounding the stop
Cheer signs, noise makers, and additional St. Jude spirited materials will be provided
Please wear comfortable shoes and clothes
You will be responsible for representing St. Jude and being as loud as you can be while the runners are coming through the Cheer Station.  We want all runners supporting St. Jude to know that we appreciate their efforts
Questions? Contact the Nashville Office at 615-320-3733
So however you decide to participate in the St Jude Country Music Marathon this Saturday, I hope to see you there with your whole family!