This post may contain affiliate links, which means we may receive a small commission when you make a purchase at NO additional cost to you. Thank you for supporting our site in this way!
Last night, the family and I went to TPAC for the So You Think You Can Dance Tour Nashville show.
We didn't realize you were allowed to take photos until the second act (yes, there was almost three hours of dancing!), so what we lacked in the first half of the show, we more than made up for in the second half.

Not only was it full of all the high-flying acrobatics and amazing feats of flexibility you've come to expect from the hit TV show, but they also performed all your favorite dances from throughout the season.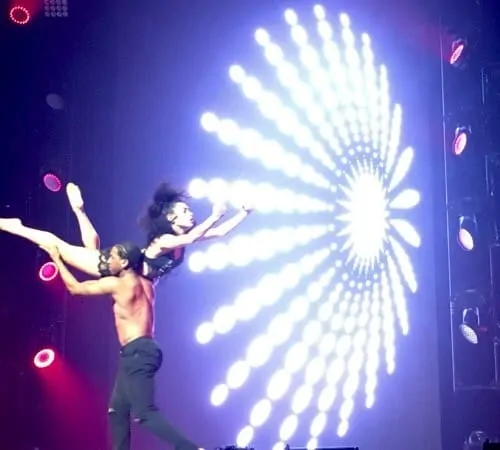 We're talking group numbers (like the Marie-Antionette inspired "100% Pure Love" routine that started the show) along with a bevy of duos, trios and yes, even solos).

How these "kids" keep up this energy amidst quick costume and set changes I'll never know, but I'll tell you one thing, it makes me love this show even more.

The only disappointment was that my only sighting of Twitch and Travis was via video on a screen and not live and in person 🙂
And of course, you saw highlights of the stage vs. street dancers doing what they do best.

This is a 70 city tour, so make sure you check out the So You Think You Can Dance Tour in a city near you this year!
Disclosure: All photos taken were taken by me, Sami Cone. Please do not reproduce or distribute them without seeking consent from me first. I was not asked to share my opinion of the show, but was provided tickets for my family to see the show and couldn't contain my excitement!