This post may contain affiliate links, which means we may receive a small commission when you make a purchase at NO additional cost to you. Thank you for supporting our site in this way!
Have you used HSN for gifts? You are missing out if you haven't! It's a great way to get all the gifts you need in place. Not only have I been asked to create an HSN Holiday Gift Guide, but I'm also sharing a money-saving, gift-giving secret below…
Save Money by Buying & Breaking Up Gift Sets
One of my top gift giving tips is to buy gift sets and break them up into multiple gifts. This is an especially useful tip when you're looking to gift a wide range of people, including:
teachers
youth group
stocking stuffers
kids' friends
white elephant/secret santa
When you purchase high quality gift sets or multi-item sets like the ones from HSN below, you can create unique gifts that can be further personalized with your own insights into your recipient.
HSN also has so many exclusive gift sets, either with items you won't find anywhere else, or collections exclusive to them. And don't even get me started on their awesome collaborations with celebrities like Wolfgang Puck, Ming Tsai and more.
HSN Holiday Gift Guide
Using the money-saving tip I just shared, here are a few of my sets worth gifting from HSN:
The Wet Brush Detangler's Exclusive Intelliflex bristles are thin and strong yet flexible. The Wet Brush Detangle brushes out tangles effortlessly, without damage or strain. The set comes with:
Champagne Toast Original Detangler
Original Detangler
Original Speed Dry
Shower Detangler
Wet Brush
I've been wanting to revamp my storage-wear from plastic to glass for a long time, and I know I'm not the only one. I plan to break this set up to gift homemade creations to others, but it would also make an amazing set for a friend who's hoping to step-up her kitchen organization game.
Anchor Hocking offers timeless design and superior durability in this 14-piece glass storage set. It comes in a variety of sizes, each is perfect for transporting your favorite side, salad, or leftovers, all crafted to keep your food fresher longer.
Made to prevent spills and leaks by utilizing BPA-free, textured lids, they create an airtight seal, which ensures that transporting and keeping food fresh has never been safer or easier. Plus, the lids are tougher than ever and easy to date with dry-erase markers to track dates and times for leftovers, for your convenience.
This 8-piece Beekman Holiday Collection is the perfect way to keep skin soft, cleansed and moisturized this holiday season. The 4-piece set you saw me feature on The Sami Cone Show was a Black Friday special I snagged, but I almost wish I had seen this first because there is double the goodness.
This gift set includes:
15 oz. Goat Milk Lip Balm – Twinkle Twinkle
2 oz. Goat Milk Hand Cream – Twinkle Twinkle
8 fl. oz. Goat Milk Whipped Body Cream – Twinkle Twinkle
9 oz. Goat Milk Bar Soap – Twinkle Twinkle
9 oz. Pure Goat Milk Bar Soap
9 oz. Goat Milk Bar Soap – Honey & Orange Blossom
15 oz. Goat Milk Lip Balm – Honey & Orange Blossom
15 oz. Pure Goat Milk Lip Balm
Holiday gift box
With goat milk as the base of these natural beauty staples, they make the perfect gift for my teen and her friends. Even if you split this box up into pairs, that's still four gifts from this one collection!
If you're a TV food competition junkie like me, you've likely already seen bowls like these everywhere from Food Network to Master Chef. I've literally been looking for mixing bowls like this with the anti-skid bottom for over a year!
Good things literally come in threes and Curtis' three-piece mixing bowl set is here to make good things happen in your kitchen. You get the sizes you need for just about every dish you want to make. Whether it's mixing pizza dough or a marinade, whisking batter or tossing a salad, these bowls can handle whatever you dish out! It comes with a 0.6 qt. bowl, 3 qt. bowl, and 5 qt. bowl.
Not only is this the one item in my HSN Holiday Gift Guide that isn't part of a bigger set, it's the one thing I didn't get to feature on TV. (I missed the UPS truck by an hour!). That being said, I couldn't pass up this gift.
I've always wanted to try Drybar styling tools, but they've been out of my price range…until now.
The Baby Brush Crush features ionic technology to help give the look of added shine, universal voltage and heats up to 400 degrees so it's great for touch-ups, flyaways, bangs, and shorter styles.
Reviewers rave about this compact and travel-friendly brush that creates a smooth look in one easy step. So much so that they've adopted this for everyday use and not just for travel.
---
This is just a small glimpse at the HSN gift selection available. And if you want to stretch your gift-giving dollars, I might have a way to help…
UPDATE: Giveaway now closed
Enter the #HSNForTheHolidays giveaway for your chance to win a $100 e-gift card from HSN. (You could get almost everything above with that, especially is using the coupon code below!).
Five (5) winners will receive a $100 e-gift card from HSN. Giveaway ends on Saturday, December 12th at 11:59 PM PT. Winners will be chosen through a lottery drawing and notified on Monday, December 14th via the email address they used to enter. Find the official rules here.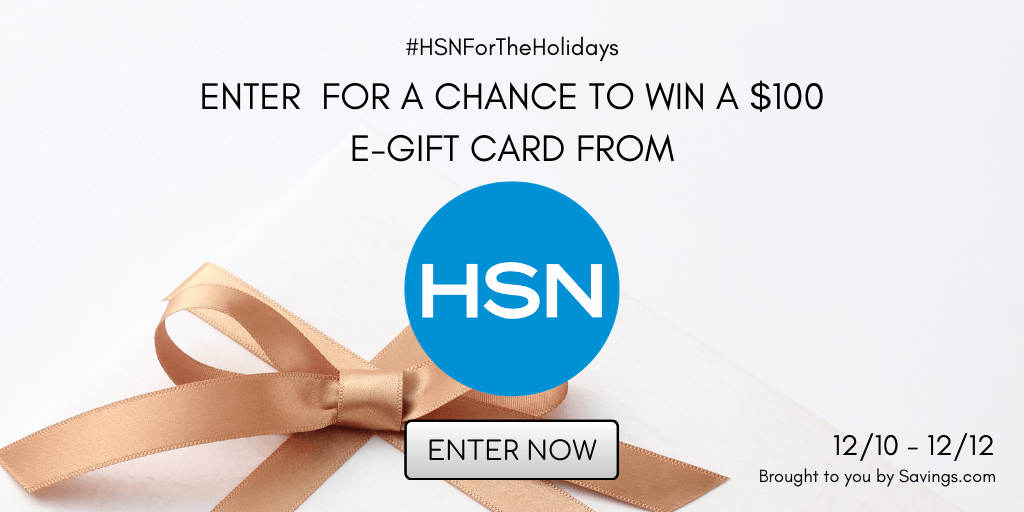 To save more money without extra effort whenever you shop online, make sure to shop through Sivan Social. Right now, new HSN customers can save $20 off a $40 purchase with code HSN2020.
Watch me share "My Favorite Things" on The Sami Cone Show this Friday at 1pm CT. (Watch the show live online here)
This post is sponsored by Sivan Social. All comments and opinions are my own.