This post may contain affiliate links, which means we may receive a small commission when you make a purchase at NO additional cost to you. Thank you for supporting our site in this way!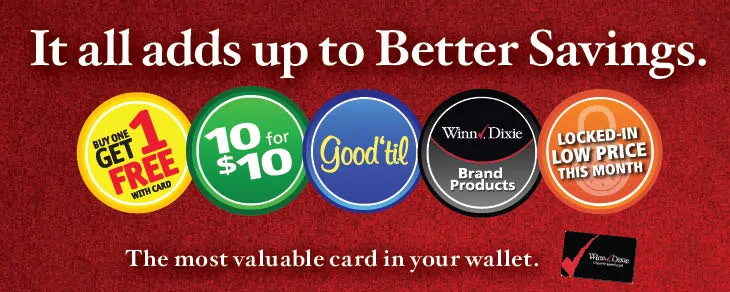 Woo Hoo!!!! You asked, so here it is!
I'm proud to announce that I'll now be giving you the best of Winn Dixie deals each week!
These deals are based on FL Winn Dixie stores, but remember that you can always visit the Coupon Mom for exact deals in your state.
*If you have questions about my lingo, click HERE to visit my COUPONS page
*Make sure to click on the COUPONS.com image on the right to get even more money saving coupons!
***Winn Dixie is also offering a FREE, 20 page Photo Book! Click HERE to get started***
| | | | | | | | | |
| --- | --- | --- | --- | --- | --- | --- | --- | --- |
| Item |   | Insert Date |   | Cpn Value |   | Buy Qnty |   | Final Price |
| Glade The Fragrance Collection Soy Based Candle 2 oz (cpn is for 1 FREE up to $3.49) — charity! |   | 08-09 S |   | N/A |   | 1 |   | FREE |
| Suave shampoo or conditioner 22.5oz – charity! |   | 08-02 RP |   | $1.00 |   | 2 |   | $0.50 |
| Cover Girl cosmetics full line sale – estimated price of one variety shown here – BOGO FREE |   | 08-02 PG |   | $2.50 |   | 2 |   | $1.75 |
| Excedrin 20-24 ct. BOGO FREE – coupon expires 8/23 |   | 07-12 S |   | $1.00 |   | 2 |   | $1.65 |
| Kraft Velveeta Shells and cheese cups – coupon value is buy one get one free |   | 08-09 S |   | $1.00 |   | 2 |   | $0.50 |
| Glaceau Smartwater 1 liter bottle – coupon expires 8/20 |   | 06-28 S |   | $1.00 |   | 2 |   | $0.50 |
| Loreal Vive Pro Shampoo or Conditioner 13oz BOGO FREE |   | 08-09 S |   | $1.00 |   | 2 |   | $2.00 |
| Del Monte Fruit Naturals 8oz |   | 07-12 RP |   | $1.00 |   | 2 |   | $0.50 |
| Betty Crocker Fruit Flavored Shapes 9 oz. BOGO FREE -also print cpn from coupons.com on right |   | 08-09 GM |   | $0.40 |   | 2 |   | $1.00 |
| Betty Crocker Box Supreme Brownie mix 19.5-22.5 oz. BOGO FREE -also print cpn from coupons.com on right |   | 07-19 S |   | $0.75 |   | 2 |   | $1.03 |