This post may contain affiliate links, which means we may receive a small commission when you make a purchase at NO additional cost to you. Thank you for supporting our site in this way!
Every year, I love to highlight gifts that give back to charity and FEED Project bags do exactly that. Not only do I have a unique FEED Projects Promo Code to share with you (along with where to buy FEED project bags), but I have something that may surprise you…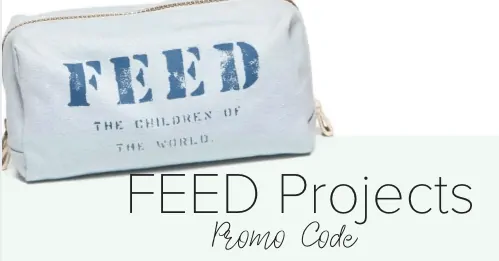 FEED Projects Promo Code & History
I promise I have a FEED Projects promo code to share with you below, but first allow me to share a bit of their story. You may be familiar with the popular FEED tote bag, but you may not be aware of their full collection and who it benefits.
FEED Projects Founder: Lauren Bush Lauren
FEED is an impact-driven lifestyle brand founded by Lauren Bush Lauren (yes, the granddaughter of former President George HW Bush and married to the son of iconic American designer Ralph Lauren). Over the past 10 years, Lauren and her team have committed to making products that help feed the children of the world.
How FEED Helps
From handbags to jewelry, the sale of each FEED product provides meal donations to children in need across the globe. FEED goes beyond fashion, creating daily experiences for people to join in the fight against global childhood hunger.
And not that it's just about numbers, but FEED Projects have donated over 100 million meals to kids around the world.
FEED Bags
The iconic FEED bags have been seen and photographed just about everywhere, but there are now so many FEED bags to choose from. Allow me to highlight just a few of my favorites:

Embroidered FEED 1 Bag
This limited edition bag is truly one-of-a-kind. The intricate florals are embroidered by artisans in India, using a mix of machine and hand-embroidery techniques, for a stunning end result. As always with the FEED 1 Bag, it is reversible to burlap, and features two side pockets and one large sleeve pocket, big enough to hold a laptop or iPad.
* $178.00 & provides 185 school meals with purchase
* Available in White and Stone
Canvas Go-To FEED Bag
This 'Go To' is a favorite canvas weekend bag. Its compact size and crossbody shape for hands-free adventuring will make you understand why we call it the Go To Bag. This was the first bag that caught my eye and the one I kept coming back to, so I had to get it! (I personally love the olive color – it's the perfect neutral with a punch.)
* $78.00 & provides 40 school meals with purchase
* Available in Distressed Black, Burnished Olive and Pale Fog
FEED Cosmetic Case
A sturdy canvas dopp kit from our first-ever travel collection. The Cosmetic Case in Pale Blue is a must-have for travelers, whether you are a makeup lover, jewelry aficionado or trinket collector. Featuring bold FEED exterior branding and a zip closure, it also has an interior middle divider pocket, perfect for separating your cosmetics from your rings and doodads as you go.
* $48.00 & provides 15 school meals with purchase
FEED Backpack
One of their most-requested and anticipated products, the canvas Backpack is truly a go-anywhere bag. Designed with both fashion and function in mind and beloved by adults and kids alike, you can carry it by the top handle to work or throw it on your back. Either way, it's roomy, made from a thick, durable canvas and available in a color that goes with everything, in any season.
* $128.00 & provides 40 school meals with purchase
* This product can also be personalized with your initials or one of FEED's signature inspirational phrases
FEED Projects Promo Code
If you saw my Talk of the Town segment on Gifts that Give Back, then you already know I have a unique FEED Projects promo code just for you! But you need to act fast because it's only valid for a few days…
FEED Projects Promo Code Details
What You'll Save: 15% off
Where to Shop: FeedProjects.com
When: December 7-17, 2018
Code to Use: SAMI15
So there you have it. Obviously I haven't touched on the full scope of all FEED Projects has to offer, but I hope you'll explore both their products and their story further. And maybe, just maybe, you'll invest in giving a gift that gives twice this holiday season.