This post may contain affiliate links, which means we may receive a small commission when you make a purchase at NO additional cost to you. Thank you for supporting our site in this way!
Great Clips coupons can be elusive. That's why I'm always on the lookout for the signs announcing the Great Clips Haircut Sale for 2023.
Yes, it used to be the Great Clips $6.99 haircut sale, but times have changed and it looks like the Great Clips sale price has gone up. The Great Clips Haircut Sale 2023 details are below (plus I found a Great Clips coupon on Instagram) so keep reading…
Great Clips Coupons
Great Clips coupons seem to be popping up more on social media. If you love the Great Clips Haircut Sale events, then you're going to want to check back here regularly. Even though it's been a while since the last Great Clips haircut sale, we have found a way to get a Great Clips haircut for free (yes free!).
While I'm based in Nashville, one of our readers reported she noticed the same $8.99 haircut sale going on in New Jersey while the Great Clips Haircut sale was happening here.
Great Clips Coupon for $2 off and $5 off – GET MORE COUPONS AT BOTTOM OF POST
While the famed Great Clips haircut sales seem to have faded off, I still found some Great Clips coupons online.
You can get a $2 off haircut coupon when you sign up for their email list. Click the link at the bottom of this post to have the coupon emailed to you. You can also print it directly from Great Clips after you visit the Great Clips website.
The $5 off coupon seems to come and go.
The coupon is only good at U.S. salons. It's also up to individual Great Clips salons whether or not they want to participate, so verify before you go.
The last time I saw the Great Clips $6.99 sale, it happened between October 24th-November 2nd. All participating Middle Tennessee Great Clip stores now offer the $9.99 haircut deal. Keep checking with your local Great Clips to see if they are participating!
Before that, the Great Clips Sale happened from February 24th-March 2nd, so it seems like it happens in both the spring and fall each year.
Free Great Clips Haircuts for Veterans
Great Clips wants to salute veterans by offering a free Great Clips haircut for Veterans on November 11. Veterans AND current military members can visit their local Great Clips salon on November 11 to get a free haircut. Even better, veterans can pick up a free haircut card on November 11 and have until December 11 to redeem it.
Not a member of the military? If you purchase a salon service at Great Clips on Veterans day, you can pick up a free haircut card to give to a veteran!
Past Great Clips Haircut Sales
On Nov. 11, customers who stopped in for a service at any Great Clips salon in the United States received a free haircut card to give to a veteran. The free haircut cards are redeemable by all current and past members of the military including active, inactive, retired, disabled and reserve members from any branch. The free haircut cards are redeemable until December 11th.
Great Clips Haircut Sale Date Trends
The trend for the $8.99 sale seems to happen around these time periods:
February 18-24
March 2-8
April 22-26
October 24-November 4
And yes, you heard me: $8.99. The Great Clips haircut sales had gone up to $7.99 over the past year, but it looks like Great Clips has permanently moved their price up from $6.99.
Great Clips Haircut Price
Typically, Great Clips haircut prices are between $10-18 depending on how old you are and where you live. That's why we all love it when we find a Great Clips sale!
Great Clips $7.99 Haircut
Even though I haven't received any Great Clips coupons in the mail lately, I did see the following pop-up on Instagram for a Great Clips $7.99 haircut.
To get your haircut for $7.99 at participating Great Clips salons, click "Redeem Now" and then present the offer on your phone at the time of payment.
Great Clips $8.99 Haircut Instagram Coupon
In the past, the Great Clips Instagram coupon was $8.99. You either need to click "redeem now" or give Great Clips your email.
Plus, if you sign up for emails from Great Clips, you'll be first to know about the latest Great Clips coupons.
Great Clips Nashville Coupons
The details below are for Nashville, and I hope the same haircut sale is going on in other parts of the country, but I cannot verify that. However, I'll keep looking up sale dates for you. (Plus find another Great Clips haircut coupon below!)
I thought Great Clips had permanently raised the price of their Great Haircut sale, but I'm not complaining about this drop in price. I just hope it lasts beyond this haircut sale event.
Great Clips Coupons in Mail
We got my son's back to school haircut and although the Great Clips Haircut Sale wasn't going on, we used a $6.99 haircut coupon we received in the mail after our last haircut. Make sure your mailing address is up to date with Great Clips so you too can receive those coveted coupons.
The picture above was from the Nashville Great Clips haircut sale that happened from April 30-May 5, 2014… this means all Nashville Great Clips offered haircuts for only $7.99, regardless of age. You never know when another Great Clips haircut sale is going to pop up again, but you can be sure I'll tell you right here!
How to Choose a Great Clips Salon Stylist
I understand some people don't trust getting their hair cut at a place like Great Clips, but I recommend going and watching all the stylists cut someone before you and then ask for a particular stylist you identify with. It's also helpful to ask your friends. We've found a great person to cut our kids' hair at Great Clips just by asking friends whose kids' haircuts we loved!
I also found a great recommendation for MY hair. It wasn't at the Great Clips in our neighborhood, but was right down the road from our church, so equally convenient. Here's a shot after one of our visits to the Great Clips Great Haircut Sale (my son may have been more excited about the lollipop than the actual haircut).
How to Tip Your Great Clips Salon Stylist
Even though I love a good deal, I would still tip based on the full amount of a regular haircut…especially if they did a great job and you plan on coming back again. Anywhere between 10-20% of the original service price is customary.
Of course, walk-ins are welcome, but I recommend looking up the closest Great Clips locations by you and checking in online so you don't have to wait once you're there (especially if you are taking your kids with you!).
Great Clips Senior Discount
I also just saw Great Clips offers a senior discount every week! The local store has a special every Wednesday from 9am-3pm for Seniors 65 and older. They can get a haircut for $8.99, a shampoo, cut, and style for $24.99, or a shampoo and style for $17.99.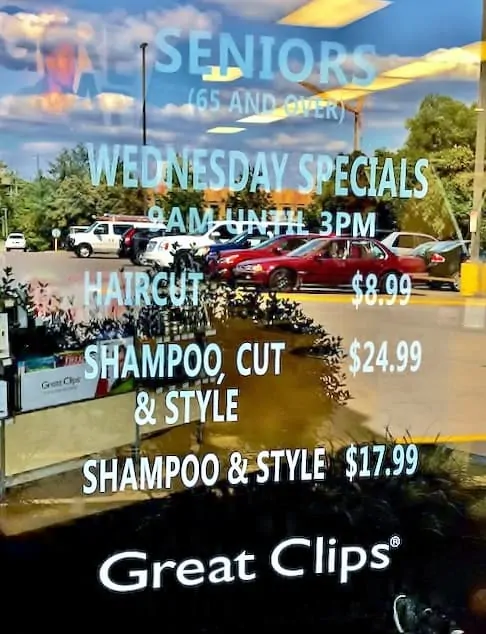 **Remember, it's always a good idea to check in your area before assuming this deal is nationwide.
Latest Great Clips Coupons
If you sign up for email, you get a $2 off Great Clips coupon emailed to you as a thank you.
They are also running a promotion where you can style a style animal quiz and get a $2 off Great Clips Coupon at the end of the quiz when you opt-in to their emails:
I've also seen the following coupon online for Great Clips: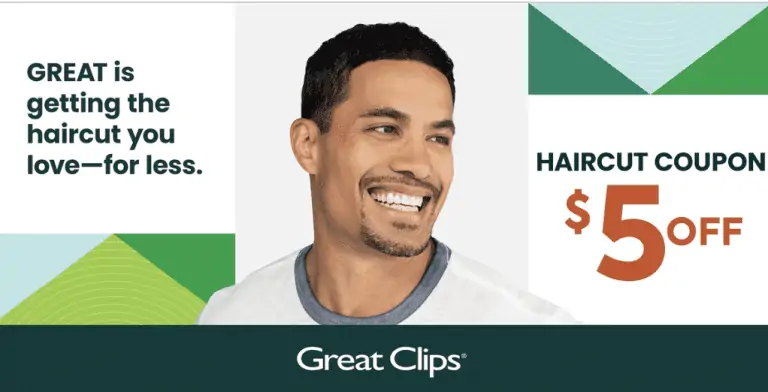 What: $5 off coupon for Great Clips haircuts
Discount: $5 off
Where to find: GreatClips.com
When: ongoing in 2023 until further notice
Great Clips Haircut Sale Details
What: Haircuts for as low as $9.99
Where: select Great Clips locations
When: will update with new 2023 haircut sale dates once available
Per Great Clips corporate offices, the Great Clips Haircut Sale is an ongoing promotion depending on market. Therefore, PLEASE check with your local salons for sales dates and price points before visiting. (And I'll be sure to let you know exactly when it's happening again here in Nashville)
Discount: save half-off their normal priced haircut! (No coupon needed). 
* Please remember to still tip your stylist on the full amount of the haircut.