This post may contain affiliate links, which means we may receive a small commission when you make a purchase at NO additional cost to you. Thank you for supporting our site in this way!
I just discovered how to get a FREE Lands End Item with a promo code that you need to look out for in the mail…
I just got the latest Lands End holiday catalog in the mail and discovered a promo code for $10 off ANY Lands End purchase…with no minimum purchase!
With the holidays approaching, I began thumbing through the catalog for gift ideas, but then three words kept coming back to my mind, "NO MINIMUM PURCHASE"!
So I jumped on LandsEnd.com and discovered literally DOZENS of items that I could get for FREE!
Here are just a few of my favorites:

Solid 200 Fleece Scarf

Thermaskin Marl Boot Socks

Bow & Bead Headband (2-pack)
Cinch Sack Backpack

Or, you can apply the promo code towards a higher priced item, like their popular personalized ornaments. They're only $14.50, which would make this only $4.50 after the discount!
So what are you waiting for? Look out for the promo code on the catalog in your mailbox and start shopping!
Lands End Free Item Details
Where to shop: LandsEnd.com
Savings: $10 off
Promo Code: Get your individualized promo code from the back of your catalog in your mail
Other Lands End Promo Codes:
Savings: 30% off
When: through November 10
Online Discount Code to use: FOFRIEND
Pin: 1500
Also get free shipping on orders over $50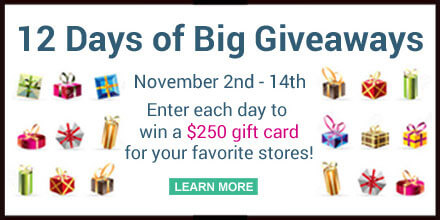 In full disclosure, if you shop through the links in this post, I will make a (very) small commission, but it helps support me in continuing to find great deals like these for you. Thanks!