This post may contain affiliate links, which means we may receive a small commission when you make a purchase at NO additional cost to you. Thank you for supporting our site in this way!
Ain't no party like the after party…especially when it comes to one of my favorite brands, Lilly Pulitzer. Their clothes hover on the higher end of my clothing budget, which is why I want to show you how to shop the Lilly Pulitzer After Party Sale 2022.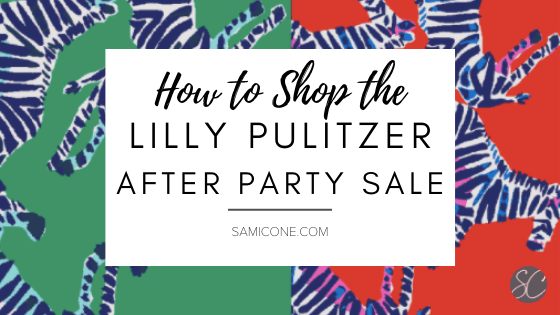 UPDATE: LIMITED TIME SALE
I've never seen a random Lilly Pulitzer sale like this! For a limited time, save 30% off Luxletic, Loungewear & Sweaters, both in stores and online. This cannot be combined with other discounts and ends on 10/28/22.
Lilly Pulitzer After Party Sale 2022
It should come as no surprise that I Love Lilly Pulitzer (which is why they are my wardrobe sponsor of The Sami Cone Show). But I constantly hear two things from you that do surprise you about Lilly:
How I afford it
Some of the items you can't believe come from Lilly Pulitzer!
How I Afford Lilly Pulitzer
Let's start with the zebra in the room (I had to say that because I'm in love with their original print, Heebees Zeebees, which you may have spotted me wearing on the September episode of my show). How do I afford to shop at Lilly Pulitzer?
My number one tip for saving money on Lilly Pulitzer clothes is this: shop the After Party Sale. (Now known as the Lilly Sunshine Sale)
You'll find savings up to 70% off! And while items sell out quickly, you're getting to shop some of their best-sellers, not just the items that didn't sell well.
I'll also find deals on Lilly Pulitzer everywhere from eBay and TJ Maxx to private Facebook groups and even some department stores (like Belk).
When is the Next Lilly Pulitzer Sale?
The next Lilly Pulitzer Sale is expected to happen in January 2023.
In the meantime, you can shop the Lilly Pulitzer Black Friday Sale! Save $30 off of every $100 you spend.
The Lilly Pulitzer After Party Sale typically happens twice a year. The last Lilly Pulitzer sale happened September 12-14. It took place online only, so check out those internet connections now.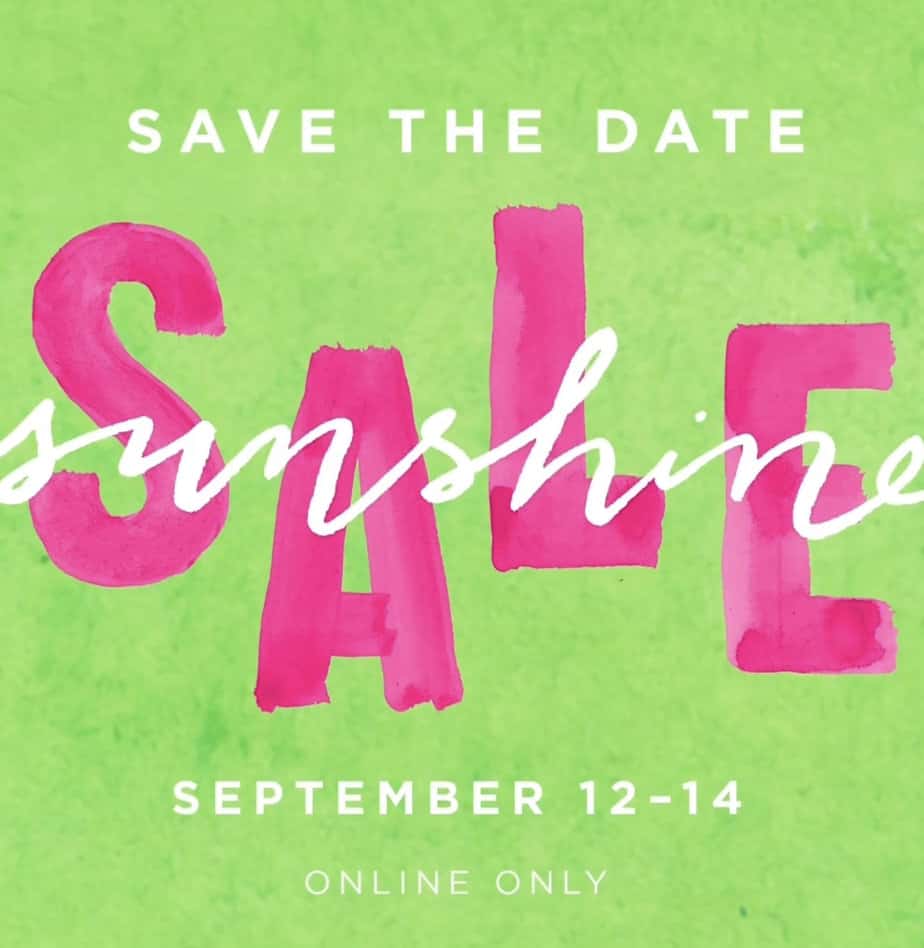 This last Lilly sale before that was in April. It was online only and called the Splash of Sunshine Sale.
Make sure you download the Lilly Pulitzer App and have notifications turned on because you'll be the first to hear about the next sale…
As I mentioned, the After Party Sale is now known as the Lilly Sunshine Sale. Last year's Sunshine Sale was also September 12-14. FYI, the fall sale is much smaller than the January After Party Sale.
Lilly's fall APS happened in select stores on September 12 and online September 13-14.
Past After Party Sale Dates
The Lilly Sunshine Sale: September 12-14, 2022
April 18, 2022: Splash of Sunshine Sale
January 3, 2022: 2022 Lilly Sunshine Sale happened online & in select signature stores.
The 2021 Fall Lilly Sunshine Sale was held September 12 in select stores and September 13-14, 2021 online.
The winter Lilly Pulitzer After Party Sale was the first weekend of January 2021: January 2 & 3 to be exact.
The Lilly online sale was January 4-5, 2021.
The weekend technically served as an in-store "preview" (for participating stores). The actual January After Party Sale began online Monday, January 4 around 8AM.
APS Online & In-Store
Unlike the previous After Party Sale, the 2021 After Party Sale happened both online and in-store. HOWEVER, that depended on where you live.
Some stores have the sale, while others will not. Even if your local Lilly Pulitzer has an APS in-store, it's best to verify hours before going.
Lilly Pulitzer Quick Links
I've put together quick links to some of my favorite Lilly Pulitzer styles, colors, and categories. I've listed them all in my Lilly Sunshine Sale post.
After Party Sale Schedule
If you're looking for an After Party Sale schedule, I'll keep track of all past sales here:
2022 Lilly Pulitzer Sale Dates
September 12-14, 2022
April 18, 2022
January 3, 2022
2021 Lilly Pulitzer Sale Dates
September 12 (in select stores), September 13-14 (online)
January 2-5
2020 Lilly Pulitzer Sale Dates
The prior APS started around 8 am on Monday, September 14, 2020, and ended at 11:59 pm on Tuesday, September 15, 2020.
I say "around 8 am" because that's when the queue begins online. Yes, you will often see tens of thousands of Lilly lovers "line up" online to get in. Remember this: DON'T REFRESH. You will be let into the site once it's your turn.
The Summer 2020 After Party Sale only happened online. Typically, you'll find sale prices both online and in-store, but I'm guessing they tried to cut back on crowds that year.
Lilly Pulitzer After Party Sale January
The bigger After Party Sale typically happens after the New Year. Typically it's multiple days, but on January 3, 2022 for last Lilly Pulitzer After Party Sale was only one day.
Read up on the Lilly Pulitzer After Party Sale FAQ
How to Shop the Lilly Pulitzer After Party Sale
There are a few things to keep in mind if you want to find your top items, but there is one trick I've learned over the years: start adding items to your bag the night before!
While this will not guarantee they will stay in your bag once the APS starts, oftentimes they will. This way, you save yourself a ton of search time once you get on the site.
And because shipping is free over $25, I suggest you check out often. It's happened where I've found the item I wanted in the size I wanted, but while I was looking for other pieces, it went out of stock.
Here is a recap of all my top tips & tricks for shopping the Lilly Pulitzer After Party Sale:
Add items to your 'tote' the night before the sale starts (or at least make a running list of what you're looking for so you can copy and paste into the search bar)
Check out after each item you find you want (otherwise, they may sell out while you're still shopping)
Create an account at LillyPulitzer.com in advance of the sale (so you're not wasting time entering your address or credit card info)
Shop within one category or print first (if you know there's a print you love, go after all the items you love in that color or print to increase your chances of getting them)
Check back often (even though the APS only lasts two days, Lilly constantly adds new items and sizes)
Use Multiple Devices (I don't know why, but sometimes I'll get in quicker with my computer than my phone)
Try-on in-store (If possible, visit your local store before the sale starts to know how certain styles fit).
Make a "Favorites List" throughout the year (use your notes app or Evernote – my #1 FAVORITE app – to keep track of items you love but can't afford so you are focused the minute you enter the sale).
Remember, all items are FINAL SALE. There are no returns or exchanges. That means you need to be sure you love the item or are willing to try to re-sell it if you don't.
Lilly May Surprise You
Earlier I mentioned two things people commonly ask me about Lilly Pulitzer and I didn't want to leave you hanging. Almost every month after my show, I often hear, "I didn't know Lilly Pulitzer made _________."
That's right, from navy sweatshirt dresses with sequins to black camo leggings to crocheted, fur-lined vests, people are constantly surprised by Lilly.
Of course, they're still known for their bright and bold prints that I love. But over the years, Lilly has really rounded out their offerings, including shoes and jewelry. So whether you're looking to fill your entire closet with Lilly or are learning to wear it alongside your other favorite brands, there are enough pieces to allow you to do exactly that.
What other After Party Sale questions do you have? Leave them in the comments below and I'll do my best to answer them or point them to someone who can!
Lilly Pulitzer Sale 2022 Details
WHAT: A sale that only happens twice a year at Lilly Pulitzer
WHEN: Shop the BLACK FRIDAY SALE NOW and take $30 off every $100 you spend.
WHERE TO SHOP: LillyPulitzer.com
DISCOUNT CODE: None needed – you'll see the savings on screen
WHAT YOU'LL SAVE: I saved upwards of 75% off before, but you'll typically see savings of at least 50% off!