This post may contain affiliate links, which means we may receive a small commission when you make a purchase at NO additional cost to you. Thank you for supporting our site in this way!
Nashville Ballet Nutcracker youth cast dress rehearsal behind the scenes video from TPAC: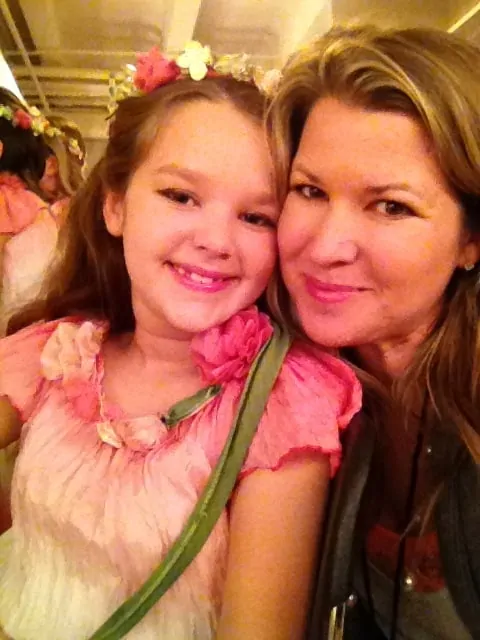 In my final stint as the Official Blogger for the 2012 Nashville Ballet Nutcracker Youth Cast, I got to follow my daughter behind the scenes from start to finish for her final dress rehearsal at TPAC.
For those of you who don't know, my daughter took her first ballet class at the School of Nashville Ballet this year and fell in love with it. Being 8 years old, she just made the cut-off to try out for the Nashville Nutcracker this fall.
Even though I prepared her not to make the cast (after all, she just started ballet and this was her first ever audition!), we were beyond thrilled when we learned she was chased to be a Garden Fairy in the 2012 Nashville Ballet production of the Nashville Nutcracker!
To be honest, I had a lot of pre-conceived notions about my daughter's participation in such an event:
–Would this take up a ton of time? (Nope, pretty much just an hour a week!)
–Would this cost a lot of money? (Hardly anything! We just had to pay a $30 fee to help keep up the professional costumes they get to wear during the production.)
–Would the rehearsal atmosphere be too intense? (I cannot stress enough – I LOVE the teachers at the Nashville Ballet! They help instill a sense of pride and propriety in our kids while still maintaining a level of sweetness I frankly wouldn't have the patience for 😉
Being a first-time mom of a Nashville Nutcracker youth cast member, I asked the Nashville Ballet if I could document my daughter's journey from start to finish in hopes of breaking down the mystery for other parents…and they graciously agreed to allow me to be the official youth cast blogger for the 2012 Nashville Nutcracker!
The experience culminated with me getting to shadow Kariss backstage at TPAC during her final dress rehearsal. What you're about to see is a 2 hour experience that's been compressed into a 13 minute montage of her experience.
If you've missed any of this journey, you can catch up with our entire 2012 Nashville Nutcracker experience.
To find out the latest information on more fun family events with great discounts around Nashville,
be sure to follow me on Twitter & Facebook!