This post may contain affiliate links, which means we may receive a small commission when you make a purchase at NO additional cost to you. Thank you for supporting our site in this way!
Some people find summer relaxing. Personally, it creates a different kind of stress for me.
As a mom of two teenagers (one who is away at college during the year), I've found a good rhythm during the school year. But during summer, it seems like anything goes! I never know who is going to be around for what meal, much less where they are at any given time.
While I love that my kids have new-found freedom, it makes it difficult for me as a mom to plan. 
My first thought was just to keep our pantry stocked with snacks. But with athletes and growing bodies, I want to make sure my kids are not only fueled with the best food possible, but that I'm mirroring how to make the best possible food choices.
Sure, packaged and processed foods may be more shelf-stable, but you taste the difference compared to their fresh counterparts. But when I switched to fresh bakery breads, buns and treats, they often went bad before we could even finish them.
At a recent women's event, I heard a friend talking about a subscription box she discovered that featured small-batch bakers and pasta makers from across the country: Wildgrain. The company is on a mission to replace supermarket bread and pantry staples by providing artisanal bread, pasta, and pastries in a monthly-themed subscription box that's not only practical, but too delicious to resist!
After just one month, I can honestly admit I now see what all the buzz was about! And let me tell you, it has been the perfect solution to my summer mom meal-planning conundrum. I've come up with some go-to meals and ideas that not only make my teenagers happy, but many of which they can make themselves.
So whether you're looking to level up your beach day or make a quick vacation lunch, I'm here to show you how to amp up your summer holiday meals by using Wildgrain pasta and breads.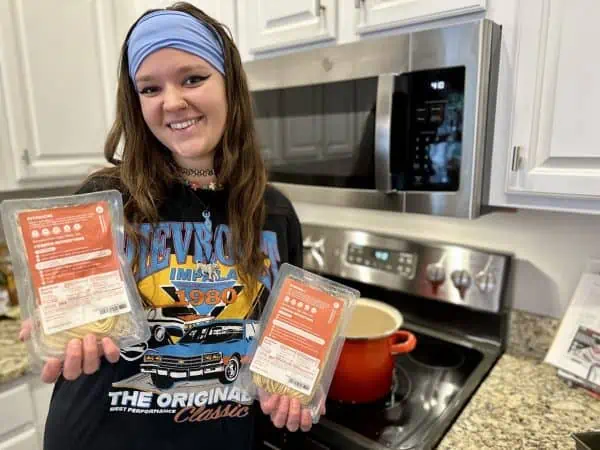 Summer Cooking with Teens
Summer break is a time for teenagers to relax and have fun. But it's also a great time for them to learn new skills, like cooking. Cooking is not only a fun and rewarding activity on its own, it's a skill that will stay with them for life.
Every Wildgrain box comes with a variety of breads, pastas, and baked goods that vary by season. Because they come frozen, I know I can have fresh, artisan products on hand whenever I need them. But more than that, I know they're ready for whenever my kids are ready to cook on their own too.
That is why a Wildgrain Subscription bread box is a must-have this Summer! Here are a few reasons these make great staples to have on hand:
Pasta
Pasta is a great option for teenagers because it's easy to cook and there are endless possibilities for sauces. You can make a simple tomato sauce, or you can get creative with different herbs and spices. For example, I always have basil in the garden during the summer because my kids love pesto.
Bread
Bread is another easy and versatile vessel that teenagers can cook with. Whether making a side dish for a big bowl of pasta and salad, or using it as part of an egg bake or panzanella, bread is a staple of our summer dishes. Speaking of…
Sandwiches
While you might not technically consider sandwiches a form of "cooking", they still make a delicious meal! I love that the loaves I get with Wildgrain aren't sliced so we can custom slice them depending on each family member's preference.
Quick & Easy Summer Meals
Hopefully by now, it's obvious why bread and pasta are key players for quick and easy summer meals. These versatile ingredients can be used to create a variety of delicious and satisfying lunches that are perfect for a hot day.
These are just a few of my favorite ideas that can be easily packed up for a day at the beach or even a summer road trip:
Pesto Pasta Salad: I already mentioned how much my kids and I love pesto (basically you pulse fresh basil in a food processor with parmesan cheese, pine nuts, garlic and olive oil). If you have leftover pasta, cut it up the next day and add in tiny balls of mozzarella, salami cubes, and chunks of your favorite vegetables. If you like your pasta salad to have more of a traditional dressing, you can drizzle in more olive oil with lemon juice or toss in your favorite vinaigrette.
BLT sandwich: This sandwich is a summertime staple for a reason. It's quick and easy to make, and it's always delicious. Simply toast some bread, spread a little bit of mustard or mayo, then layer on bacon, lettuce, and tomato.
Pizza sandwich: This is a fun and easy twist on a classic pizza. Simply spread some tomato sauce on two slices of bread, then top with your favorite pizza toppings. Grill the sandwich until the bread is golden brown and the cheese is melted.
These are just a few ideas for quick and easy summer lunches with bread and pasta. With a little creativity, you can easily come up with your own delicious and satisfying meals. So next time you're short on time, reach for some bread or pasta and whip up a quick and easy lunch that will keep you going all afternoon long.
Did Someone Say Croissants?
Not that you need any further reasons to try Wildgrain, but their FREE CROISSANT PROMOTION is still going on! Four come in the box and I'd like to tell you I'm a good mom and waited until all my kids were home to bake these and build a beautiful breakfast around them, but alas I did not.
Instead, I baked them off as soon as I tore open my Wildgrain box. I ate two directly out of the oven (I probably should have let them cool first). I tried to save two, but my son saw them as soon as he came home and I didn't want him to eat alone, so we polished off the other two.
I so desperately wanted to eat these with softened butter and jam, but they are so buttery and flaky on their own that we didn't even need any condiments. If we had more will power, these would have made a lovely summer breakfast with some fresh berries on the side and a glass of freshly squeezed orange juice.
Wildgrain to the Rescue
So what are you waiting for? There's still plenty of time to take advantage of the best Wildgrain summer promotions.
New Wildgrain customers now have the option to customize what goes in their box. Choices include:
Mixed box with bread, pasta, and pastry options
Pastry only box
Bread only box
Vegan bread-only box
Did I mention I even got macarons in my last box? (We're talking flavors like raspberry, caramel, pistachio and more. I don't have to tell you, like the croissants, those didn't last long enough to accompany a meal either!)
Wildgrain Box Discount Code
If your mouth is salivating after seeing those croissants and you can't wait to try Wildgrain for yourself, I have good news for you.
Use my unique Wildgrain Box Discount Code to save $10 off your first box. Just type in code SAMI to save!
If you have any questions about my experience, I'd be happy to try to answer them. But the truth is, you're probably better off just trying it for yourself as there is no way for me to describe just how delicious their products are. Tasting truly is believing in this case. Bon Appetit!