This post may contain affiliate links, which means we may receive a small commission when you make a purchase at NO additional cost to you. Thank you for supporting our site in this way!
As someone that's blogged about frugality for nearly a decade (and who's lived out those very principles most of my life), I'm constantly in search of the best way to not only manage my money, but make it work better for me.
While you all know I'm a big fan of good old fashioned paper and pencil, the truth is, if you're not allowing technology to help you keep track of your finances, you're probably not maximizing your money OR your time.
So when a recent thread popped up on Facebook asking about the best budgeting apps, I just had to join in the conversation, both to give my two cents, but also to listen in and see if there was anything I hadn't yet heard of.
Not to pat myself on the back, but my recommendations also seemed to be the same ones echoed by the majority of the best out there. So I thought it only fitting to share those with you today in hopes that if you've been dragging your feet about setting up a budget, I can convince you not only how easy it can be with the help of these apps, but how much it can transform the way you think about money.
The 5 Budgeting Tools You Need to Use Today:
EveryDollar
Being asked to review EveryDollar by my friends at Ramsey Solutions was what originally prompted me to not only write this post in the first place, but to really take a hard look at the best budgeting tools out there.
The iPhone App boasts features such as: creating monthly budgets in under 10 minutes, the ability to update your budget quickly (anywhere!), track purchases easily and get an overview of your fiscal fitness anytime, anywhere. But what I like most about EveryDollar is that it's bright, clean, clear and easy to use.
Unlike so many other budgeting apps that can be wonky and cumbersome to say the least, EveryDollar takes the guesswork out of budgeting and removes any excuses anyone might possibly come up with for not creating and maintaining a budget. EveryDollar exists as free budgeting software available from both your computer and your iPhone, but to take advantage of full account incorporation, you'll need to upgrade to the paid version.
Mint
Mint seems to be the tried and tested budget app. It doesn't have all the bells and whistles of EveryDollar, but offers solid options for keeping track of bills and linking accounts without an extra fee. For those of you who use other Intuit products, such as QuickBooks, integrating this product into your arsenal just might make sense.
Neat Scanner
Come on, you've seen the infomercials and wondered, "Could this be the answer for me?" I have both a desktop Neat Scanner as well as the portable one designed more for receipts (though I can't say I've ever brought it anywhere with me) and it does do what it says it's going to do. The only hitch I've had is trying to incorporate it into my personalized systems I've created for budgeting (though I haven't tried again in the past 2 years, so there may be new features I'm not aware of). I will say, the desktop scanner is great for things beyond receipts, like kids' artwork, recipes and other papers you want to keep virtually, so you have to keep that in mind as well.
Receiptmate
This is my new favorite for capturing receipts as soon as they're given to me. I love it 1. because it incorporates with Evernote (the one app I can't live without) and 2. because it has several ways to review your spending after you've scanned the receipt.
It's not without its glitches, does cost a couple dollars and isn't something I'd recommend on its own without using another budgeting app, like EveryDollar. However, in the six months or so I've been using it, it's been the best receipt-capturing option I've tried and has allowed me to eliminate a TON of paper from my life.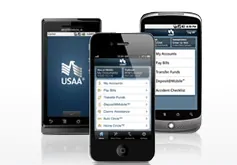 Apps from your Credit Cards & Insurance Company
Don't forget to check out what your current credit card and insurance companies offer you as a client when it comes to apps. When moving, I found an AllState "locker" that let us take pictures and document our belongings in case anything should happen to them during the move (even though we don't even have All State!). We are members of USAA (for military and their families) and they also have a great (free) budgeting tool). I also know that American Express offers Receipt Match, a program that allows you to scan your receipt after using your card and helps prevent & detect and fraudulent activity on your account.
***
The main point is that you need to start somewhere…and with all the options available to you at the palm of your hand these days, there's no reason why you can start a budget or at least tracking your spending.
If you're doing nothing right now when it comes to budgeting, ANYTHING will be an improvement. And if you, like me, already have a budget but have been looking for the best way to maintain, implement and maximize it, then try one of these options today.

What have you tried that I may have left out above?I'd love to hear your thoughts and experiences in the comments below.
Disclosure: EveryDollar compensated me to give a fair and honest review of their app, and agreed to let me compare it to other budgeting apps I've used. All opinions are my own and I was not influenced with what to write. Some links above are compensated affiliate links.