We're investing in our marriage this weekend…
The Daily Dash: April 13, 2018 {@FamilyLifeTODAY #WeekendToRemember}
IN THE NEWS:
* U.S. Forces poised to strike Syria
* James Comey's eagerly anticipated memoir released- paints Trump as a "liar divorced from reality"
* Nashville Predators beat the Colorado Avalanche in the first game of their playoff series
* Khloe Kardashian gives birth to baby girl
* #FridayThe13th
IN THE WORD:
The reason salvation is so easy to obtain is that it cost God so much ~ Oswald Chambers
IN MY LIFE:
This weekend my husband and I will be taking a getaway: a marriage getaway! Though we usually volunteer at these events, we'll be participants at FamilyLife's Weekend To Remember here in Nashville.
These marriage events happen all over the country throughout the year, so if this sounds interesting to you, don't fret; there is still time to register to attend one near you. We've seen everyone from engaged couples to couples who have been married 50+ years attend this event and everyone leaves changed for the better.
Whether you just need a tune up or you feel like your marriage is on the brink of divorce, I guarantee you and your spouse would benefit from attending. To learn more about the FamilyLife Weekend to Remember Marriage Getaway (& to get our unique discount code!), visit my blog here: http://bit.ly/WTRdisc
PRAYER FOCUS: Companionship
God never intended for us to walk through life alone, without Him. Allow Him to carry your burdens; cast your cares on Him. 1 Peter 5:7 says, "Cast all your anxiety on Him because He cares for you."
Stay in the know on the go:
Subscribe to my YouTube Channel: http://bit.ly/1g5VA3T
Join in the conversation on Facebook: http://www.facebook.com/SamiCone
Tweet with me: http://www.twitter.com/TheSamiCone
Watch my story unfold on Instagram: http://instagram.com/TheSamiCone
Follow me on Pinterest: http://www.pinterest.com/SamiCone
Read my book, Raising Uncommon Kids: http://RaisingUncommonKids.com
Share the book on social media: http://bit.ly/RUKShare
Focus on the Family interview: http://bit.ly/RUKfocus
Don't want to miss even one day of the Daily Dash? Catch up on all of my Daily Dash videos and subscribe to my YouTube channel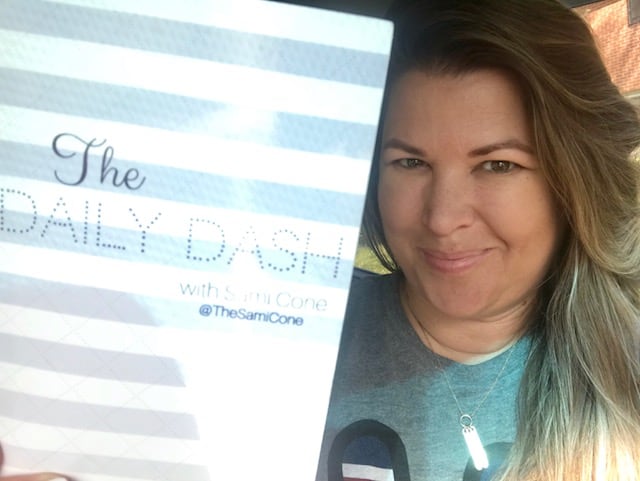 Hope you make it a great day!