Get ready to fall in love all over again…

The Daily Dash: February 23, 2018 {Lady & the Tramp on DVD} #DisneySMMC
IN THE NEWS:
* Parkland resource officer didn't enter school during shooting
* USA women's hockey team won gold after 20 year drought; Canadian regrets removing silver medal during the ceremony
* Informal parenting poll taken by Fox News quickly backfired
IN THE WORD:
Daydreaming about something in order to do it properly is right, but daydreaming about it when we should be doing it is wrong-Oswald Chambers
IN MY LIFE:
I'm so excited for all my friends participating in the Disney Social Media Moms Land & Sea Celebration this week! I've been privileged to attend this event multiple years (though never with the cruise component) and have always received a lot of questions about the invitation-only event. If you're curious to learn more, you can read my post detailing what it is and what it isn't: https://www.samicone.com/what-is-disney-social-media-moms-celebration-what-it-isnt/
Speaking of Disney…In case you haven't heard, let me be the first to let you know that the timeless tale of Disney's Lady & the Tramp—loaded with three versions of the film, classic bonus material and three all-new features—was just released on Digital and on Movie Anywhere Feb. 20 and comes home on Blu-ray on Feb. 27.
The Walt Disney Signature Collection edition offers three exciting ways to watch "Lady and the Tramp"—the original theatrical version, sing-along mode and Walt's story meetings—both Digitally and via the Multi-screen Edition (formerly the Blu-ray Combo Pack). The Multi-screen Edition includes Blu-ray, DVD and a Digital copy, giving in-home consumers the flexibility to watch the film on different devices. In addition to classic bonus features, all-new extras invite viewers to enter Walt Disney's original office suite on the Studio lot, discover Walt's personal passion for pups, and receive a celebrity-hosted spaghetti and meatballs cooking lesson.
I love that my kids are getting to experience Disney's classic tales in a new, remastered way. Lady and the Tramp is truly a tale for the ages and just as good as you remember it. Honestly, it would be silly for you not to pick up a copy of this remarkable movie to add to your Disney Movie Collection. (I'm so grateful they sent me the DVD to review, but it isn't hard for me to give it 2 big thumbs up, especially with all the new bonus features!). Get ready to fall in love all over again…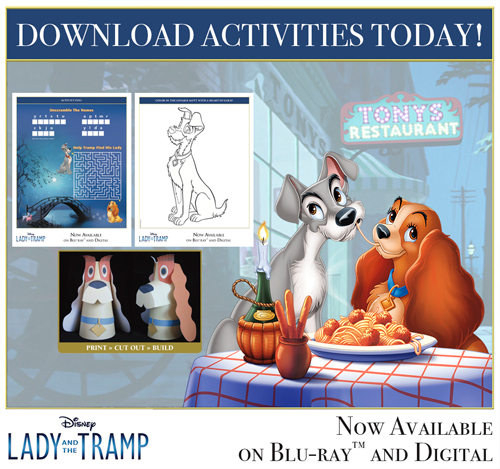 Stay in the know on the go:
Subscribe to my YouTube Channel: http://bit.ly/1g5VA3T
Join in the conversation on Facebook: http://www.facebook.com/SamiCone
Tweet with me: http://www.twitter.com/TheSamiCone
Watch my story unfold on Instagram: http://instagram.com/TheSamiCone
Follow me on Pinterest: http://www.pinterest.com/SamiCone
Read my book, Raising Uncommon Kids: http://RaisingUncommonKids.com
Share the book on social media: http://bit.ly/RUKShare
Focus on the Family interview: http://bit.ly/RUKfocus
Don't want to miss even one day of the Daily Dash? Catch up on all of my Daily Dash videos and subscribe to my YouTube channel
Hope you make it a great day!