Just another Manic Monday…

The Daily Dash: January 30, 2017 {Day Before Travel}
IN THE WORLD:
* Trump institutes travel ban
* Ms. France named Miss universe; Steve Harvey redeems himself as host
* SAG awards turn political
* I can't tell you the results of the Australian open
IN THE WORD:
This Week's Verse: Colossians 3:7
Be completely humble and gentle; be patient, bearing with one another in love.
Keep your life so constantly in touch with God that His surprising power can break through at any point- Oswald Chambers – Oswald Chambers
IN MY LIFE
It was quite an eventful weekend in the Cone Home, including a chess tournament, art workshops and celebrations. It was a wonderful time with friends and family, but we didn't get much done around the house.
Thus, I stayed up late last night trying to catch up on some things because I fly out for a speaking event in Atlanta tomorrow. I always love the opportunity to teach and share the wisdom that's been passed on to me, but it's always a challenge getting everything (and everyone) ready for me to leave 😉
Nail Polish of the Week:
I'm still wearing Butter London's VAPOR and wondering if I should change it before my speaking event. Check out all their colors here: http://bit.ly/ButLon
Stay in the know on the go:
Subscribe to my YouTube Channel: http://bit.ly/1g5VA3T
Join in the conversation on Facebook: http://www.facebook.com/SamiCone
Tweet with me: http://www.twitter.com/TheSamiCone
Watch my story unfold on Instagram: http://instagram.com/TheSamiCone
Follow me on Pinterest: http://www.pinterest.com/SamiCone
Read my book, Raising Uncommon Kids: http://RaisingUncommonKids.com
Share the book on social media: http://bit.ly/RUKShare
Focus on the Family interview: http://bit.ly/RUKfocus
Don't want to miss even one day of the Daily Dash? Catch up on all of my Daily Dash videos and subscribe to my YouTube channel…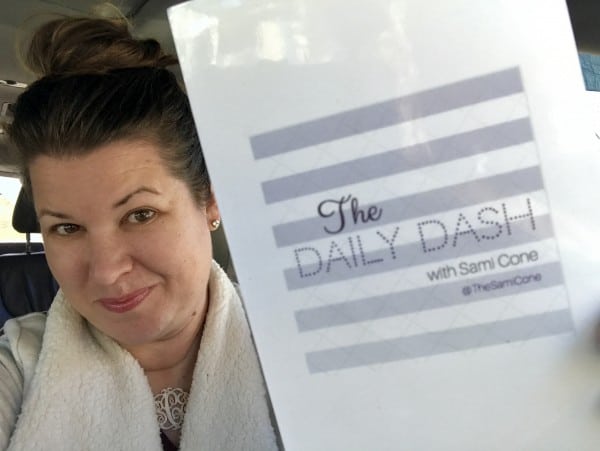 You'll also want to listen to my Family Money Minute radio posts to get any of the savings goodness you may have missed!
Hope you make it a great day!