You can't start your weekend without hearing this…
The Daily Dash: July 13, 2018 {I'm on TV | Project 615 Birthday Bash} 
IN THE NEWS:
* President Trump had tea with the Queen in London
* John Isner lost a marathon 6.5+ hour match to Kevin Anderson in the men's Wimbledon semi-final
* Friday the 13th
* National French Fry Day
IN THE WORD:
Continually pick yourself up, even if you fall a hundred and one times a day ~ Oswald Chambers
IN MY LIFE:
What a day it's been! I have a couple big updates you need to know before you start your weekend:
I was live on Talk of the Town this morning sharing one of my most popular blog topics: Birthday Freebies! Don't worry if you missed the segment; you can watch it and get all the deals here: https://www.samicone.com/free-birthday-food-deals/
Two of the biggest sales of the year are going on right now (Macy's Black Friday in July & the Nordstrom Anniversary Sale) and I don't want you to miss either of them. I'm breaking each down for you here, along with the best deals:
https://mailchi.mp/f115b33c9ca7/the-2-biggest-sales-of-the-year-so-far
And last but not least, tomorrow is Project 615's 8th birthday bash! They will have their parking lot closed for a free and family friendly event, with food trucks and a bar by Southern Grist Brewery. Stop by to drink, eat, and shop anytime between 10am – 6pm at the West store location! It will be a full day of celebration capped off with live performances by Andrew Ripp at 3pm and Humming House at 4:30pm.
PRAYER FOCUS: Healing
I know many of you are in need of healing, whether emotional, physical or spiritual. I pray healing over each of you today and on behalf of those you love.
MONTH OF 615
As a reminder, all month on The Daily Dash I'll be wearing tees from Project 615, who supports world-changing causes through their apparel. Today's pick is their current campaign tee (also in my new favorite color, "Sunset"). You can buy the "Do Everything in Love" shirt here: https://www.project615.org/do-everything-in-love/.
Stay in the know on the go:
Subscribe to my YouTube Channel: http://bit.ly/1g5VA3T
Join in the conversation on Facebook: http://www.facebook.com/SamiCone
Tweet with me: http://www.twitter.com/TheSamiCone
Watch my story unfold on Instagram: http://instagram.com/TheSamiCone
Follow me on Pinterest: http://www.pinterest.com/SamiCone
Read my book, Raising Uncommon Kids: http://RaisingUncommonKids.com
Share the book on social media: http://bit.ly/RUKShare
Focus on the Family interview: http://bit.ly/RUKfocus
Don't want to miss even one day of the Daily Dash? Catch up on all of my Daily Dash videos and subscribe to my YouTube channel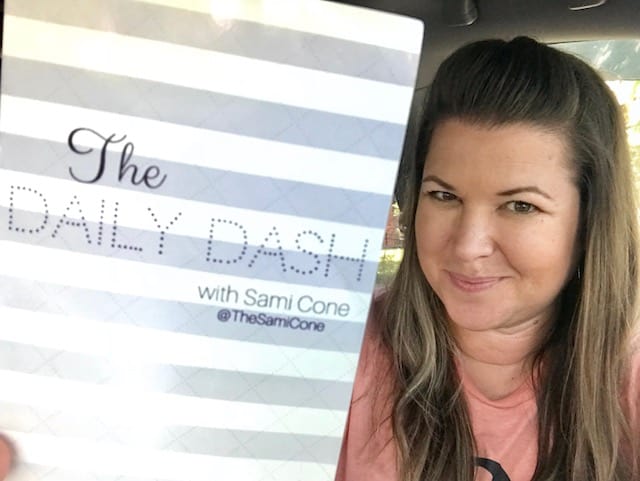 Hope you make it a great day!