I have a unique gift to give mom this Mother's Day – the gift of health…
The Daily Dash: May 11, 2017 {#MDsave #OnlineHeathcare #MomStrong}
IN THE WORLD:
* Betsy DeVos booed during commencement address at historically black college
* Jefferson Davis statue removed from New Orleans
* JHud to join as new coach on The Voice next season
IN THE WORD:
This Week's Verse: Colossians 3:21
Fathers, do not embitter your children, or they will become discouraged…
Every element of our own self-reliance must be put to death by the power of God ~ Oswald Chambers
IN MY LIFE
First & foremost – my daughter made the volleyball team! We didn't find out until after 10pm, so needless to say, dinner and bedtime was interesting 😉.   We're so proud of her for stepping outside of her comfort zone to try something new, especially when so many classmates were trying out too.
There's one other secret I wanted to share with you today: a new online healthcare option called MDsave. No, this isn't another website to search for ailments you think are plaguing you today; instead, it is much more practical and money-saving. With MDsave, you can search for medical procedures your doctor has already ordered (think mammograms, MRI, colonoscopies and more), but at a highly discounted price.
Because you schedule and pay for the procedure up front, MDsave is able to negotiate drastic discounts with providers (we're talking 50% or more in some cases). Better yet, there is no fee to use the service. Even if you have medical insurance, you can save a TON of money! Read all the specifics on my blog here: https://www.samicone.com/mdsave-online-healthcare-marketplace-mom-strong/
If you want to save even more, make sure you click the link above because I have a unique MDsave coupon code just for you all (& isn't the gift of health one of the best gifts you can give mom this Mother's Day?).
Stay in the know on the go:
Subscribe to my YouTube Channel: http://bit.ly/1g5VA3T
Join in the conversation on Facebook: http://www.facebook.com/SamiCone
Tweet with me: http://www.twitter.com/TheSamiCone
Watch my story unfold on Instagram: http://instagram.com/TheSamiCone
Follow me on Pinterest: http://www.pinterest.com/SamiCone
Read my book, Raising Uncommon Kids: http://RaisingUncommonKids.com
Share the book on social media: http://bit.ly/RUKShare
Focus on the Family interview: http://bit.ly/RUKfocus
Don't want to miss even one day of the Daily Dash? Catch up on all of my Daily Dash videos and subscribe to my YouTube channel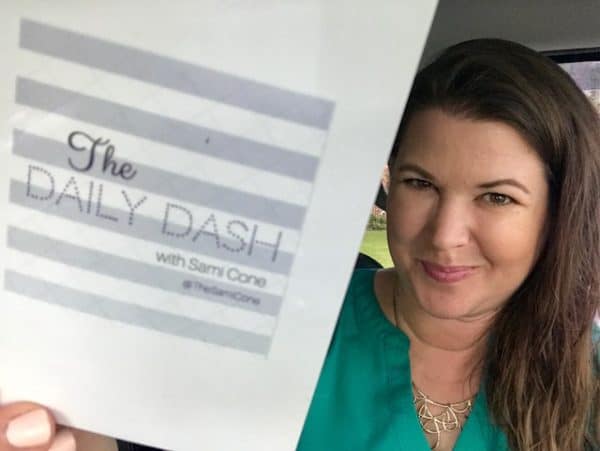 You'll also want to listen to my Family Money Minute radio posts to get any of the savings goodness you may have missed!
Hope you make it a great day!