Today is important for two icons for two different reasons…
The Daily Dash: May 4, 2017 {#MayThe4thBeWithYou & #HowToBeAHepburn}
IN THE WORLD:
* House prepares to vote on new Republican health care bill
* Rain continues in Midwest, amidst flooding
* Prince Phillip to cease public appearances
IN THE WORD:
This Week's Verse: Colossians 3:20
Children, obey your parents in everything, for this pleases the Lord.
Patience is not the same as indifference ~ Oswald Chambers
IN MY LIFE
It's been a busy day already: I've given a final exam, met with the Vice-Principal of my kids' school and met up with a social media influencer who's new to town (reach out to Jason at Jump Crew if you or your small business needs help with their social media management).
Tonight I have the pleasure of attending an event at Kate Spade Green Hills celebrating Audrey Hepburn's birthday with the book release of "How to be a Hepburn in a Kardashian world: The Art of Living with Style, Class, and Grace" by Jordan Christy (you can check it out here: http://www.savings.com/zgo9k – affiliate link). I'll be joined by one of my favorite Hepburn-loving friends, Tiffany, and I'm excited for us (as 41 year old women) to try to bring back some of the style, grace and charm that seems to be lacking these days. Follow me at @TheSamiCone on Instagram & #HowToBeAHepburn if you want to follow the fun virtually.
Of course, since today is May the 4th, it's also known as #StarWarsDay (get it, "May the Fourth Be With You"?). Not only will you find a bevy of Star Wars deals at places like The LEGO Store, not to mention Star Wars movies hitting TV sets and movie theaters all across the world today.
Stay in the know on the go:
Subscribe to my YouTube Channel: http://bit.ly/1g5VA3T
Join in the conversation on Facebook: http://www.facebook.com/SamiCone
Tweet with me: http://www.twitter.com/TheSamiCone
Watch my story unfold on Instagram: http://instagram.com/TheSamiCone
Follow me on Pinterest: http://www.pinterest.com/SamiCone
Read my book, Raising Uncommon Kids: http://RaisingUncommonKids.com
Share the book on social media: http://bit.ly/RUKShare
Focus on the Family interview: http://bit.ly/RUKfocus
Don't want to miss even one day of the Daily Dash? Catch up on all of my Daily Dash videos and subscribe to my YouTube channel…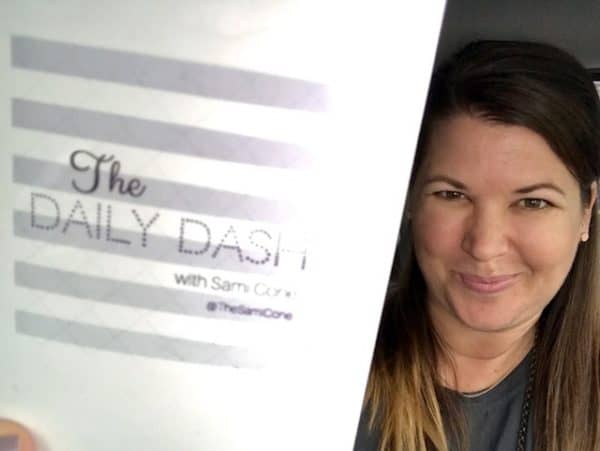 You'll also want to listen to my Family Money Minute radio posts to get any of the savings goodness you may have missed!
Hope you make it a great day!