This post may contain affiliate links, which means we may receive a small commission when you make a purchase at NO additional cost to you. Thank you for supporting our site in this way!

We'd all like to think we're uncommon, but what exactly does that mean?
Let's face it, most of us have seen the tantrums and breakdowns while on vacation – if not in our own kids than in other families. And chances are it can be witnessed multiple times at expensive amusement parks you've saved months just to be able to travel to.
I may or may not have even uttered to my own children in their pre-school years, "There's no crying at Disney!"
After all, our kids should be grateful for these incredible trips they get to experience with us, shouldn't they? They problem starts when they start taking these incredible opportunities for granted. When travel becomes commonplace, there is no room in their hearts or minds for gratitude, humility or even generosity.
Does that mean we should travel less? I certainly hope not!
So how do we not only avoid the common pitfalls of travel, but turn the corner and embrace the uncommon? We create the solution by raising uncommon kids.
Why Traveling is More Fun with Uncommon Kids
To continue reading this tip – and ALL my tips – for traveling with uncommon kids, click over to WordTraveling.com to read my ENTIRE post on "Vote for Traveling with Uncommon Kids".
Definitely make sure you click over to Wordtraveling.com and Cast your "Vote for Travel' by entering the awesome $1500 vacation giveaway to the incredible Beaches of Ft. Myers/ Sanibel and to read more posts from other bloggers and family travel experts in our third annual series!
No purchase or real voting necessary!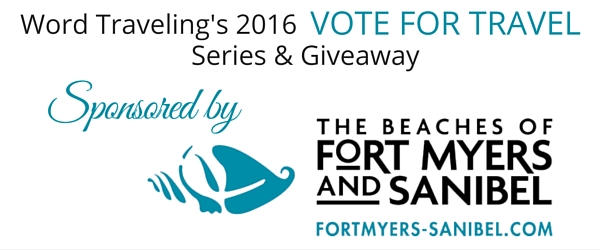 *Terms and prize details can be found at WordTraveling
Click the image below to read the rest of my post and ENTER TO WIN: